Here's a quick fact that you should know- our destinies are not set in stone. So, it doesn't matter what we were because we can become anything we want. For instance, if as a kid you were into dinosaurs doesn't mean you will become a paleontologist. 
People sharing what they majored in vs. what they ended up doing. Scroll down to have a look. 
"In college, I was a communication major and now I'm depressed."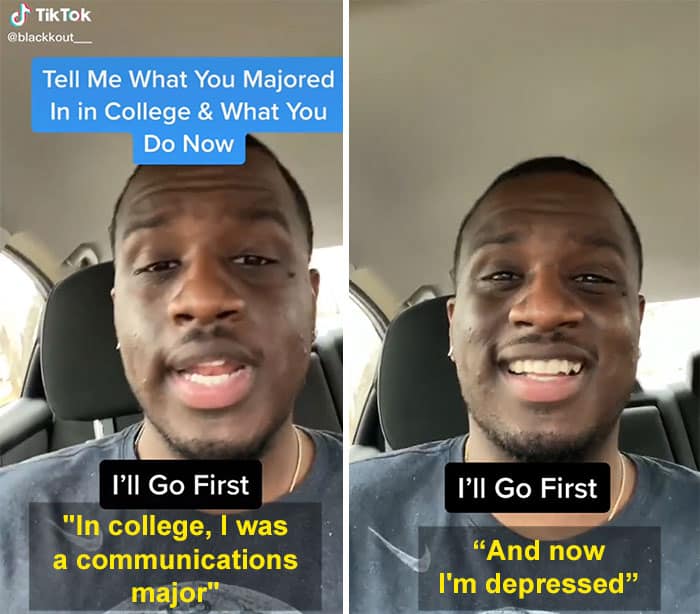 1.
"I went to college to get a Computer Science degree to make video games. Now I educate people on autism and motivate them through public speaking."
2.
I went to school for shoe design, but I ended up dropping out. My family was poor, so I just started working a regular job, but still held onto the dream. I started posting on social media and literally 10+ years later, finally, I have my own shoe. This colorway is inspired by Goku from Dragon Ball Z, it's a collab with one of my favorite shoe brands, Sia Collective, and it wouldn't be possible without your support. So thanks.
3.
"I got my associates in General Studies, my bachelor's in Behavioral Science, my master's in Administration of Human Services, and now I'm a stripper."
4.
"In college, I majored in Anthropology, Archeology, and got a minor in history. I was a published archeologist by age 21 and I made Dean's list every single semester. Now, two years later, my nickname is 'dumb bitch' at a restaurant and I get reprimanded constantly by the people around me for being stupid."
5.
"I was a Special Ed major in college. And now I'm a career planner in the Marine Corp, so I'm using my education to the FULLEST extent."
6.
7.
"I was a double major. I majored in History and I majored in Kinesiology. I wanted to be a professor. Now I work at a Chipotle where I get in trouble for smacking bean bags and then I work at a Krispy Kreme where I get called 'donut boy' by adults."
8.
"Okay… Computer Engineering… And Now I'm A Chef."
9.
"I majored in Electrical Engineering and now I am an Electrical Engineer. Y'all really hate on STEM majors until we all have jobs!"
10.
"In college I spent most of my time avoiding my studies learning to play the harmonica. Today I make my living playing the harmonica and the grandmother of the harmonica."
11.
"I got my associate's in Early Childhood Education, [then] I was a dual major in English composition and Criminal Justice, and I started my masters program in Criminology. But now I sell potato chips."
12.
13.
"Believe it or not, I got a degree in Financial Management. My Asian parents told me to study about money to make a lot of money. Of course I listened to them, did everything right, but find out 10 years later I was so unhappy. So after 10 years in that blood sucking boring ash job, I quit that beesh and started a meal prep company.""Now I get paid to cook delish Lao Food and host cooking parties. Moral of the story: live your dreams, bish and don't listen to nobody. Trust yo gut and listen to yo damn self and don't be lazy bish."
14.
15.
I was a biology major and I help depressed people
16.
"I double majored in Criminal Justice and Sociology with a minor in psychology. And I'm now a middle school math teacher."
17.
18.
19.
"I majored in Theater – acting. And I act like I give a fuck every single day of my goddamn life."
20.
"We went to college so hard that we came out with engineering degrees. A lotta good that does. We use it every day!"
21.
"I Majored In Psychology And Now I Go To Therapy."
22.
23.
"I originally went to my local community college and got my associate's degree in Liberal Arts. Then I transferred to Temple University on full academic scholarship and got my Journalism degree. Ultimately, I graduated from Penn State University with a degree in Advertising and Public Relations and a minor in Statistics…And now I sell compromising videos and photos of myself online and tell people how to f**k."
"And why do I do this you may ask? Because I make more money that way than I do with all those degrees. In all seriousness though stay in school."
24.
"I did my bachelor's in general arts with a minor in Philosophy, I have my paralegal license from the Law Society of Ontario, and I did my master's in Public Policy with a focus in Law. I currently tell people not to murder each other on the internet, and sell weasel-themed merchandise."
25.
"So I'm graduating next may with my bachelor's in Childhood Education, but I make self defense keychains and this is going to be my full-time job when I graduate."
26.
27.
"Well I dropped out of college, but while I was there I majored in Mechanical Engineering and had a double minor in physics and computer design and manufacturing. And now I get paid to be an idiot on the internet."
28.
29.
30.