Sometimes, it feels like we can never make people understand that though we are professional at something, we don't have all the answers to the questions. So, people should stop saying "Oh, you're an accountant? I have some tax questions I want to ask you!". Or "Oh you are a writer? Help me with this legal paperwork!". Or any other question that is as stupid as these.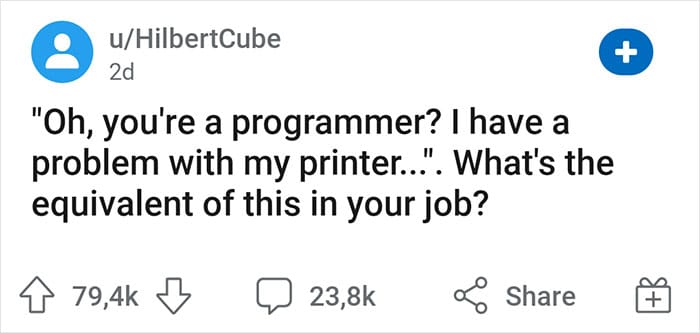 1.
2.
3.
"Oh, you're a pharmacist? Well I have this huge, gaping wound on my left butt cheek, can you look at it and tell me what I can use over the counter?"
Sir… Please go to the hospital…
4.
"Oh you're a Graphic Designer? Can you make a logo for me really quick? It's for my cousin's birthday. I don't have any money to pay but I'll have multiple revisions that will cut into your actual paying work time, but then get upset when you ask for payment"
5.
"You're invited to my.. party/event/wedding/celebration.. please could you bring your camera"
6.
7.
"Oh you're an artist ? Can you draw me, I'll pay you with exposure"
8.
"Oh, you're a teacher? Please explain to me how my child's teacher had the audacity to give them a C despite it being very obvious that my child is a genius!"
Bonus points if they want you to explain the grading criteria in a completely different subject and level of schooling than you teach. Like, I teach high school and community college English and Social Studies – why do you expect me to know the grading criteria for middle school math?
9.
"Oh you're a musician, play that one that goes, bun dum dum bun dum donn bom"
10.
11.
"Oh you work for a law firm? My son's ex-girlfriend wants full custody of their kid. What should he do?"
A. I'm a mass tort paralegal, I don't do family law B. He needs to get a lawyer.
12.
Oh you are an accountant, can you do my taxes?
No Mary i can't. I work for a corporate company not frigging H&R block. I mean I probably could but I don't wanna.
13.
"Oh, you are a Mathematician? What is 35122*748383?"
Use a goddamn calculator.
14.
15.
16.
Oh, you work in construction? (Proceeds to ask about fixing things around the house, asking if something was installed wrong because it doesn't "look right", or wanting a price quotes for various projects)
17.
"Oh, you're a programmer? I have a idea of a cool app!"
18.
Oh you're a paramedic? I have this thing on my toe, Will you check it?
19.
"Oh, you're a chemical analyst? You must know how to make drugs"
20.
21.
22.
23.
24.
25.
Sell me this pen
26.
27.

28.
29.
30.