Ryan Ashley DiCristina, better known as Ryan Ashley, is an American tattoo. The artist is widely known for her appearances on the television show Ink Master and its spin-offs. However, she has taken the Internet by STORM for her impeccable skills when it tattoos that look exactly like jewelry. She specializes in black-and-gray designs with beadwork, lace detail, and ornamental jewels. This patent style of hers makes up most of her portfolio. Being an artist playing with ink is not someone can learn in an instant. Ryan's experience oozes from the work she has done.
Ryan Ashley, as an ink artist, has solidified her success. She won Ink Master's season eight competition in 2016. In the following years she returned to host a spin-off show called Angels, and another spin-off Grudge Match. Ryan then returned as the judge in the main series. The marvelous artist now boasts 1.7 million followers on Instagram. Let's get to know her work better in these 31 masterclass jewelry tattoos.
Ryan Ashley – Master of Jewelry Tattoos
1. Literally blew the back out!!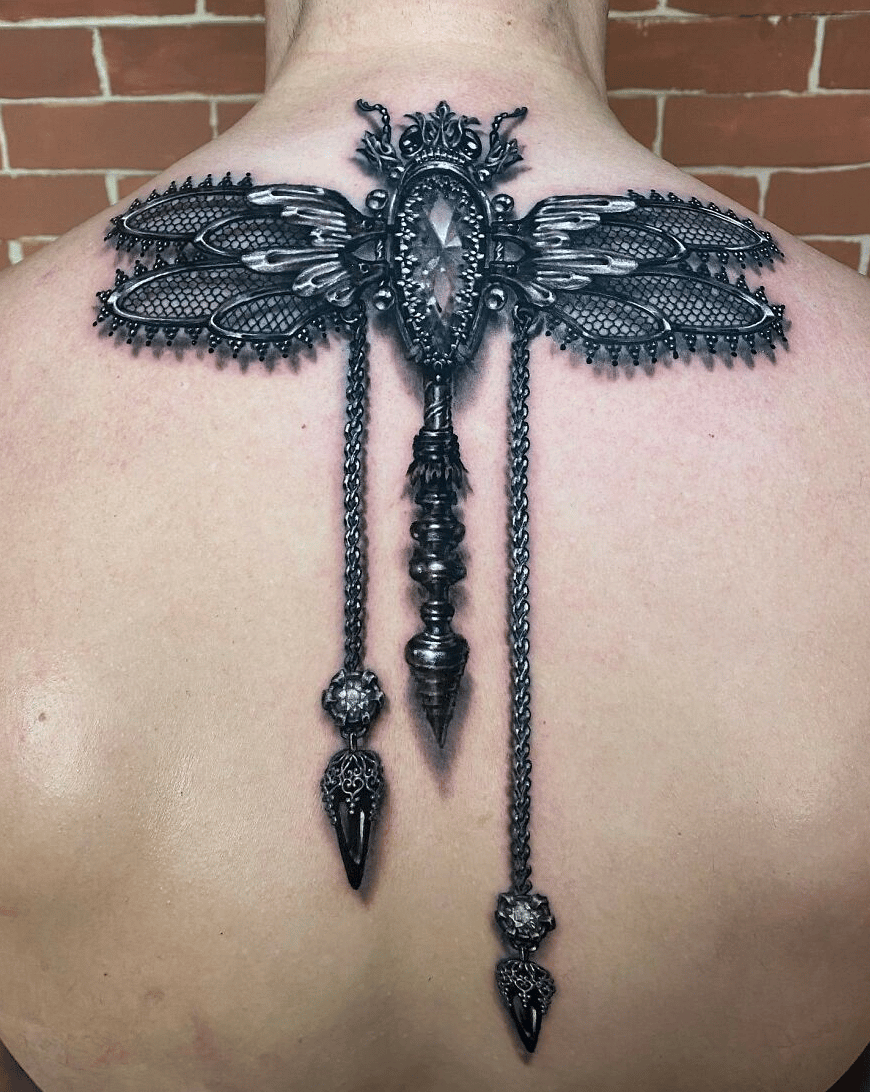 2. The symmetry between the tattoos is majestic

3. Better than any real ornament for the foot!

4. Ryan Ashley made holders for the jewelry!

5. So hyperrealistic it can put you in a trance

6. Ryan Ashley literally bejewels her tattoos

7. Perfect Lord Ganesh tattoo!

8. It almost looks REAL!

9. The use of purple in this artwork is unbelievable

10. This 3D creation tops Ryan Ashley's list

11. Perfection that can be seen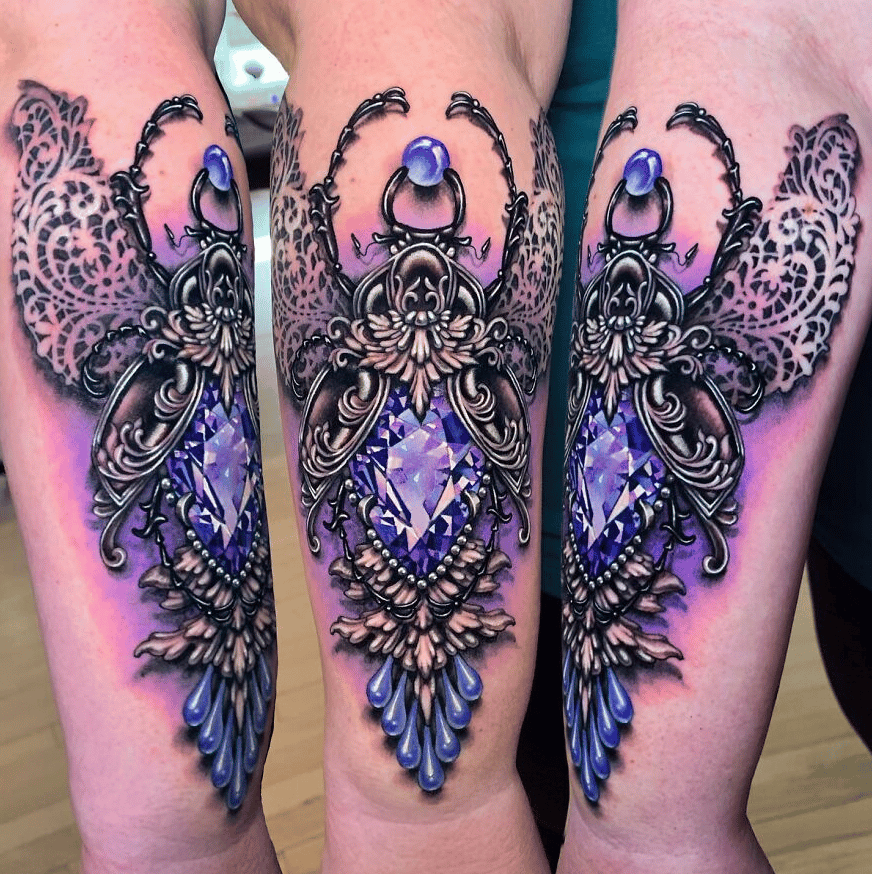 12. I'm gonna swing, from a chandelier… that's on your back!

13. Ryan Ashley knows how to paint the canvas!!

14. The level of detail in the tail is indescribable

15. The outline in the inner tattoo gives it a killer 3D effect

16. Well, she doesn't have a chip on her shoulder!

17. Wonder how long it took to make this one!

18. From flower to pearls – You'll find it all

19. Literal excellence

20. Ryan Ashley inks a SCENE, not a tattoo

21. Talk about a realistic spider and that flawless inking of a web!!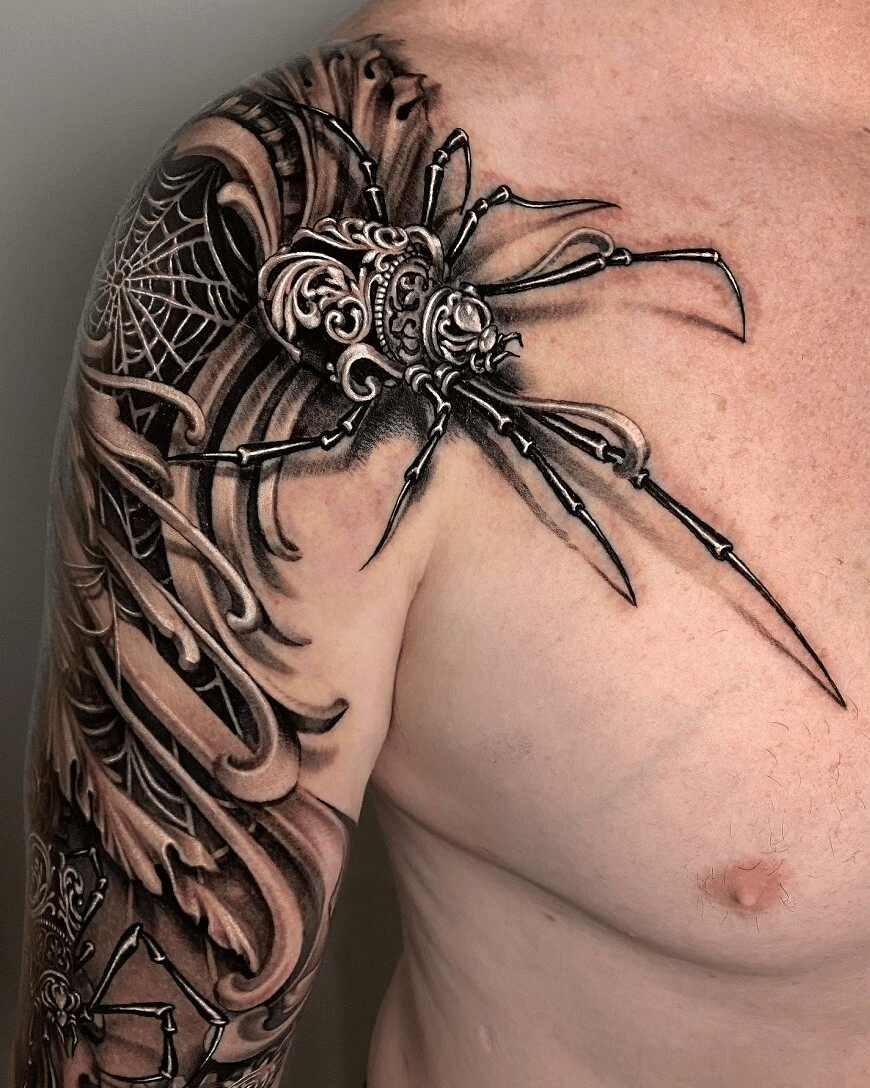 22. Simplicity at it's best

23. Ryan Ashley blended the tattoo's color with her skin!

24. This has to be hella time consuming!

25. The bloody red color makes the tattoo pop!

26. Wont ever need a bracelet again

27. Once again Ryan Ashley strikes!

28. The way the space has been used is commendable

29. Celeb tattoo artist kills it in black and grey

30. No room for error!

31. BONUS – This tattoo with red ink is a treat to watch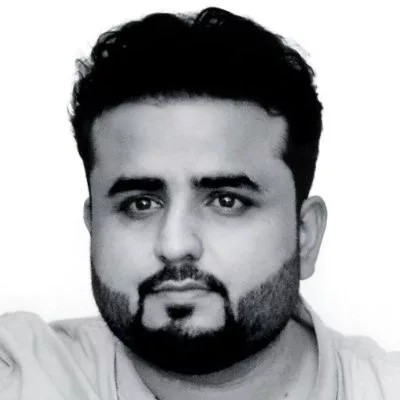 A passionate writer and journalist specializing in entertainment, pop culture, anime, gaming, and celebrity news. With a love for all things entertainment, whether sharing breaking news or offering in-depth analysis, I'm committed to providing high-quality content that entertains and informs.