When we talk about good food, we don't mention the food that gets served in hospitals. That's because hospital food can make even a healthy person fall sick. No, we aren't exaggerating! 
If you have no idea how terrible hospital food is, this post might be an eye-opener for you. Scroll down to have a look.
This Is The Meal My Wife's Hospital Had The Audacity To Serve For Nurses Appreciation Week. I Live In Phoenix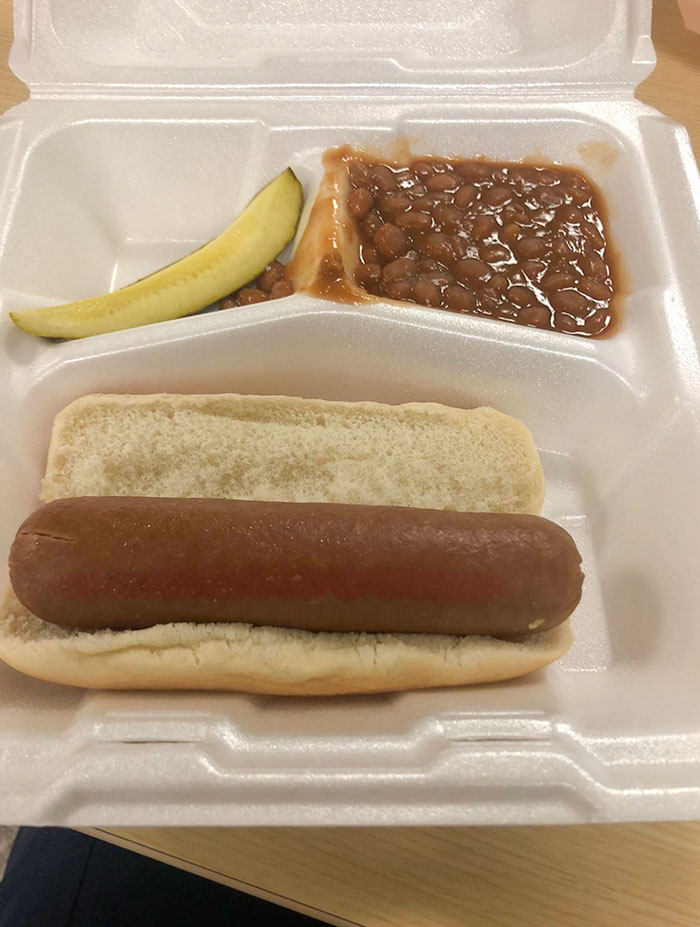 After a year of nurse shortages, running out of PPE, working employees to the bone without hazard pay.
What You Get For Breakfast In A Hungarian Hospital
Hospital Administration Told Us They'd Be Treating Us To Dinner During Our Shift. "Dinner" Is One Individual, Frozen, Uncooked Meatloaf Per Person. This Is Georgia
Hospital Food Yummy
It's mashed potatoes, something you'd feed to your bunny (or is it some kind of chicken pellets?), and water I guess?
This Hospital In USA Failed
Hospital Food In Italy
A Hospitals Take On Vegetarian Cuisine. Germany
Can You Identify My Austrian Hospital Food?
A good guess might be "depression", but actually, it was some sort of cow paste (it immediately fell apart, it was basically the consistency of mousse) in paprika sauce, mashed potato, and mushy pea purée.
Dinner In Irish Maternity Hospital
"Lasagna" According To Adventist Hospital
Celebratory Steak Dinner Offered By Hospital For Proud Mother And Father
Since We're Posting Our Hospital Meals (UK)
This Veggie Burger Was Served To Me In The Hospital. 10/10 For Presentation
Hospital Lunch In Romania
My Hospital Food Memories Are Scary. It's Lithuania
Yesterday's Hospital Breakfast In Chicago. The Garnish Really Makes It
My First Meal In A Week, At A Hospital For Meningitis, Entertain Me, Please. Milwaukee​, Wisconsin
Vegetarian Meal Sent Up For My Friends Hospital Meal
Groats With Vomit, From My Stay At A Polish Hospital
The Toasts One Of My Patients Got At The Hospital For Breakfast
Hospital Breakfast
Chicken Teriyaki Given To Us For Nurses Week By My Hospital
Vegan Hospital Food: Potato
Hospital Dinner In Germany At 16:30
Third Week Of Living On Vegan Hospital Food And I've Lost 10 Kg. I Have No Idea What This Is
Hospital Food Looks Like The Opposite Of Food. America The Great US
This French Hospital Food Is Getting Worse – Potatoes And What I Think Was A Boiled Cabbage
Horrible Vegan Hospital Food, New Mexican Style
My Hospital Roast Dinner
Hospital Cafeteria, Bon Appetit