Did you know that each year millions of dogs end up in shelter houses? We know it's sad. But don't lose your heart because there is one thing that you can do to give a new life to a few pups. Are you confused? Well, don't be because we are talking about dog adoption. We assume that you might have heard a lot about dog adoption. But we want to ask you one thing- have you ever adopted a pup? If not, you should do it now tas he homeless puppies need all your love and attention. 
Also, you would be happy to know that the animal adoption rate has increased in the past few years and it has been confirmed by The American Society for the Prevention of Cruelty to Animals (ASPCA). We have also collected some before and after pictures of abandoned animals. You will be totally amazed to see how gracefully these cuties have transformed. 
P.S. The pictures are too heart touching. 
#1 A Korean Family Rescued This Golden From A Breeding Facility. Went From 15 Lbs To A Healthy 60 Lbs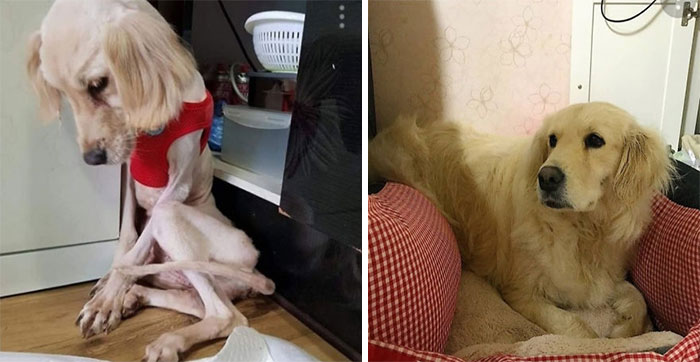 It is believed that there are 70 million dogs in the U.S. So this means nearly half of the United States population has pet dogs. 
The American Pet Products Association says around 23% of the dogs are from humane society or shelter houses and 34% are purchased from breeders. 
#2 My Gorgeous Pupper With Her Puppies Before I Adopted Her And Now 3.5 Years Later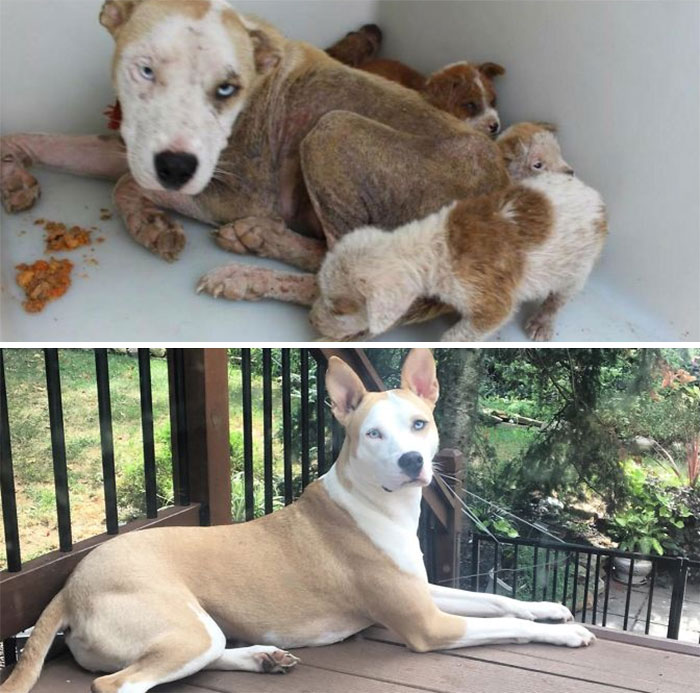 It is found that the aggressive and problematic behavior of dogs are the main reason that owners rehome pets. But again, there are people who prove that humanity is still alive with their kind and responsible act. And these people show that they can give a new life to pets no matter what.
#3 Meet Anna! She Was Living On The Streets Of Italy Before My Mom Brought Her To Germany. Now She's Happy And Loves Her Buddy Iluq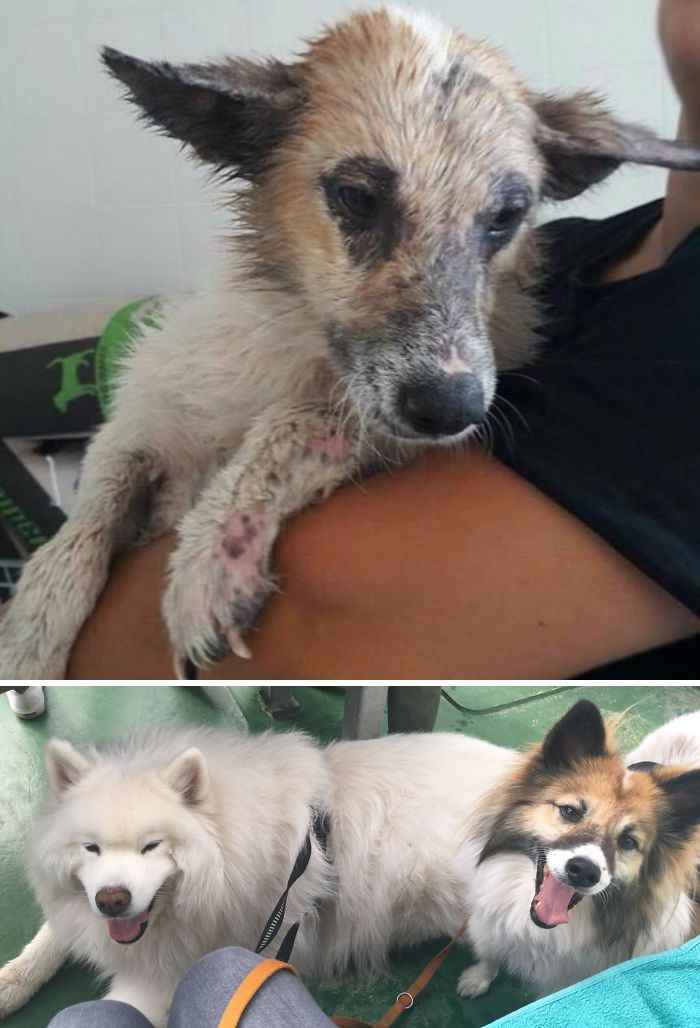 #4 The Shelter I Volunteer For Has Incredible Before And After's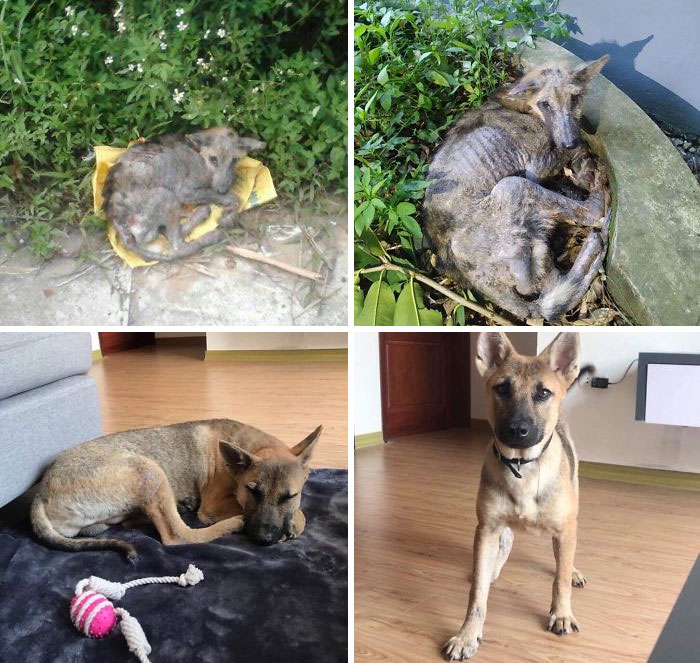 #5 We Found Her Infested With Fleas On The Curb 3 Months Ago. Her Name Is Sky And She Likes The Rain.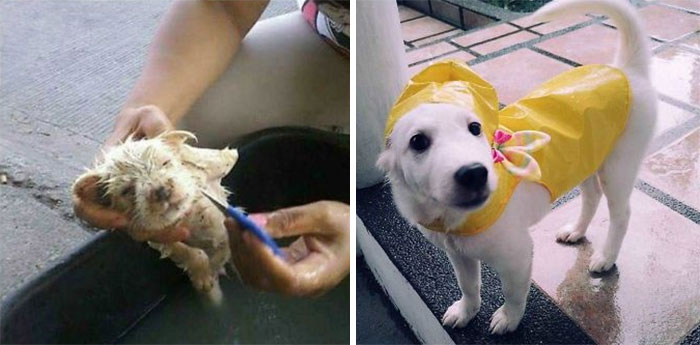 #6 From A Severe Case Of Mange And Dumpster Diving In The Streets Of San Antonio To 3 Months Later Loving Life, Growing, And Learning Sign Language! Meet Our Deaf Dog, Rue!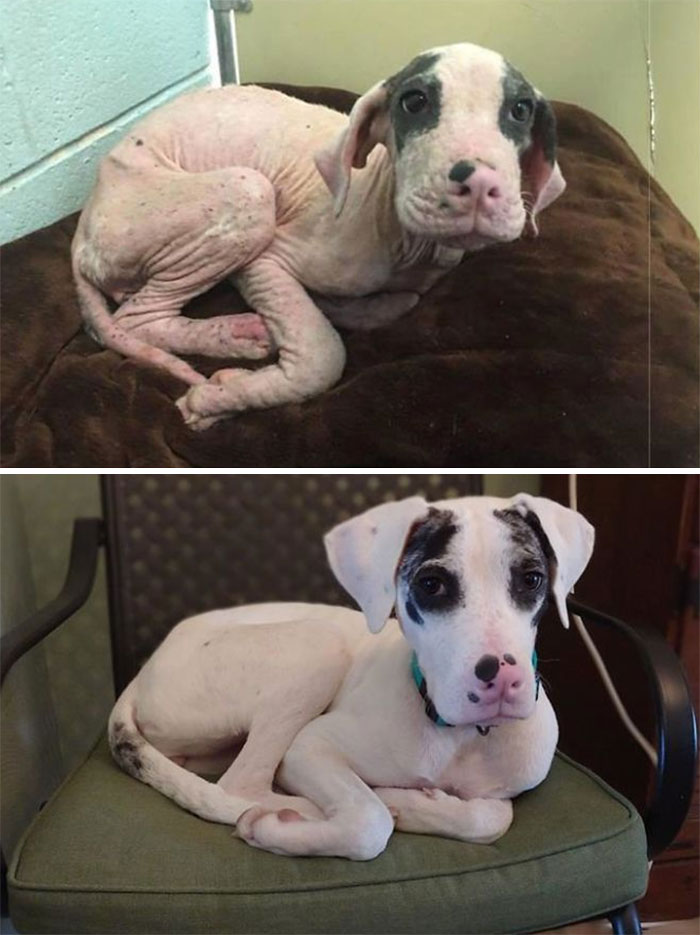 #7 No One Wanted To Adopt Him Because Of His Cropped Ears And "Scary" Looking Face. He Had Stopped Eating At The Pound And Was Severely Underweight. Now Bronco Is Healthy, Always Smiling, And Loved By Everyone He Meets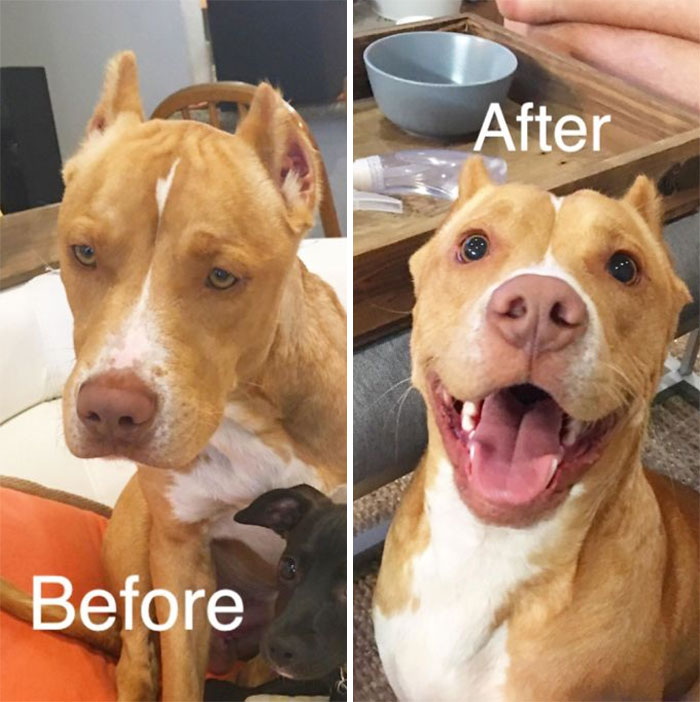 #8 When We Met Her In The Shelter My Daughter Immediately Started Whispering In Her Ear "Your Okay, We'll Take You Home And Keep You Safe, We Love You Already"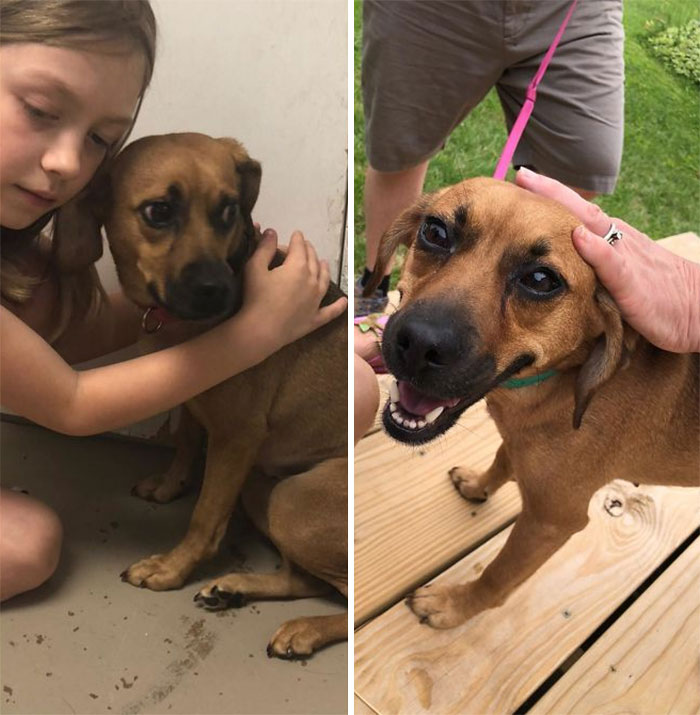 #9 I Adopted 13 Year Old Phyllis One Year Ago Today! She Came In Emaciated, Flea Anemic And With A 5 Lb Tumour On Her Side. No One Thought She Was Going To Make It And Here We Are One Year Later! Happy Adoption Day, My Little Philly Cheesesteak!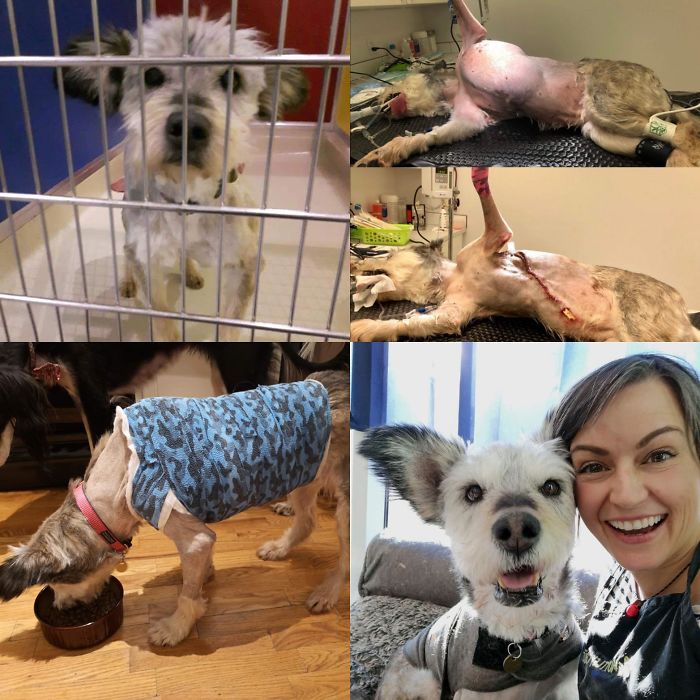 #10 Adoption Day vs. Today. She Has Come A Long Way And Is Spoiled Rotten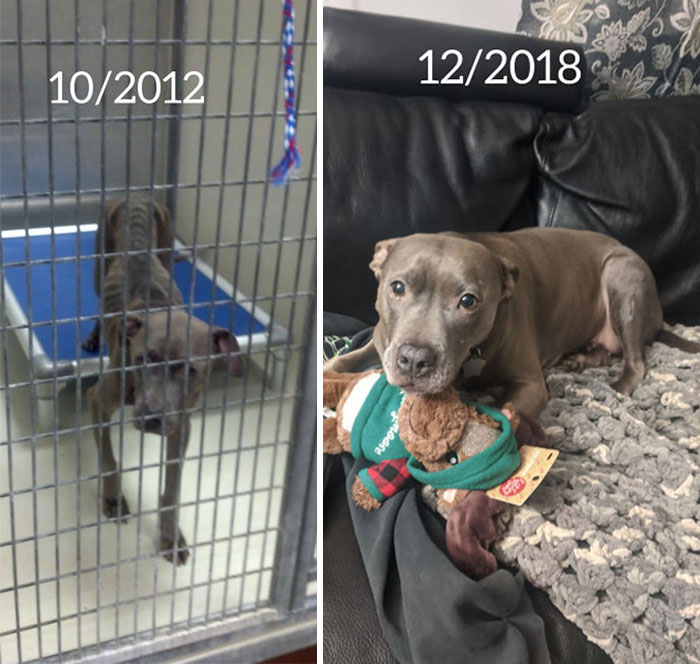 #11 New Foster Pup Nic, She's Come So Far Already!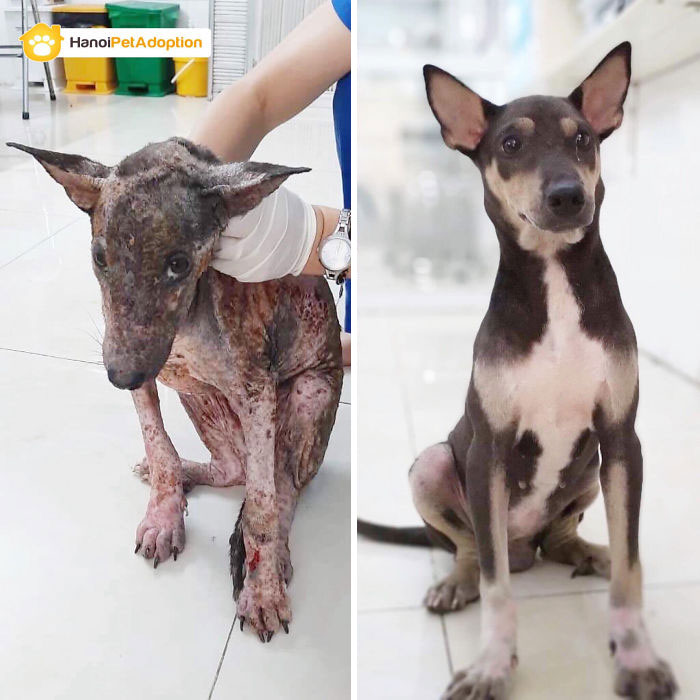 #12 This Is Ruthie, Our 16yr Old Chihuahua Mix. December Close To Death In The Shelter Compared To Now. Old Dogs Are Worth Adopting Too!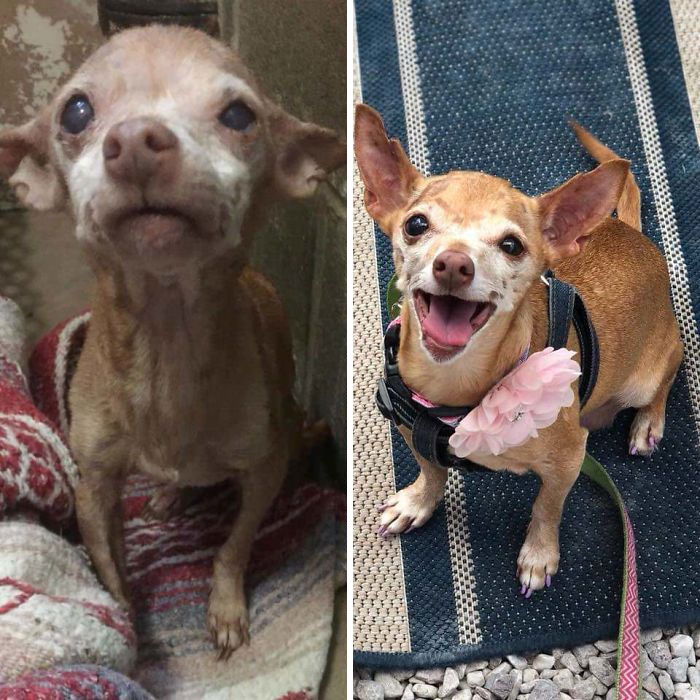 #13 Gus Gus Was Saved From The Meat Trade In China. He Just Moved Into His Forever Home And Now Gets To Spend His Vacations In Tahoe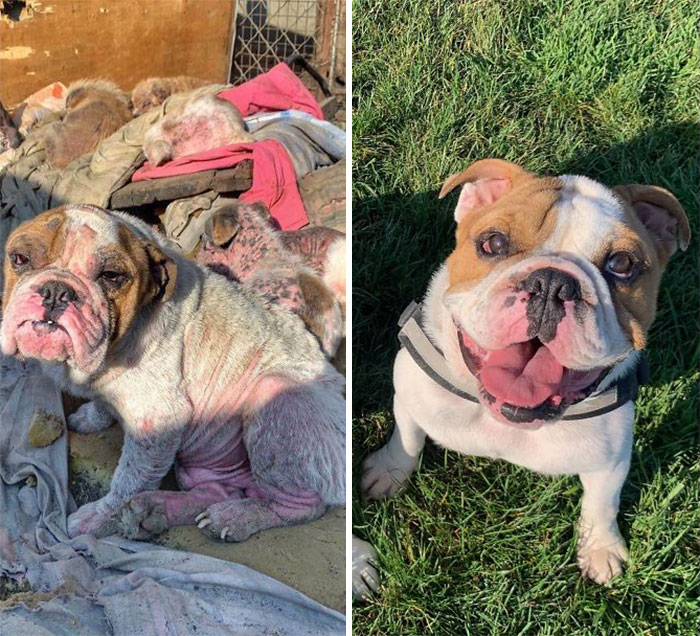 #14 Rambo Was Left Behind By His Family And Found Tied Inside A Dark Shed By The New Owners. Here's His Before And After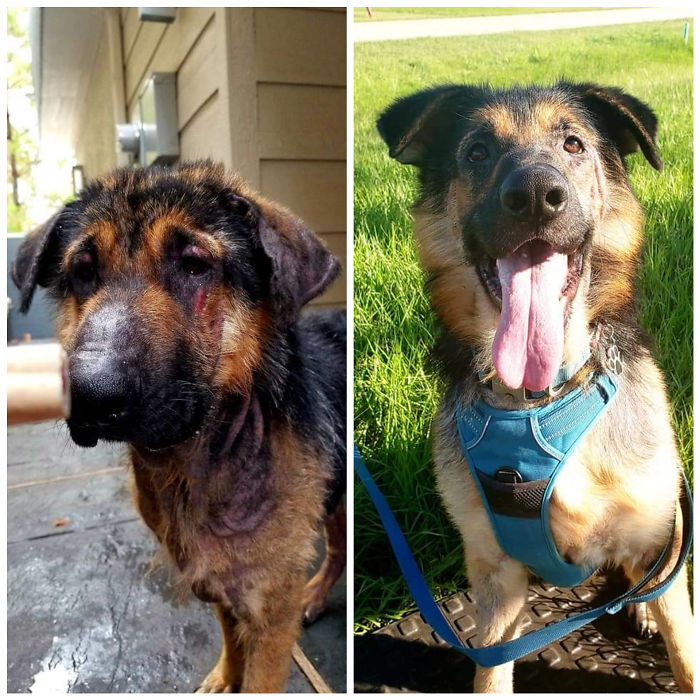 #15 Timmy Was Hit Over The Head With A Blunt Object By His Racing Trainer. After Surgery To Repair His Broken Skull, Therapy To Help Him Regain Proper Use Of His Legs And Plenty Of Tlc He Was Rehomed And Lived Everyday To The Fullest!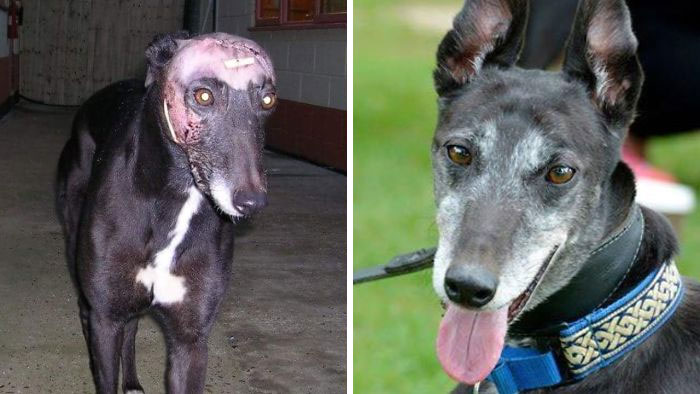 #16 I Found Her 4 Years Ago, Covered In Blisters, No Hair And Starved… Who Knew She'd Be The Love Of My Life. She's The Greatest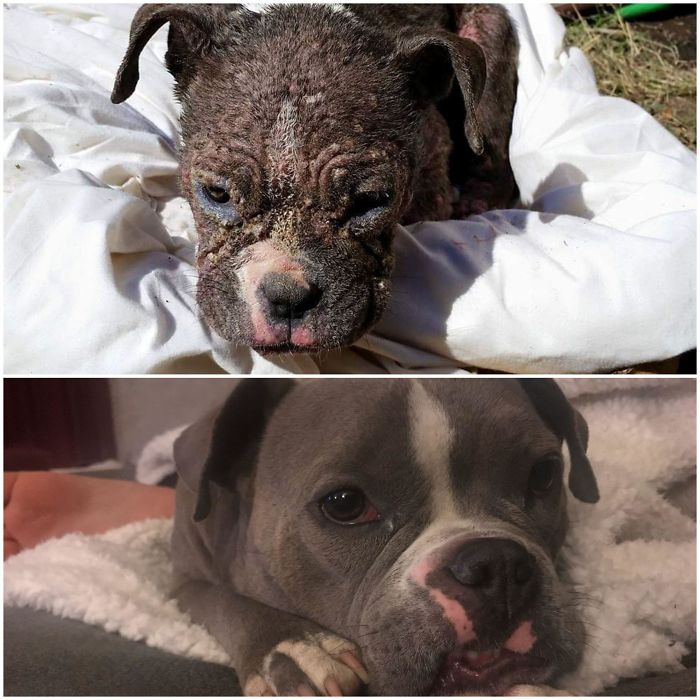 #17 Lucia, Right After She Was Rescued From A Hoarder. You Couldn't Touch Her. Curious But Terrified. Fast Forward 2 Years She's Fluffy And Fat And Happy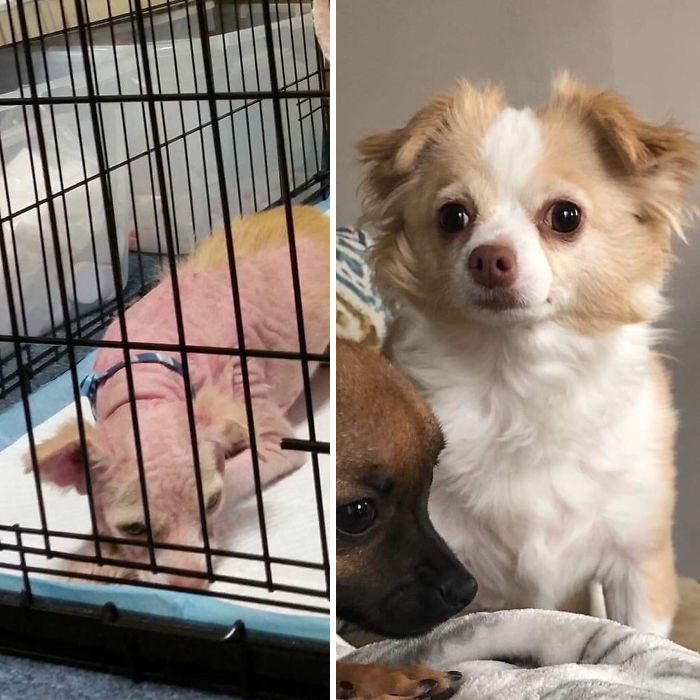 #18 Rescued A Skeleton And Ended Up With This Sweet Girl Who Is Always Smiling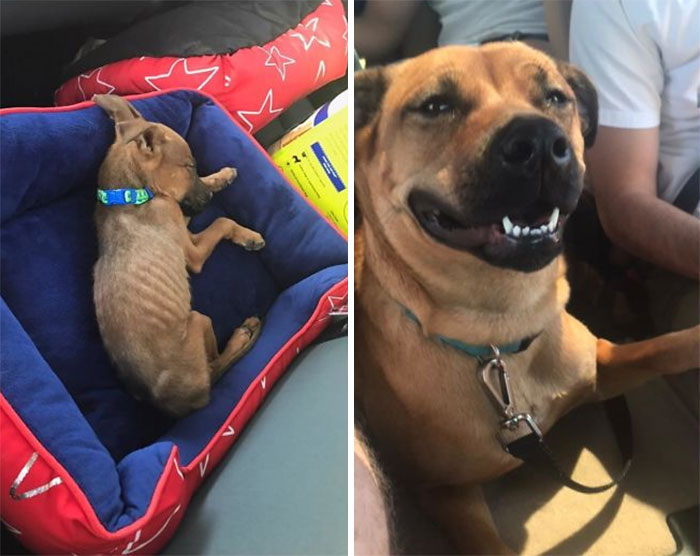 #19 Rescued Last Night, Settled In 2 Hours Later And Slept With Me All Night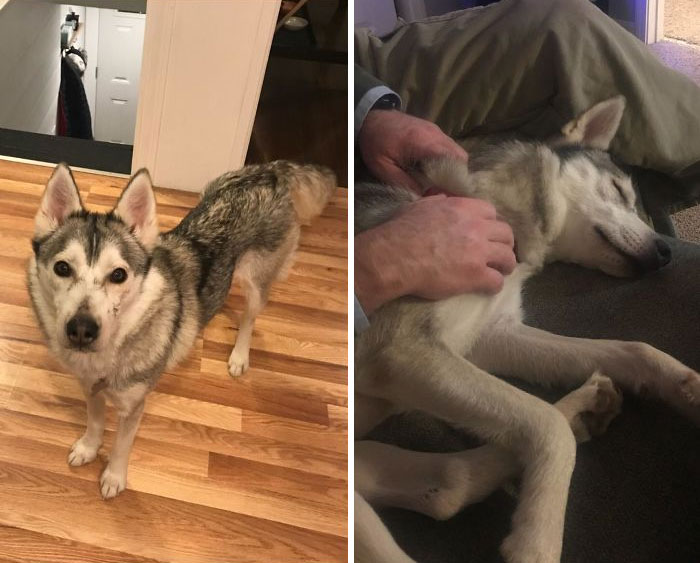 #20 This Is Dobby! She Came Into My Life A Few Months Ago After Terrible Neglect From Her Previous Owners. With Some Love And Care (And A Lot Of Food) She Has Turned Into A Whole New Dog! She Is My Everything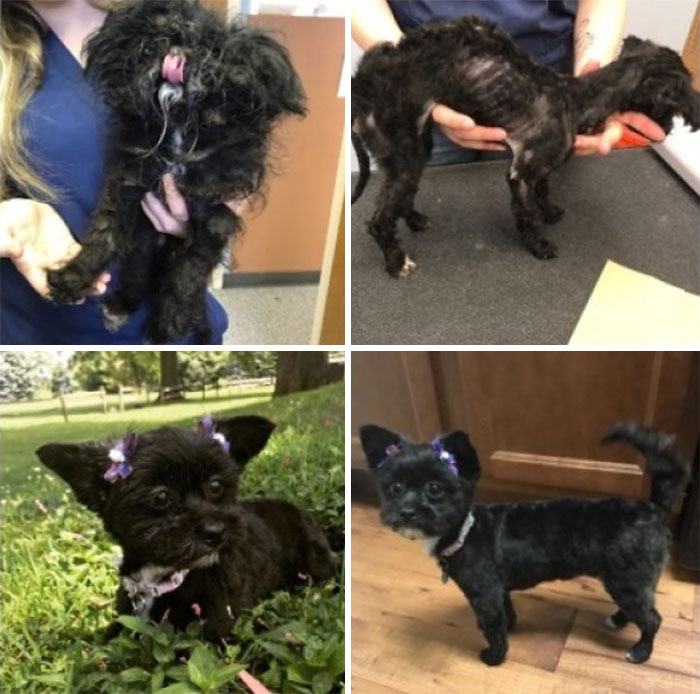 #21 My Next-Door Neighbors Abandoned Their Dog And Got A New Puppy. She Was In The Shelter For A Full Month Before I Realized What Happened. This Is Missy In The Shelter, And When She Realized She's Never Going Back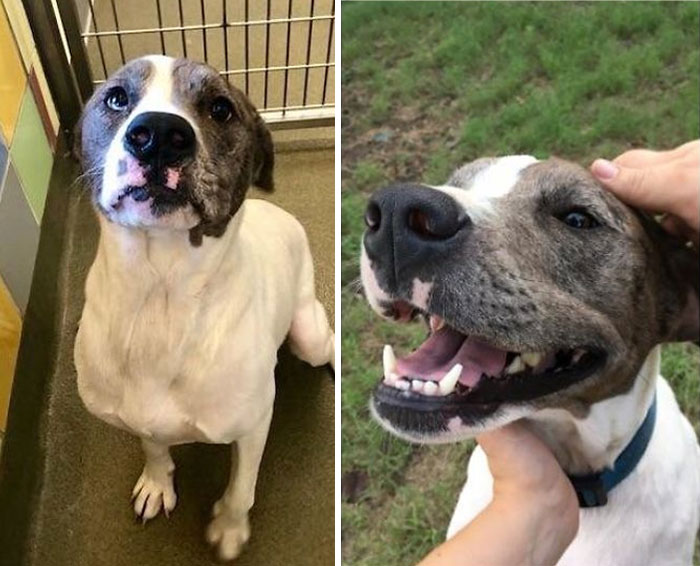 #22 Barkley, Rescued From The Streets Of Puerto Rico And Loved Back To Health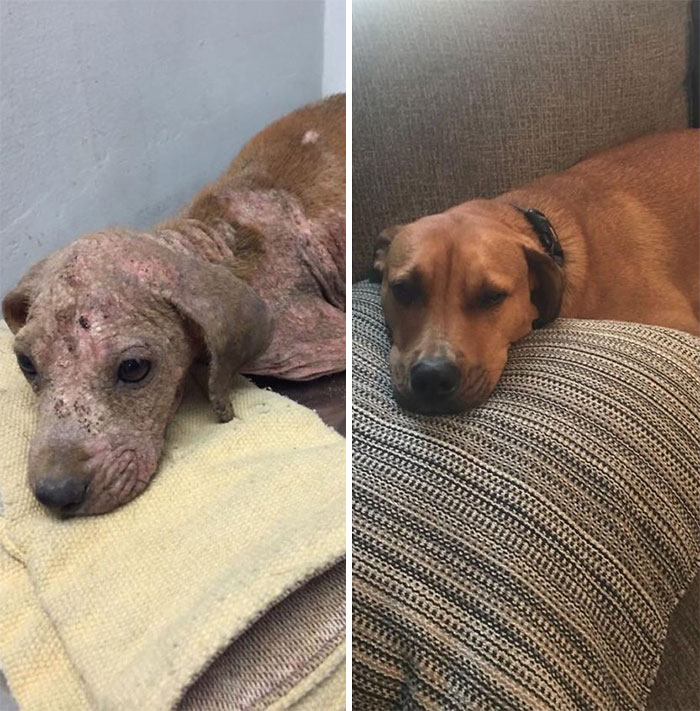 #23 Our Pug Had A Hard Start To Life. Raised By A Trucker Who Couldn't Take Care Of Him And Get Him The Treatment He Needed. Then A Vet Who Didn't Diagnose Him Correctly. Now He's A Healthy Stud-Muffin!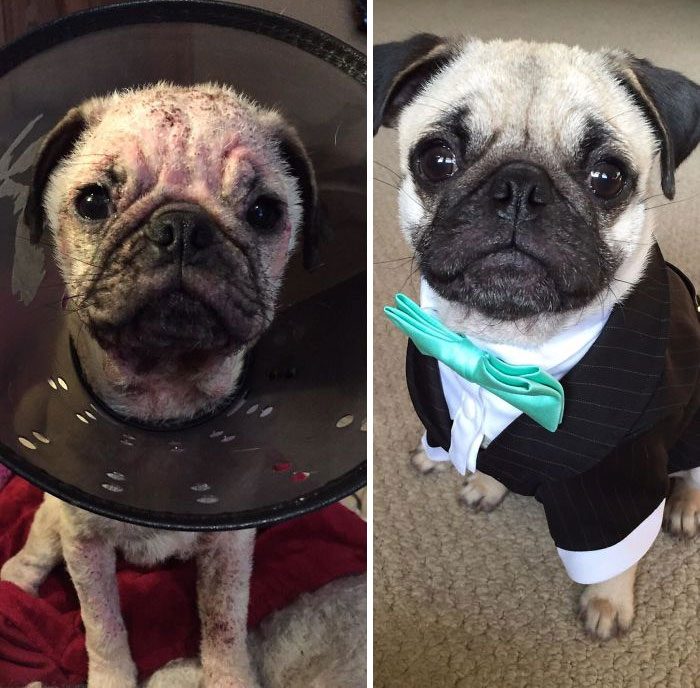 #24 This Is Dex. He Fought For His Life After Having Been Left For Dead On The Streets Of Austin. After 10 Weeks Of Being Nursed Back To Health By Pug Rescue Austin, We Were Lucky Enough To Adopt Him In Our Loving Home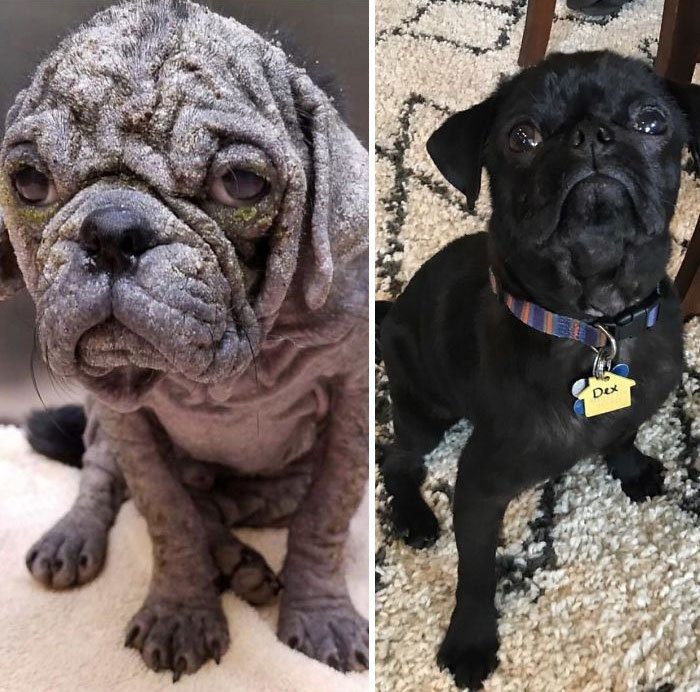 #25 This Is Casey, A Senior Who Was Used For Breeding Then Dumped On The Roadside With A Very Large Tumor & A Blind Eye
#26 Took In This Sweet Angel When I Heard She Was About To Be Tossed In The Garbage By A Breeder For Being A Runt. Four Months Later, And Yumi Is The Most Playful, Loving, Healthy Gal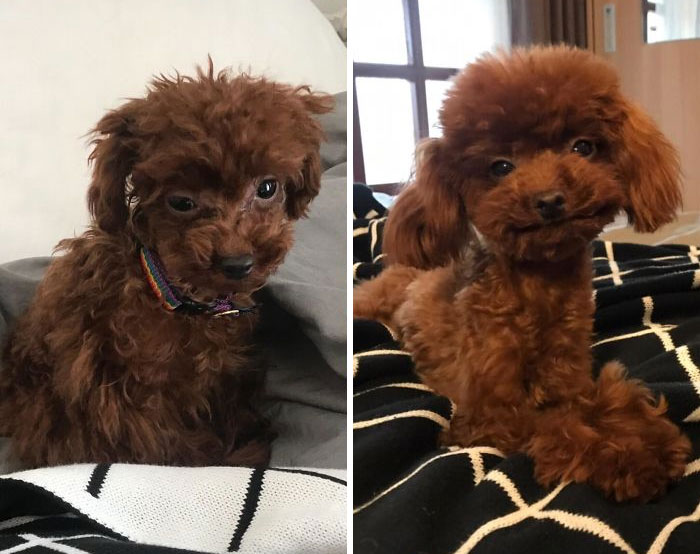 #27 Ruth Was Used For Breeding And Then Dumped. She Had Soft, Tender Paws From Being Locked Up All The Time And Was Found Tied To A Fence In The July Heat. I Was Honestly A Little Afraid At First But She Is So Docile And Sweet. She Was Adopted By People Who Love And Spoil Her. Her Face Says Everything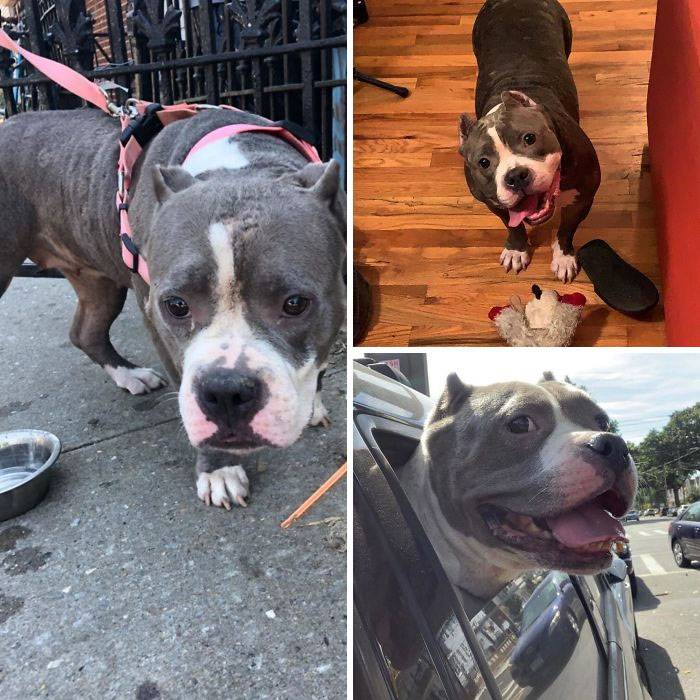 #28 Suffering From Mange And Unable To Take Care Of Her Puppies To Romping In The Cascade Mountains And A Closet Full Of Bandanas In Every Color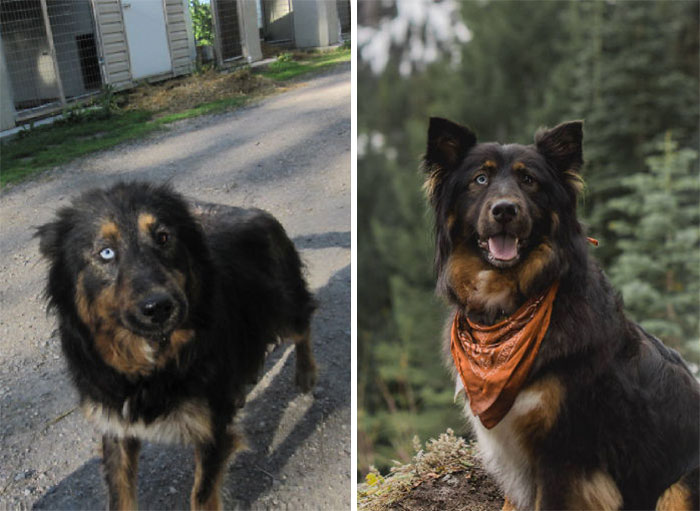 #29 This Guy Walked Into Our Hotel In Nepal And Never Checked Out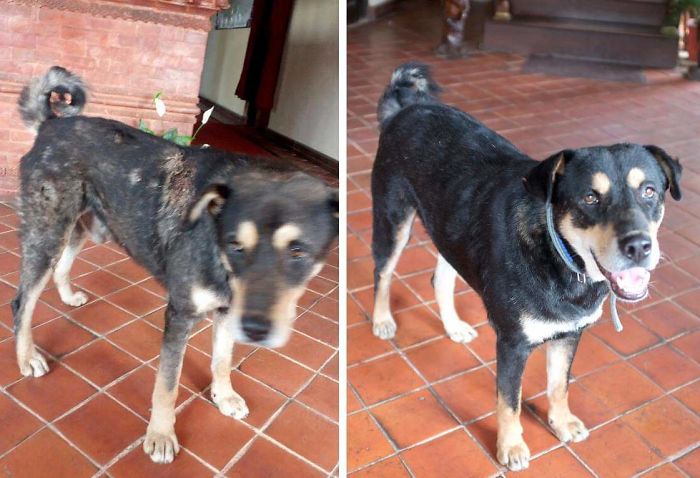 #30 This Puppy Was Abandoned On Backroads With Zip Tie Tightened Around His Jaw. Look How Happy He Is At His New Forever Home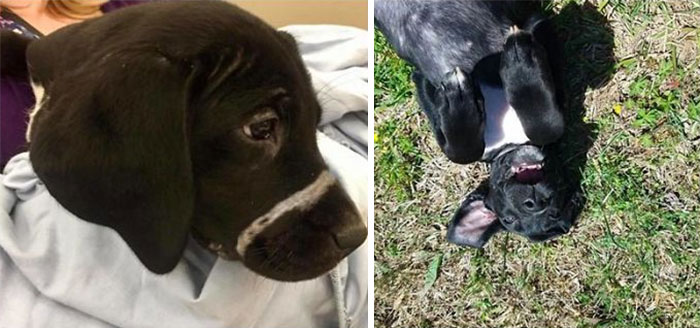 #31 So My Sis Adopted Her Very First Dog And His Before And After Pics Have Me Crying