It's great when celebrities do something amazing and it inspires people in a positive way. And hopefully, celebs are doing it all from raising their voice against social issues to adopting dogs. Wow!
Celebs like Selena Gomez, Arnold Schwarzenegger, Ryan Reynolds, Jennifer Aniston, and more are coming forward to give a permanent home to furry angels. And the best thing is that these adopted pets are also enjoying a lot with our favorite actor and actress. 
To show how happy pets and celebs are together, we at Hiptoro have compiled a list of pictures. You can just scroll down and have a look at them. 
#1 Chris Evans & Dodger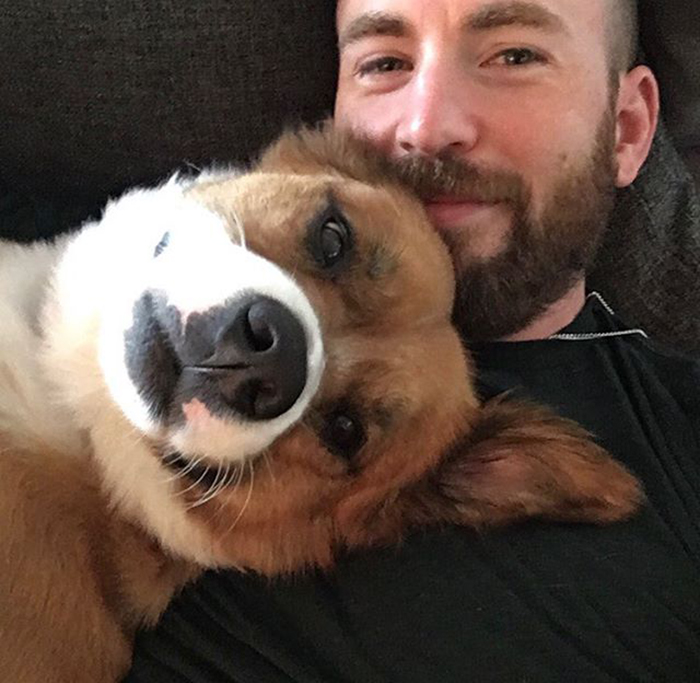 The heartthrob Chris Evans met Dodger during a film shooting. When Evans realized that Dodge was a rescued dog and not a trained movie dog, he decided to adopt him immediately.
#2 Ryan Reynolds & Baxter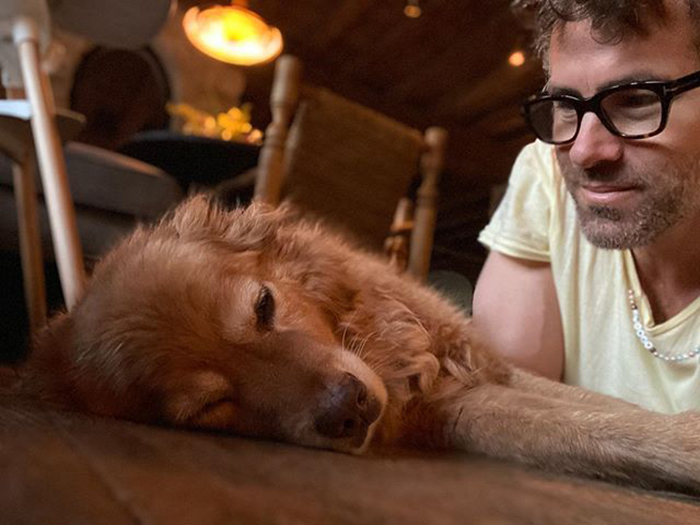 In an interview, Ryan said that "I saw this big, dumb-looking retriever staring up at me… I whispered to him, 'Hey, let's get the hell out of here.' And he jumped up like he spoke English fluently. He came with me, he jumped in the car, and we've been best buddies ever since."
#3 Hilary Swank & Lucky, Karoo, Rumi, And Kai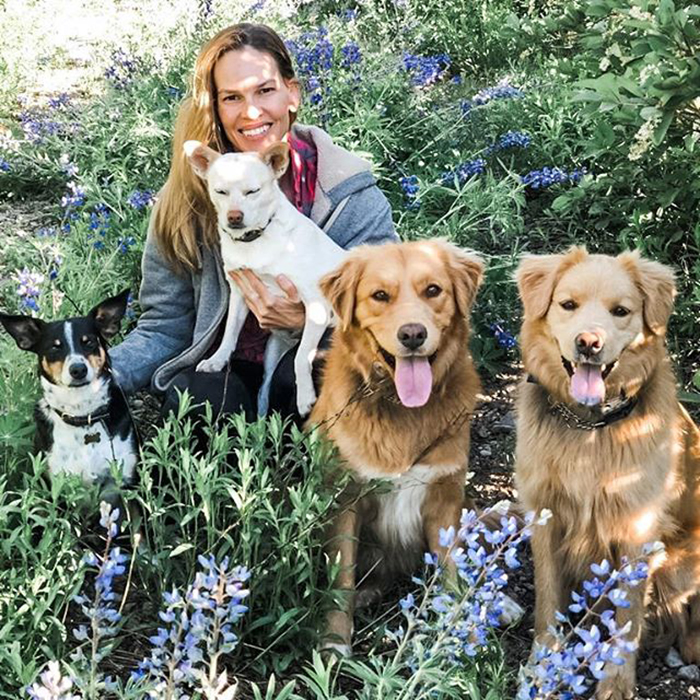 You will be amazed to know that Hilary Swank has not just adopted one but four cute dogs. On top of this, Swank also has a dog shelter house that she runs on her own. She says that "I have rescued and found homes for thousands of dogs through it".
#4 Zac Efron & Maca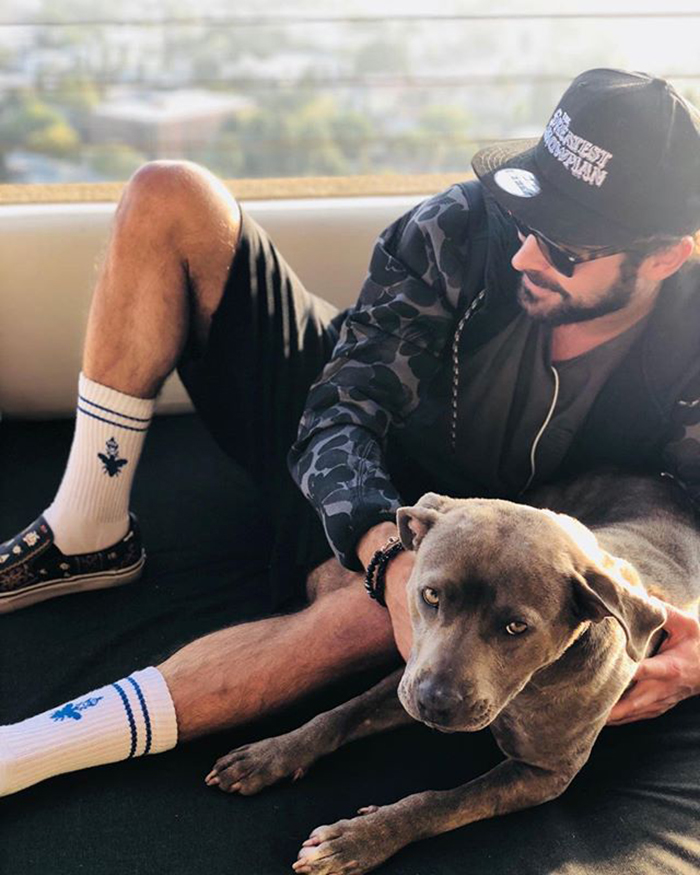 Zac Efron has also adopted a pit bull named Maca. She was on her way to being euthanized when a pet shop in LA rescued her, and later, Zac adopted her. 
#5 Taylor Swift & Benjamin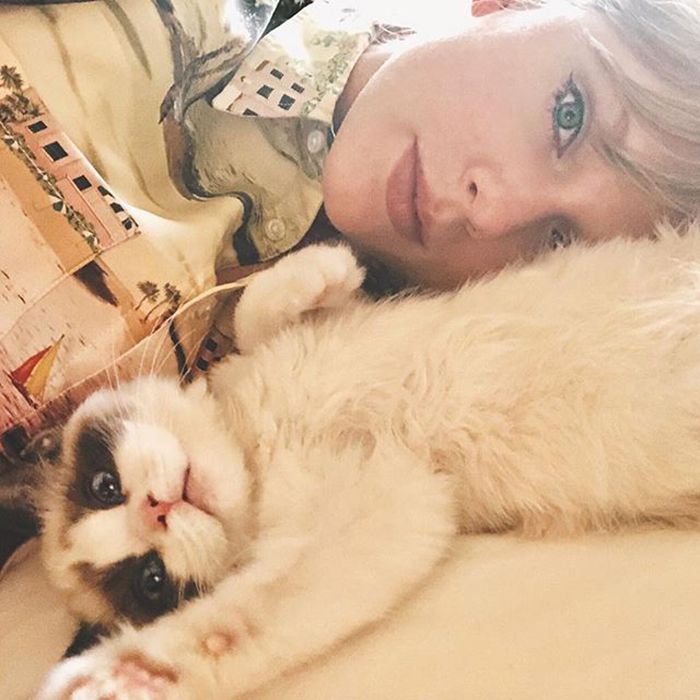 Taylor Swift saw the ragdoll cat in one of the sets of her music videos and instantly fell in love with the cat. After that, she decided to adopt him. Now, Benjamin Button and the famous singer live together. 
#6 Arnold Schwarzenegger & Dutch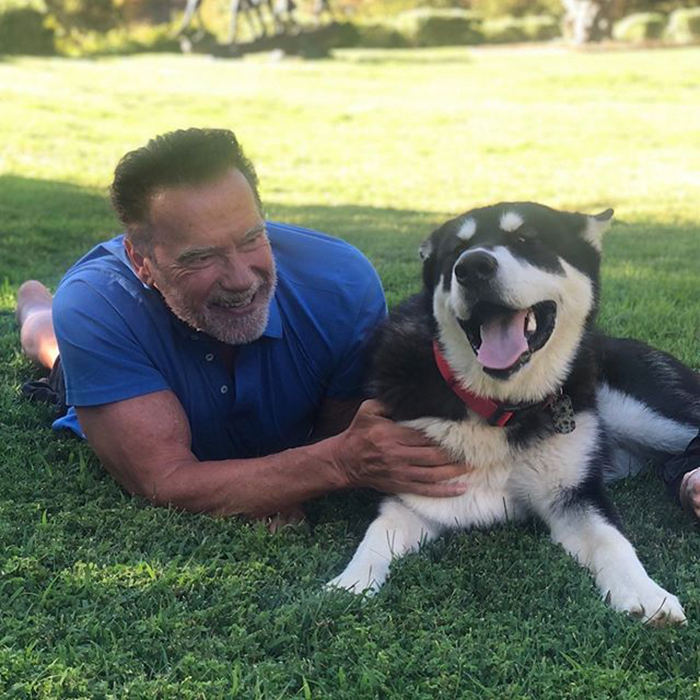 The Governator has adopted this adorable pup during this pandemic. This adorable and friendly dog was named Dutch after his character in the movie Predator. Besides Dutch, Arnold also has two other pets i.e. the pony Whiskey and donkey Lulu.
#7 Selena Gomez & Winnie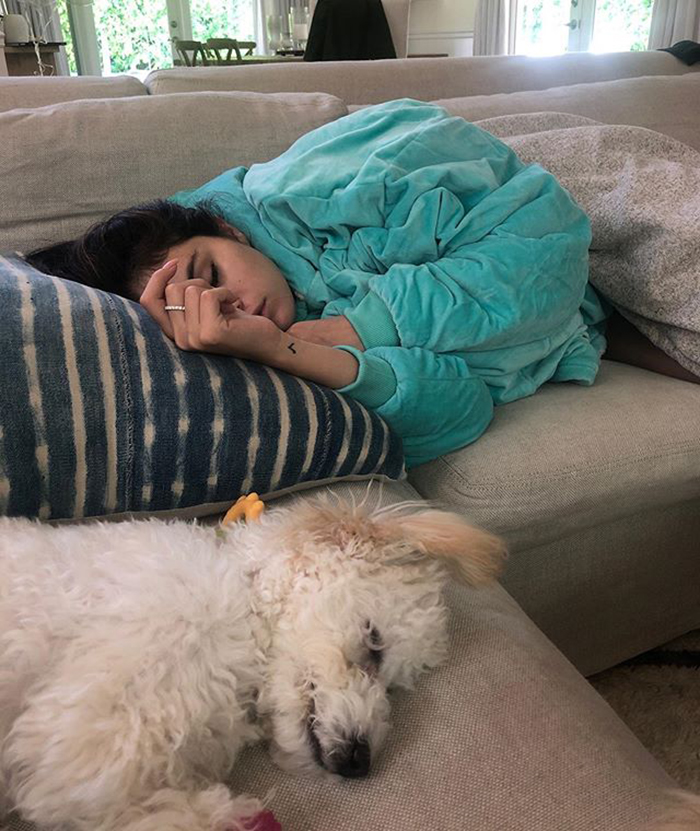 Well, Selena Gomez is a dog lover just like most of us. That's why she is already the proud mom of six dogs. Her dogs are Chaz, Wallace, Chip, Fina, Willie, Baylor, and a newly added member, Winnie.
#8 Amanda Seyfried & Finn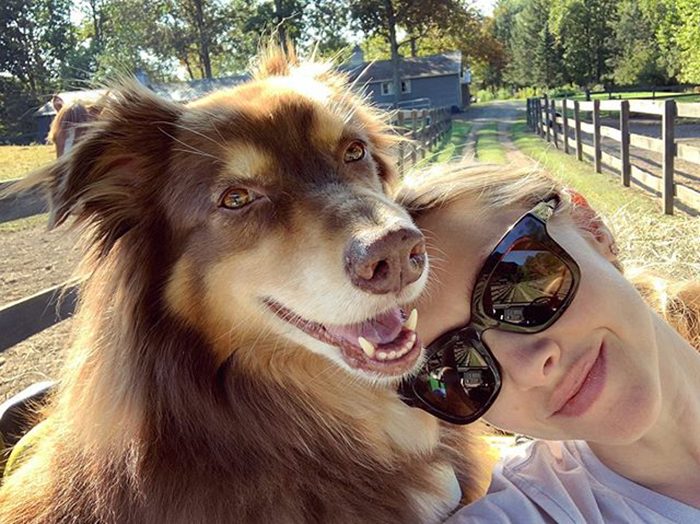 When Amanda was working at the sets of Big Love, she found a cute and beautiful Australian shepherd whom she adopted and named Finn. 
#9 Josh Hutcherson & Driver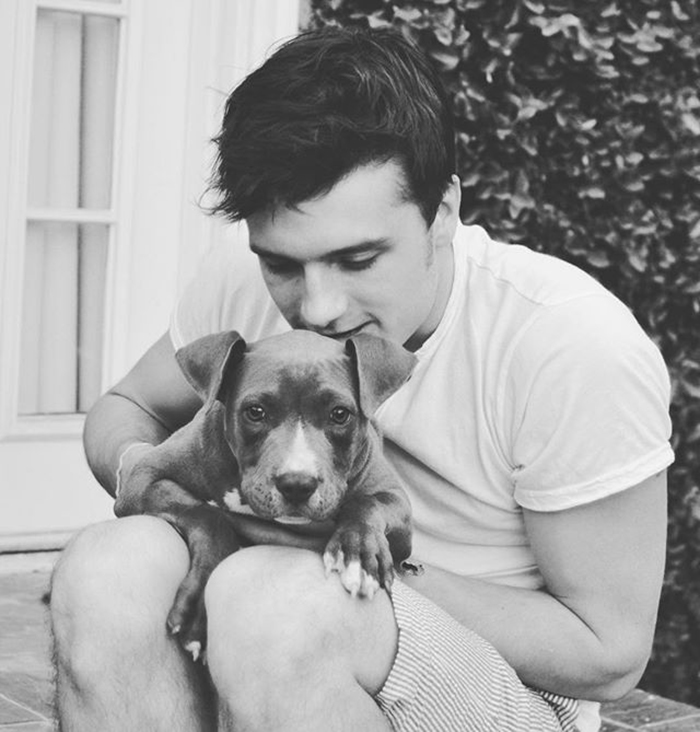 When Josh decided to adopt Driver, a pit bull, the dog has already lost two of his toes and had a broken leg as well. 
#10 Eva Mendes & Lucho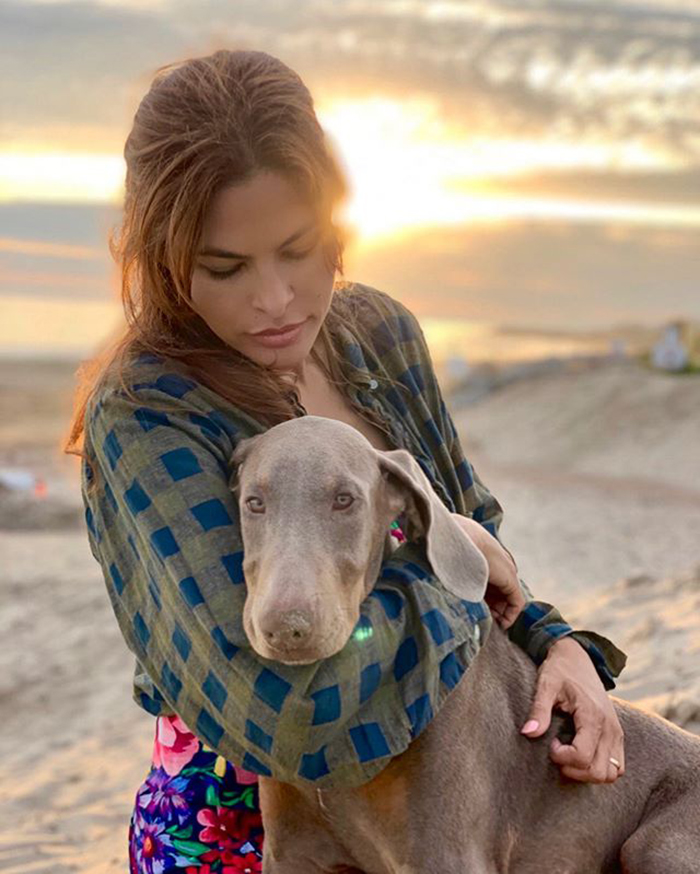 Eva and her significant other Ryan Gosling have adopted this cute dog named Lucho from the Friends For Life Rescue Network.
#11 Jennifer Aniston & Clyde And Lord Chesterfield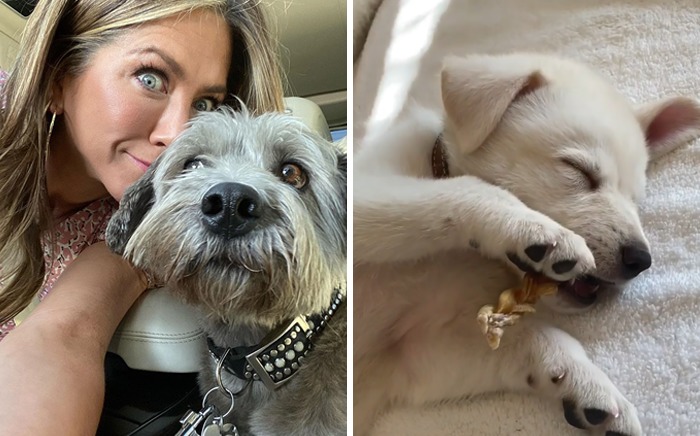 Jennifer has recently adopted her new dog named Lord Chesterfield. You can see the dog in the picture, where he is sleeping and posing with a bone. Other than Lord Chesterfield, Jennifer also has two other dogs i.e. Clyde and Sophie.
#12 Zooey Deschanel & Dot And Zelda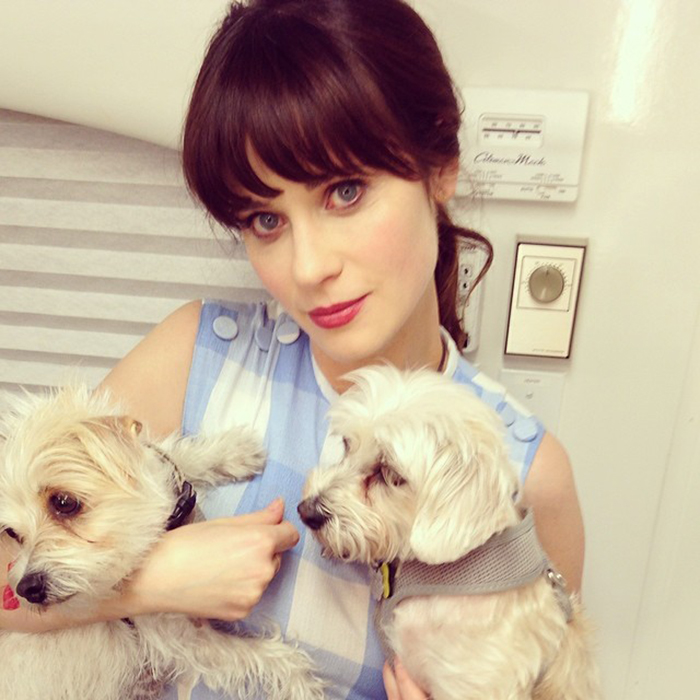 Before this, Zooey didn't have any pets. So, when her boyfriend asked her to adopt a pet, she didn't deny it. But when she went to adopt, she ended up getting two as Dot and Zelda were sisters. 
#13 Justin Theroux & Kuma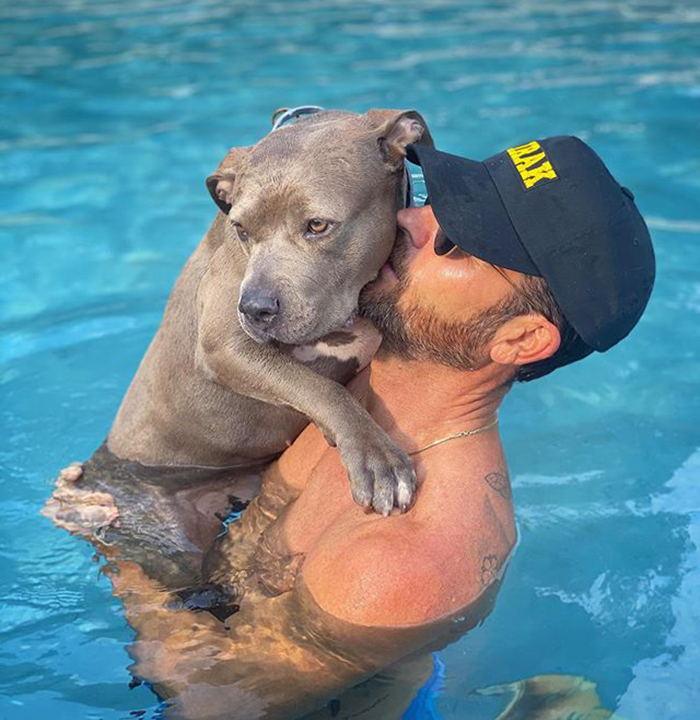 Just like most of us, the handsome hulk Justin Theroux is also an animal lover. And his two adorably cute doggo tattoos proves how much he likes dogs. Justin ended up adopting Kuma after he came to know about a pup that has been suffering because of a hurricane.
#14 Drew Barrymore & Douglas, Lucky, Peach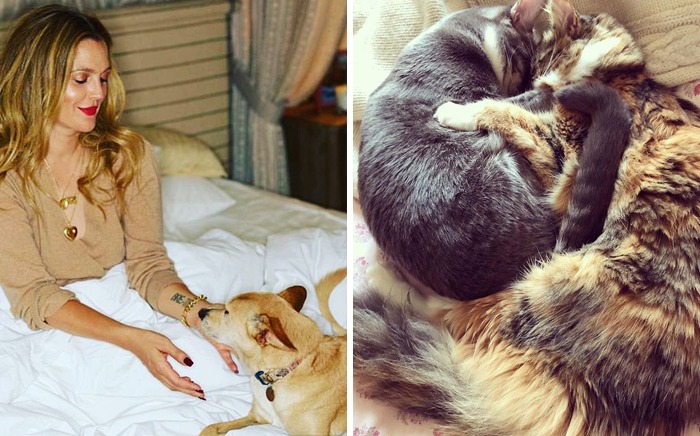 You will be amazed to know that Barrymore has rescued more than 10 animals till now. She adopted Douglas when she saw him abandoned in the San Fernando valley fires. After that, she along with her beautiful daughter adopted 3 kittens i.e. Fern, Peach, and Lucky.
#15 Lea Michele & Sheila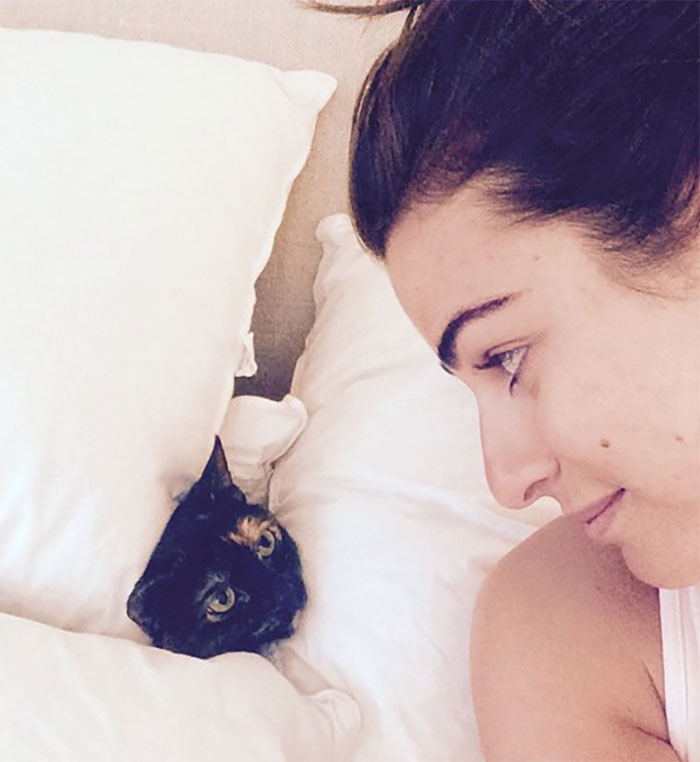 Michele loves animals so much and is even a proud mother of two gorgeous cats. She had actually saved a 6-kitten litter that she found around the Paramount Studios premises. From that, she adopted two kittens, named Sheila and Claude.
#16 Charlize Theron & Johnny Utah, Berkley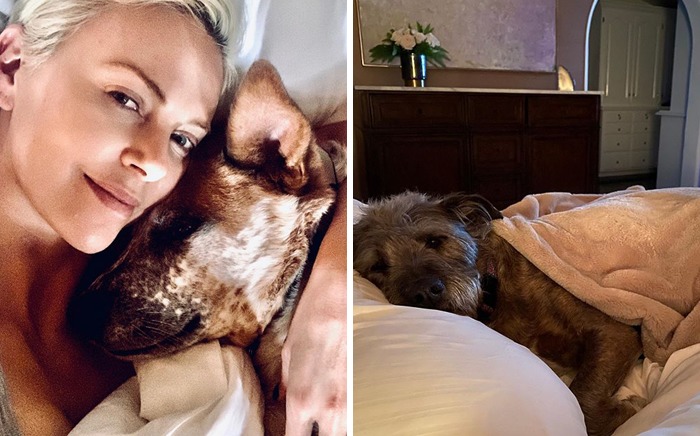 Theron is an advocate of animal rights and works with several animal rights organizations. While working, she has adopted two dogs, named Johnny Utah and Berkley. Besides them, she has also adopted Tucker in 2011.
#17 Brooks Laich & Koda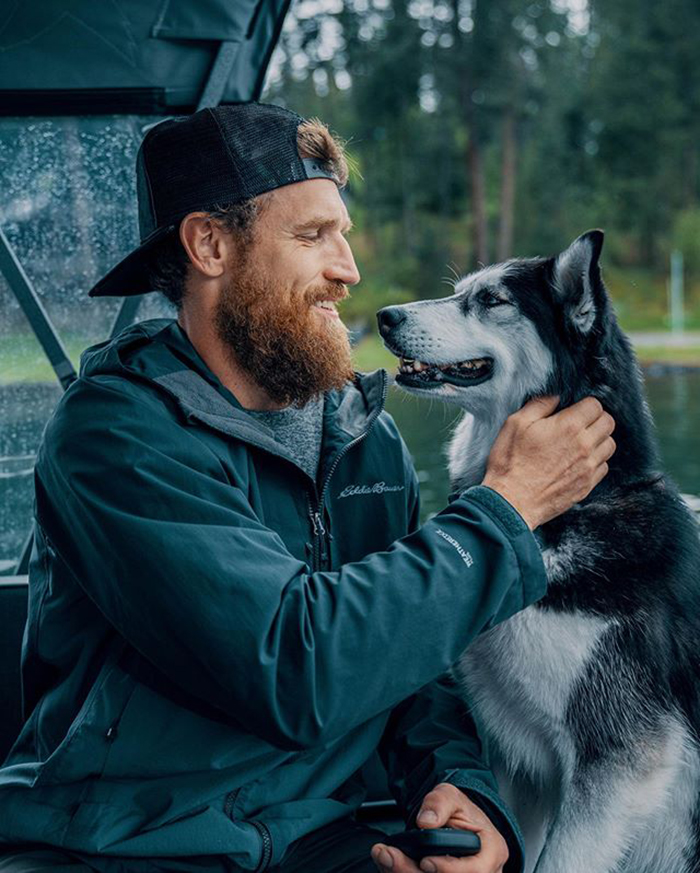 Handsome Brooks has adopted this cute Husky, named Koda back in 2018. 
#18 Simon Cowell & Daisy, Freddie, Squiddly, Diddly
Simon is the proud pet parent of 4 adorable cute dogs Squiddly and Diddly, Yorkshire Terriers. All of them have joined the family in 2013. Aside from them, Simon has also adopted two more dogs namely Freddie and Daisy.
#19 Kellan Lutz & Koda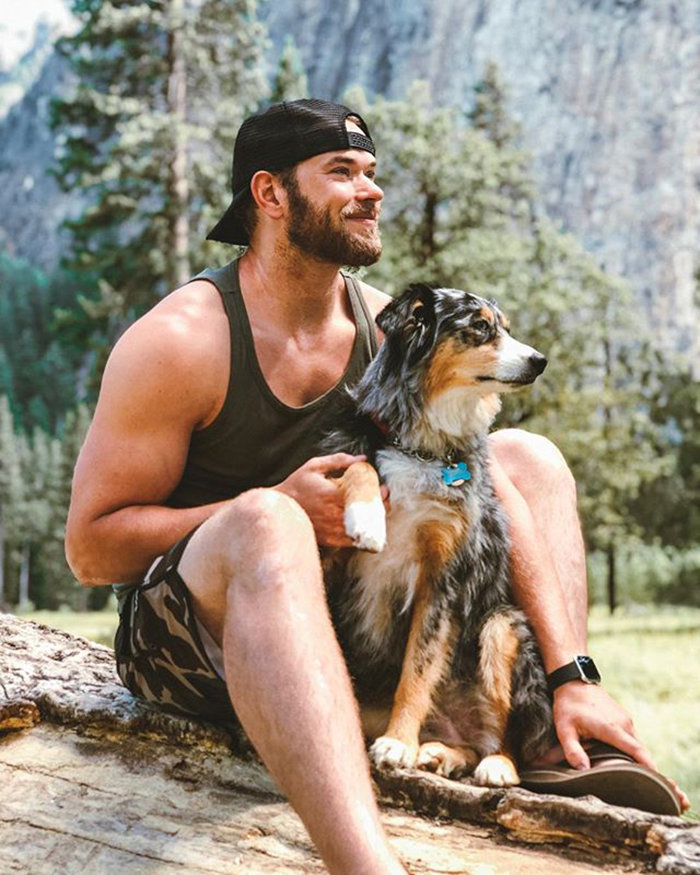 Kellan has always supported dog adoption. That's why he has never got any dog from the breeders. He has inspired people so much that he was also featured in the animal adoption campaigns with his other dog Kola. 
#20 Liev Schreiber & Woody, Willow And Scout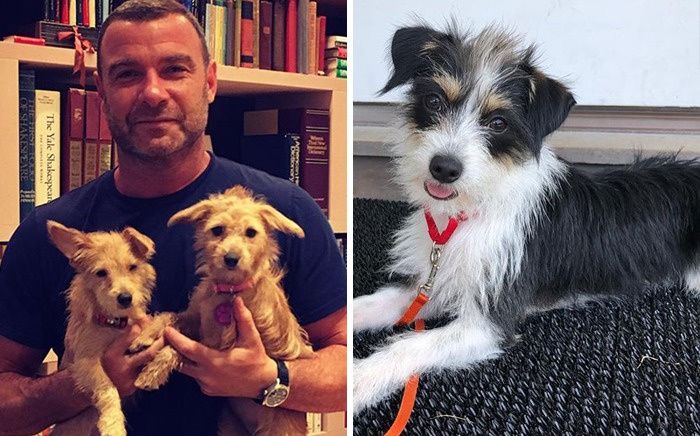 Liev has proudly rescued three dogs, namely Woody, Willow, and Scout. Recently, he has also adopted another pooch named Scout.
#21 Hilary Duff & Lucy And Ivan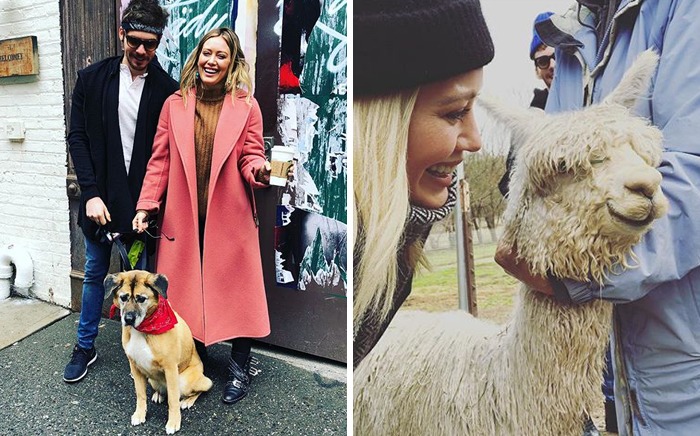 Hilary and her partner Matthew Koma are one of those people who have made a pretty unorthodox choice in adoption. Like first, they have adopted a senior dog, named Lucy. And then, they have adopted an Alpaca, named Ivan that lives in a farm.
#22 Chelsea Handler & Bert And Bernice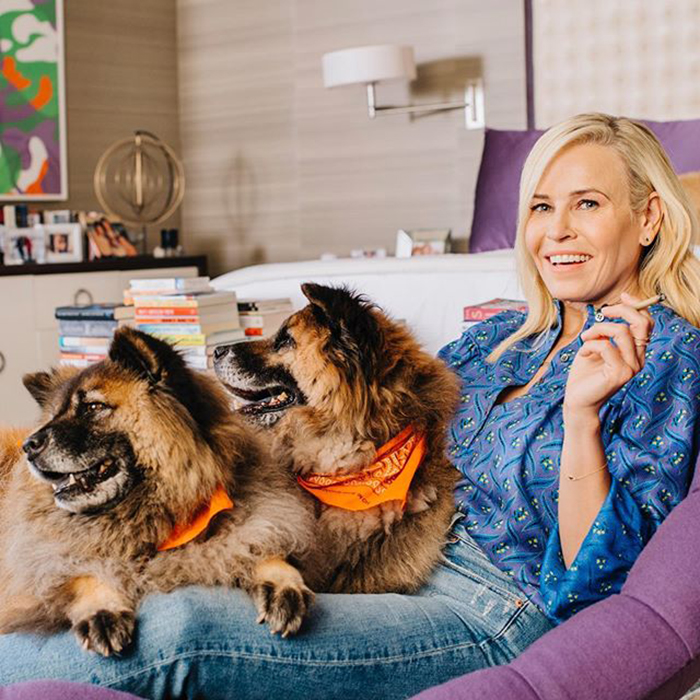 Handler had two adorable Chow Chows and she has named them Bert and Bernice.
#23 Luke Bryan & Kimmie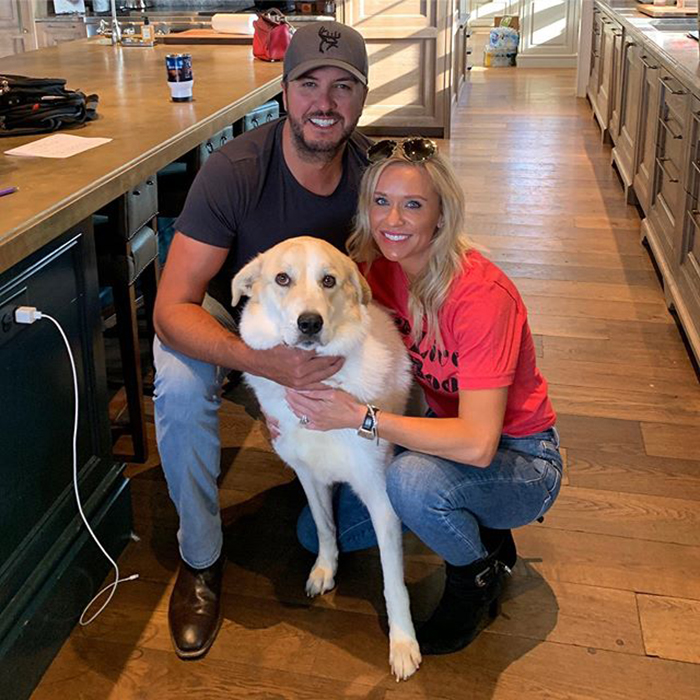 Luke is the owner of a great animal shelter house. And he is currently fostering a cute dog named Kimmie.
#24 Anne Hathaway & Kenobi And Esmeralda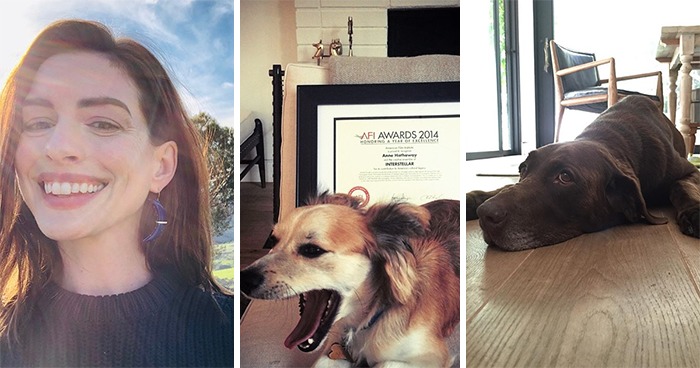 Earlier this year, this beautiful actress has adopted a terrier named Kenobi and a chocolate lab named Esmeralda.
#25 Rachel Bilson & Thurman Murman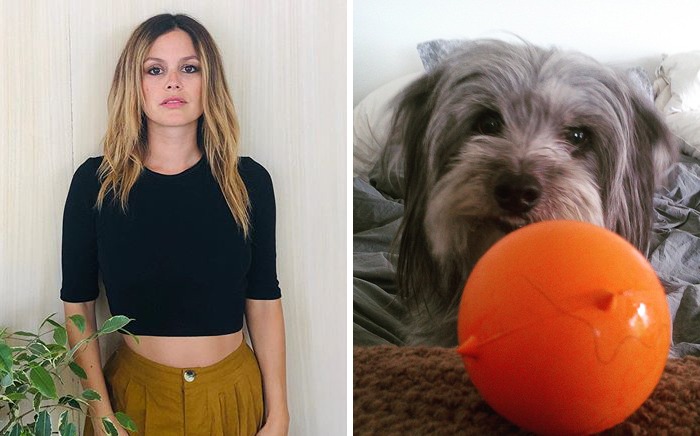 Bilson has recently got another cute pup, named Thurman Murman.