Do you know why we love Disney and Pixar movies so much? Oh, yes! Because they are so amazing, they have a great story, and the movie is overall, very nice. But there is one more thing that makes us like these movies even more. Do you know what are we talking about?
You might have not noticed it but Disney and Pixar always do a little change in some of the scenes so that they can fit in a much better way in particular country's cultural context. We know it's cute. After all, they are taking a whole new effort just to make everyone feel better.
To give a glimpse of these hidden details and how they have changed according to the regions, we have listed 16 pictures. So, go on and scroll them.
#1 Zootopia: Different Newscasters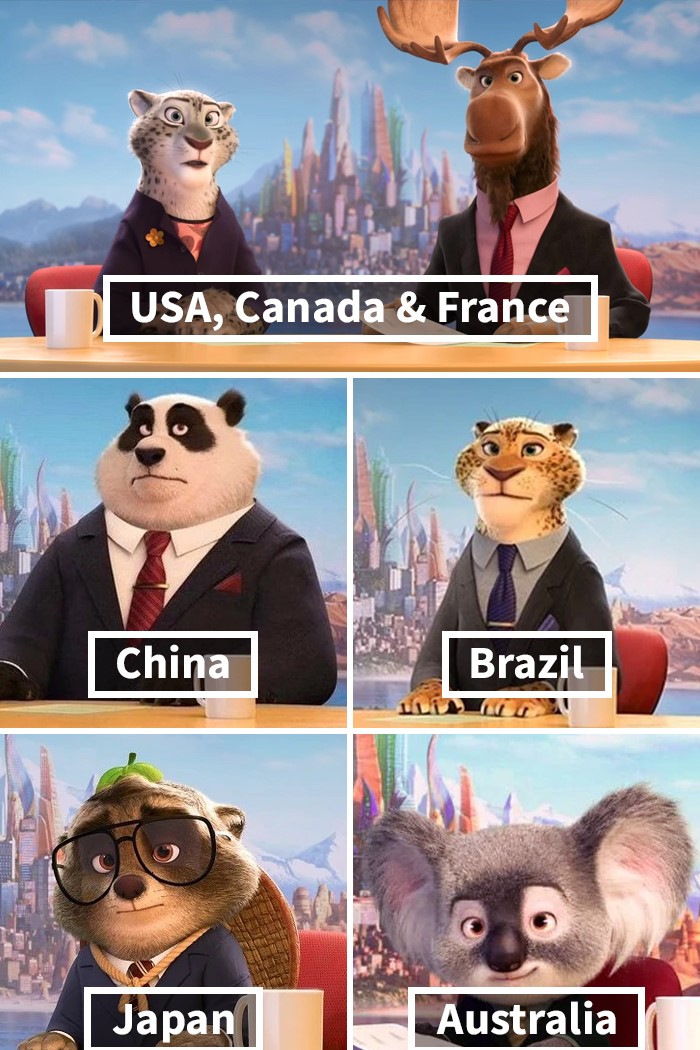 #2 Toy Story 2: Buzz Lightyear's Speech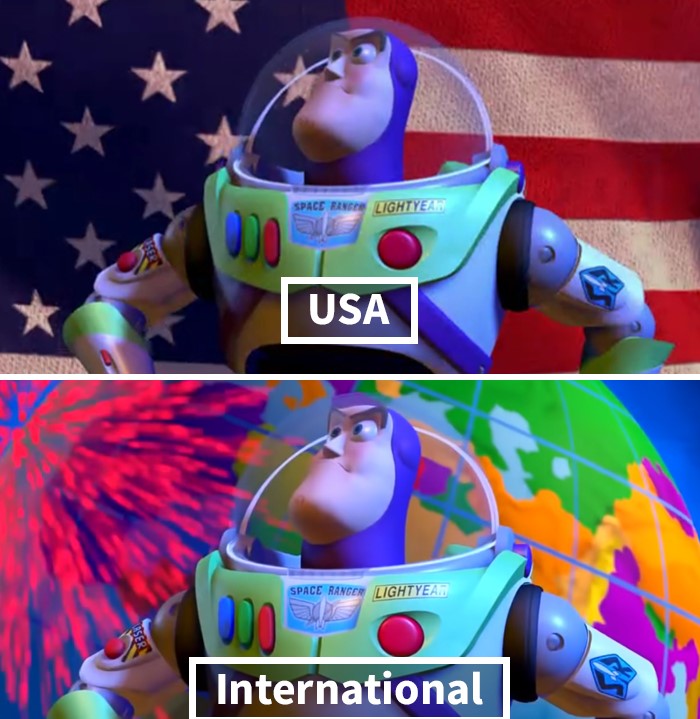 #3 Coco: Title Change In Brazil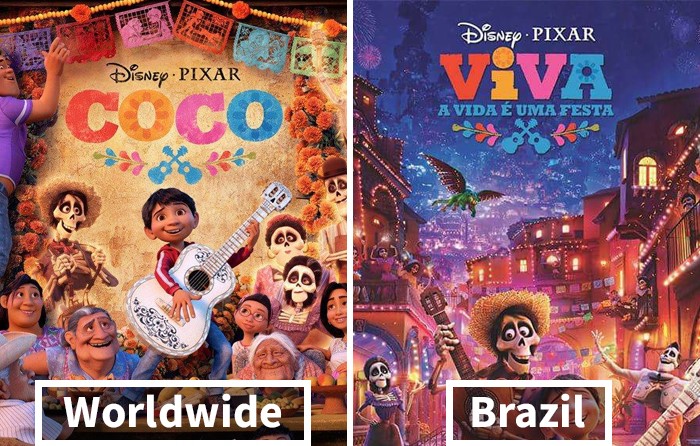 In Brazil, the word 'cocô' means 'poop', therefore the title, as well as Mama Coco's name had to be changed.
#4 Inside Out: Riley's Dad Daydreaming About Hockey vs. Soccer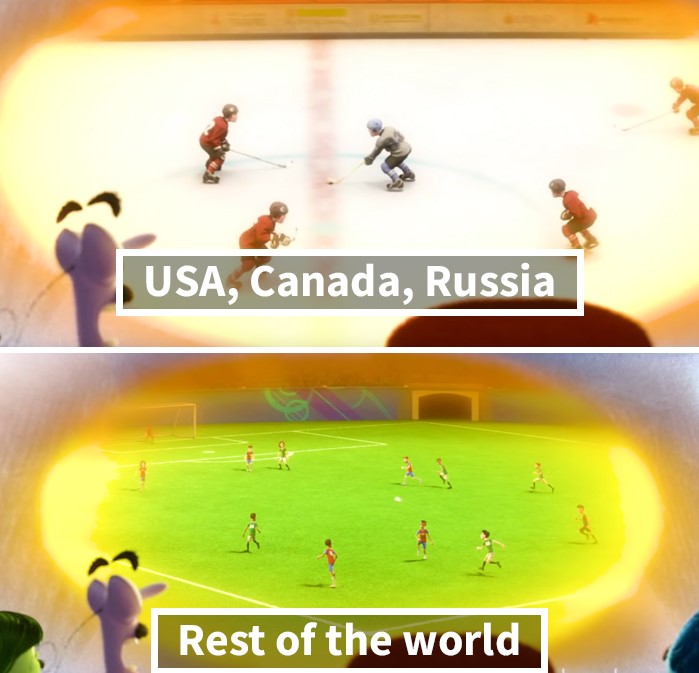 #5 Inside Out: Riley Rejecting Broccoli vs. Green Peppers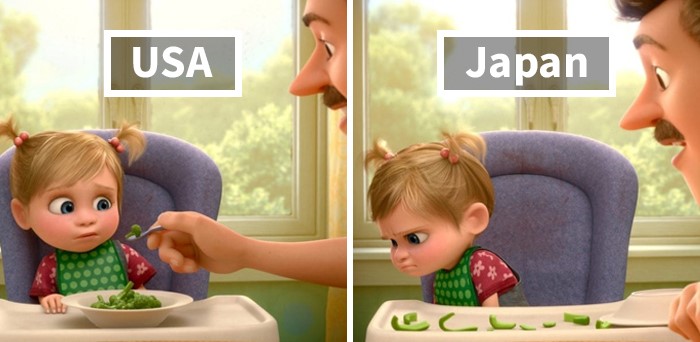 #6 Moana: Released With A Different Title In Italy Due To A Controversial Adult Movie Actress With The Same Name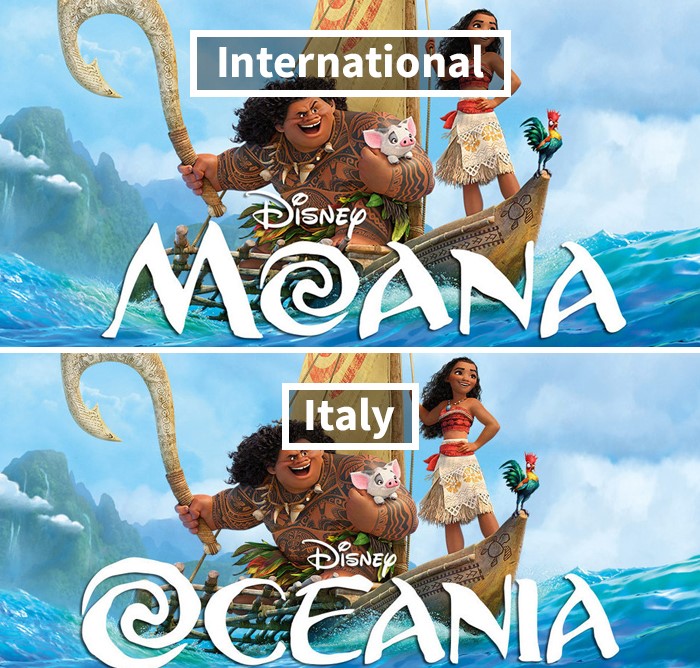 To know more, we even talked to Disney's and Pixar's director, named Pete Docter. He said, "we learned that some of our content wouldn't make sense in other countries. For example, in Japan, broccoli is not considered gross. Kids love it. So we asked them, 'What's gross to you?' They said green bell peppers, so we remodeled and reanimated three separate scenes replacing our broccoli with green peppers."
#7 Up: Paradise Falls vs. Hand Drawn Picture Of The Falls For Better Clarity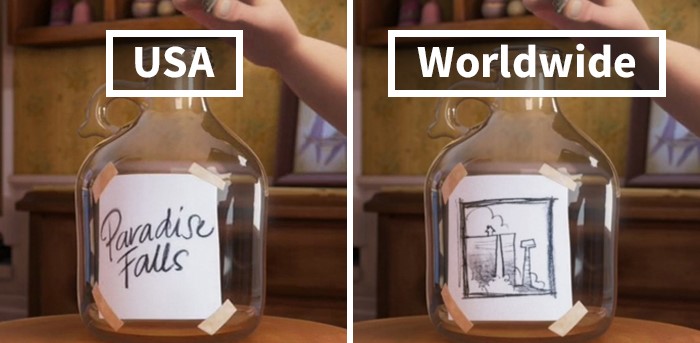 #8 Planes: Rochelle Changes Appearance Depending On Country

#9 Monsters University: Cupcakes For English vs. International Viewers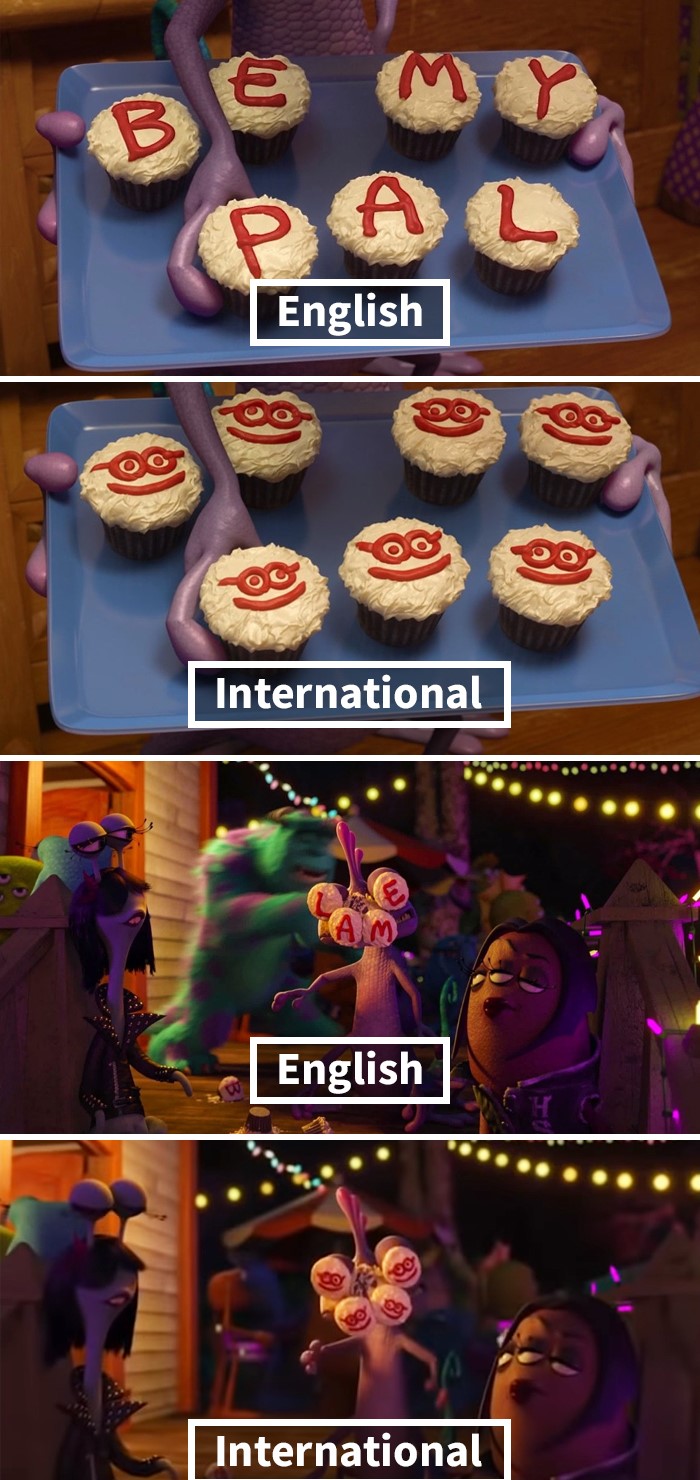 #10 Up: "My Adventure Book" Is Translated Into Different Languages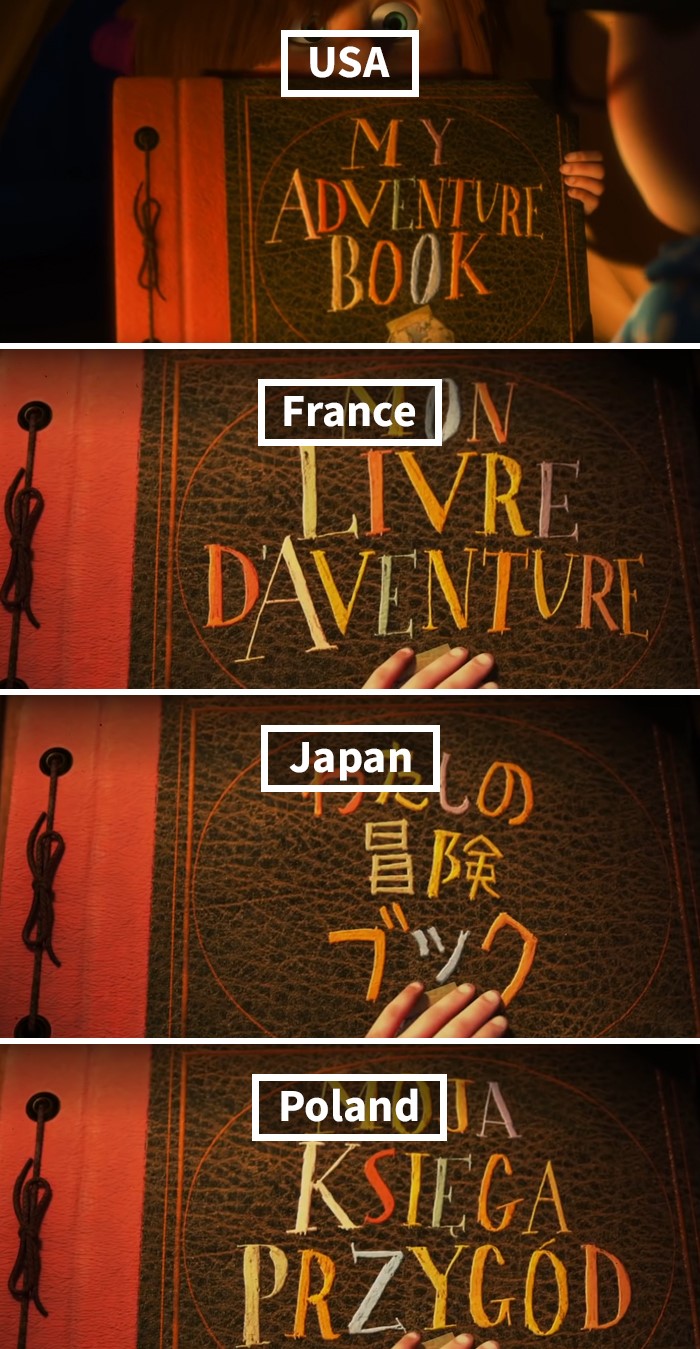 #11 Cars: Agent Harv Has A Different Accent Depending On Country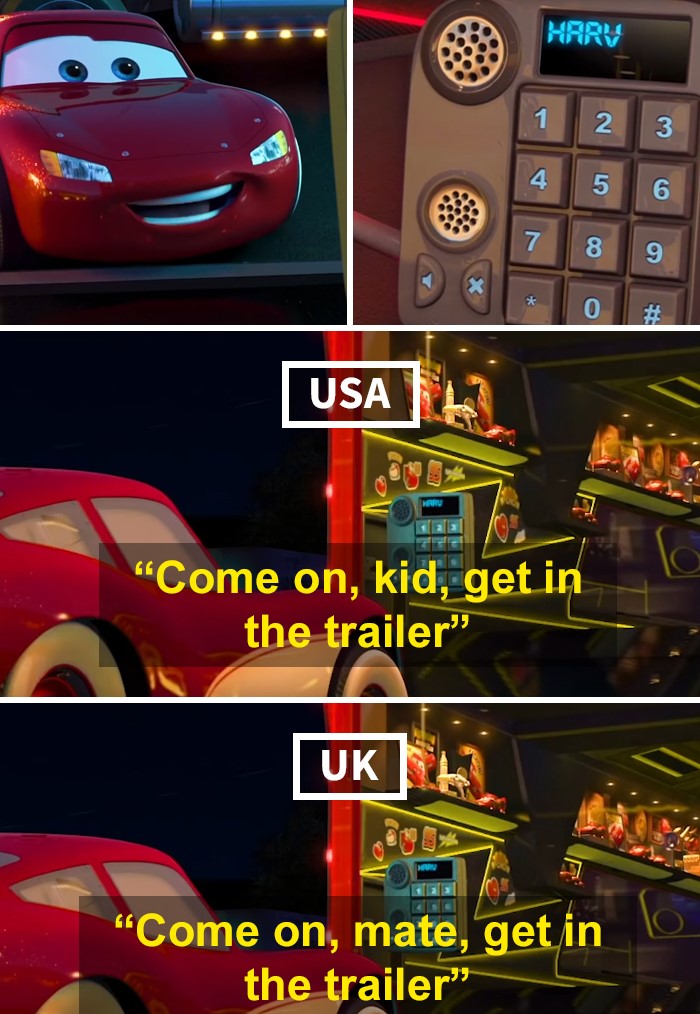 In the UK version, Harv is voiced by Jeremy Clarkson, who hosts the BBC show Top Gear.
#12 Inside Out: Bing Bong Reads A Sign Out Loud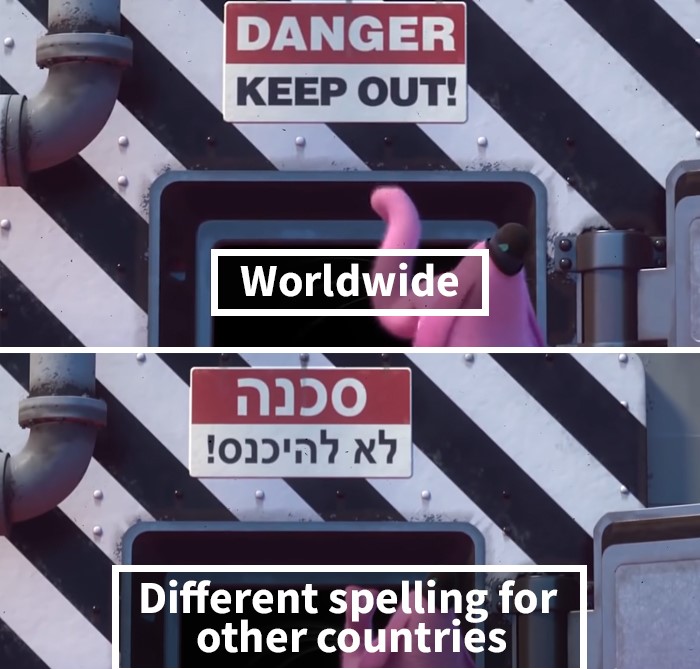 Bing Bong reads the sign and points at it with his trunk. His movements have been reanimated to fit different languages.
#13 Wreck It Ralph: Minty Zaki Becomes Minty Sakura In The Japanese Version Of The Movie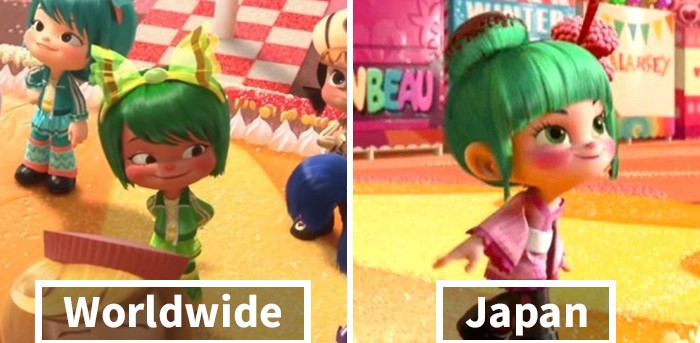 #14 Ratatouille: The French Version Has The Letter That Remy Found Rewritten In French, Instead Of Just Adding The Subtitles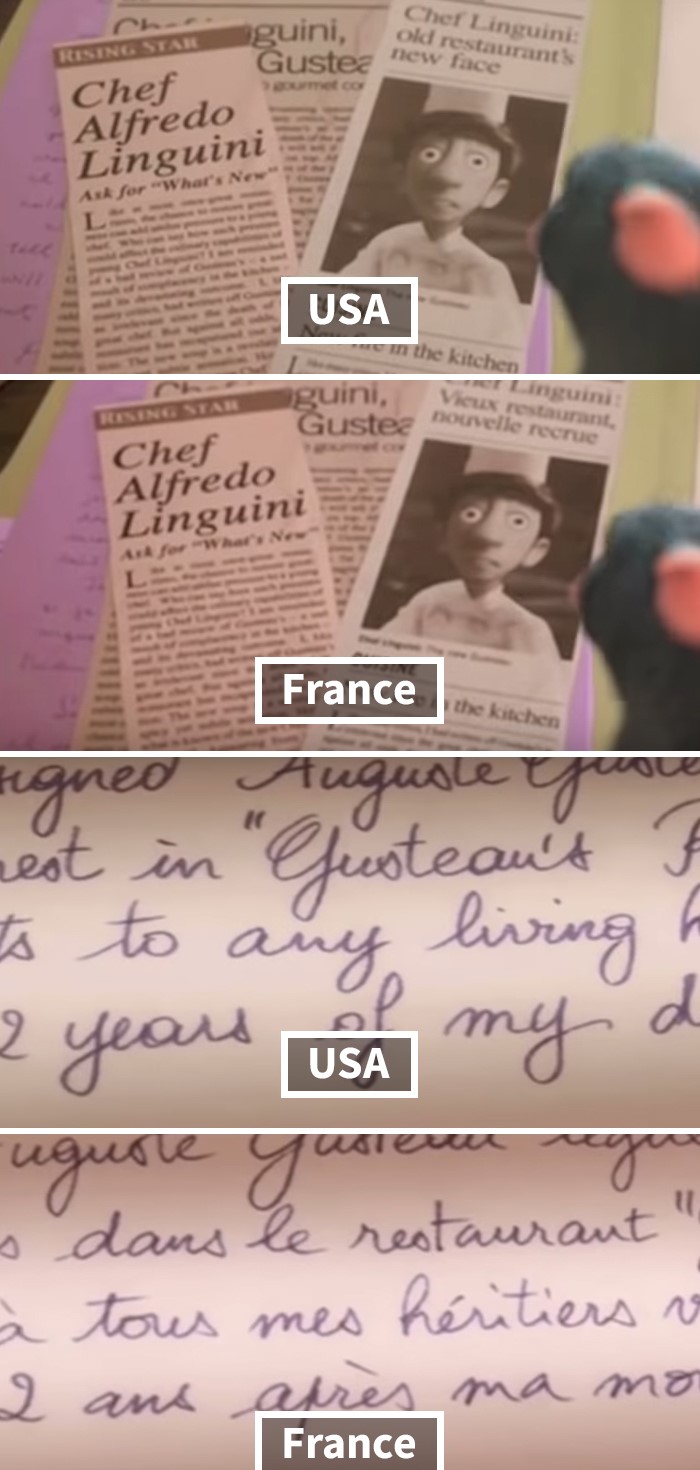 #15 Cars: Jeff Gorvette Changes Appearance And Is Based On Famous Race Drivers Of Different Countries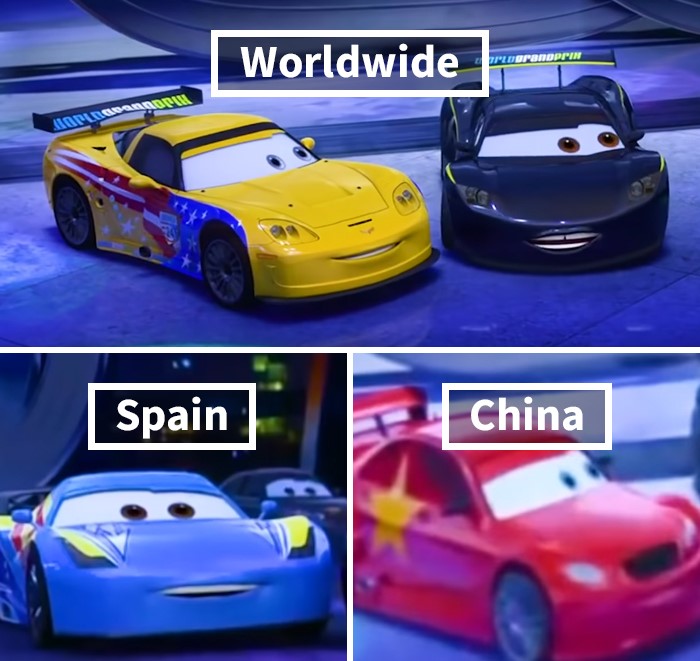 In the Spanish version of the movie, Jeff becomes Fernando Alonso, who is voiced by a Spanish two-time Formula One World Champion with the same name.
In the Chinese version, his name is Long Ge, and his appearance resembles that of a Chinese flag.
#16 Monsters University: Greek Letters As "Scary Font" For International Audiences