Anything can become meme material and leave a mark in internet history. But even though every meme comes to an end, we can still appreciate everything about it.
This time around, we point the spotlight at the elderly lobster woman who was an instant internet success on the meme scale with her picture where she's throwing a lobster overboard.
Woman throwing away a lobster meme sliding in 3..2..1.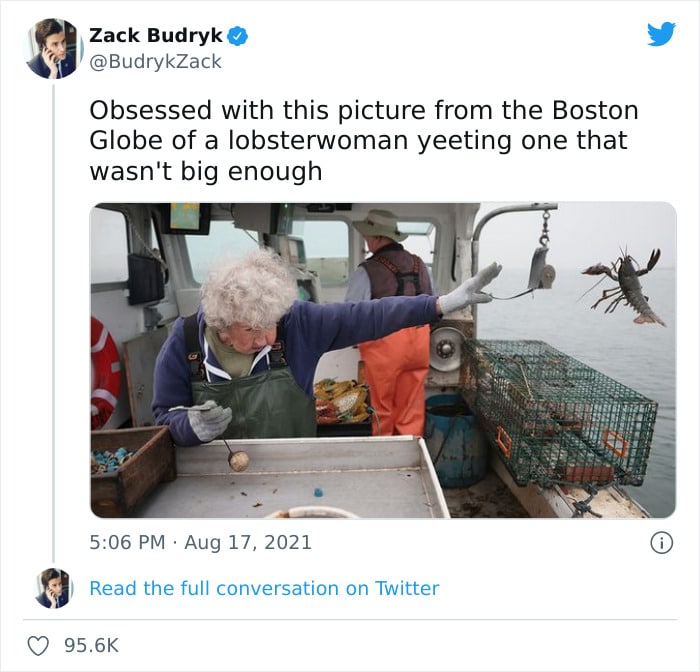 1.
2.
3.
So, the lobster woman (also spelled jointly lobsterwoman) is, as of this moment, 101-year-old Virginia Oliver from Maine who works the waters measuring and sorting lobsters on a fishing boat. Apparently, she has been doing this since she was just 8 years old.
She, in her lobster woman form, popped up on the internet first in an article by The Boston Globe which talked about who Virginia is and how she continues to embrace her vocation on the fishing boat.
But then the internet happened and the now-viral image of her by Jessica Rinaldi for The Boston Globe began its journey as a meme.
4.
5.
6.

7.
Memesters and regular folk alike were instantly drawn to the picture and its setup. Speaking of which, it effectively depicts the moment Virginia was throwing a small lobster overboard as it was just too small to be harvested. But the way she throws it was a stance ripe for memeing.
And so it began. People started channeling their "get away from me" emotions, pointing out how they are pushing away bad vibes, their friends, their families, their fall plans, then taking a jab at rich people, fictional characters, photoshopping superpowers or even Thor's hammer.
And this is besides some of the people who shared their own lobster pictures or that one "unacceptable lobster" found in a text book of sorts, among others.
8.
9.
10.
11.
12.
According to Know Your Meme, a website dedicated to recording, documenting, and preserving memes, the lobster woman first hit the memescape a day after the Boston Globe article was published on August 15 of 2021.
Twitter user Zack Budryk was one of the first to repost the picture, where it took off. As of this article, the tweet has accumulated nearly 96,000 likes and over 12,700 retweets. And of course spun off into a whole lot of people memeing it to oblivion.
13.
14.
15.
16.
17.
You can check out the original Twitter thread here, or read up on it more on Know Your Meme, but before you go, keep scrolling for more and let us know know your thoughts on this. How would you rather meme this picture? Share with us in the comment section below!
18.
19.
20.
21.
22.
23.
24.
25.
26.
27.
28.
29.
30.