Who is Marcia Aoki?
Marcia Aoki's life has long been veiled in secrecy, primarily recognized for her marriage to soccer legend Pele until his passing. However, recent research has illuminated her remarkable journey, from her upbringing in Brazil to her thriving career as an entrepreneur and her enduring love story with one of football's greatest icons.
Marcia Cibele Aoki, a Japanese-Brazilian entrepreneur, was born in 1966 in Penápolis, São Paulo, Brazil. Raised in a family of four, which included her parents and one sibling, she grew up in a diverse cultural milieu.
Marcia Aoki's Career
Today, Marcia Aoki is a successful entrepreneur specializing in the importation and distribution of high-end medical equipment across São Paulo and other regions of Brazil. Her journey into entrepreneurship was aided by her father, Paulo Aoki, who supported her in establishing her business, primarily focusing on importing healthcare supplies. Over time, her clientele expanded to include partnerships with both public and private institutions throughout South America.
Marcia Aoki's Net Worth
As a self-employed businesswoman and the widow of the legendary footballer, Marcia Aoki has accrued an estimated net worth ranging between $2 million to $4 million, as reported by various media outlets.
Marcia Aoki's Family
Marcia Aoki is the daughter of Paulo and Isaura Aoki, both of Japanese nationality. Her parents resided and worked in Sao Paulo before her birth, with her mother, Isaura Aoki, serving as a professional pediatrician and her father, Paulo, as an entrepreneur. Marcia shares a strong bond with her brother, Carlos Aoki.
Marcia Aoki and Pele: A Love Story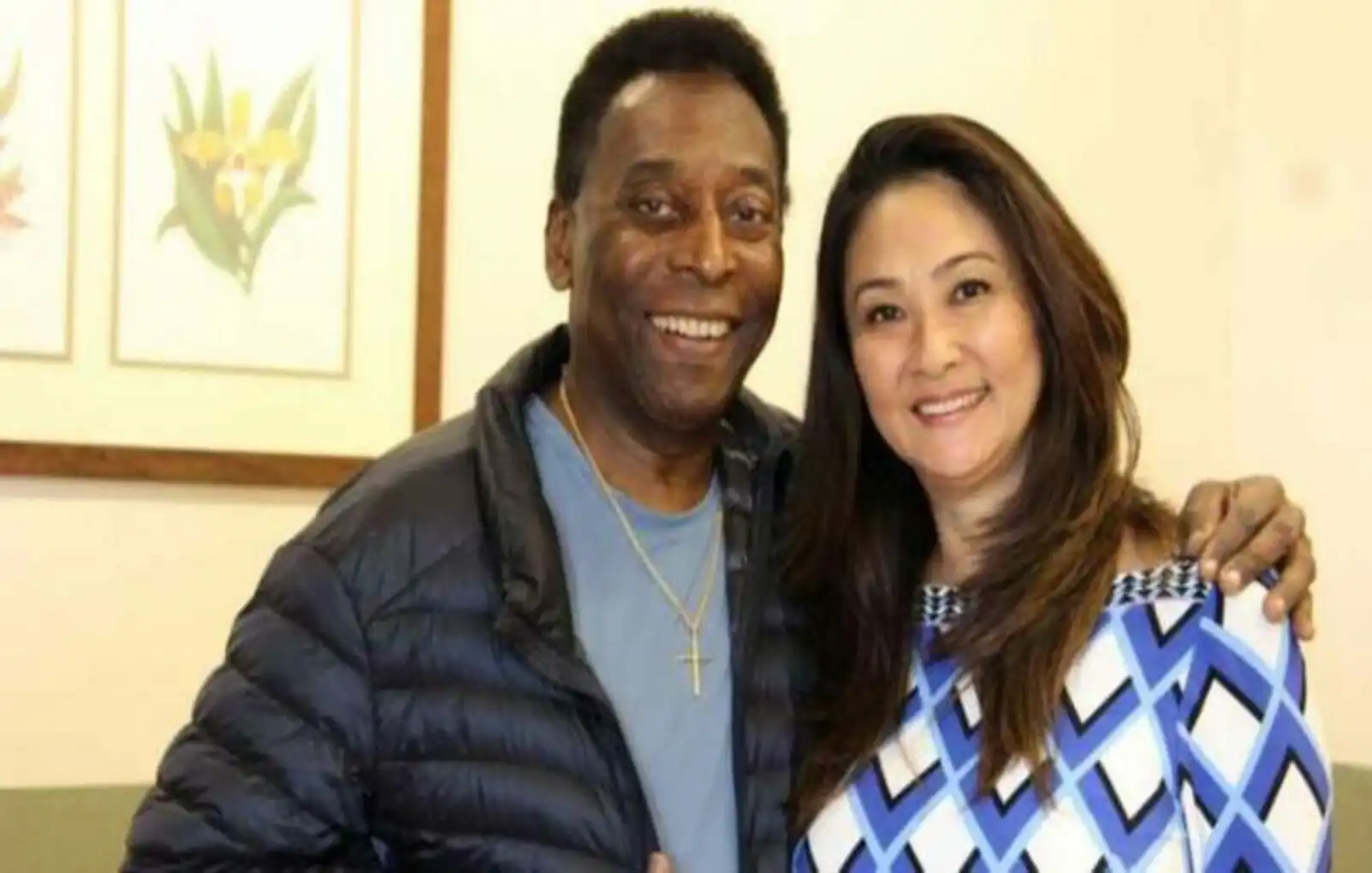 Marcia Aoki's life became intrinsically linked with Edson Arantes do Nascimento, affectionately known as Pele. Born on October 13, 1940, Pele is celebrated as one of football's greatest legends, boasting a career spanning over two decades and numerous accolades.
Their paths initially crossed at a glamorous New York event during the 1980s, although they were both involved in other relationships at the time. However, fate intervened, and in 2008, they serendipitously encountered each other once more in an elevator within the same apartment complex where they both resided.
Their third chance encounter led to a profound friendship that ultimately blossomed into a romantic relationship in 2010. Despite being spotted together at various social events, the couple chose to keep their romance discreet. In 2016, they surprised the world by announcing their impending wedding, with Pele at the age of 73 and Marcia Aoki at 41. Their wedding, held in Guaruja, São Paulo, Brazil, was an intimate affair, attended by close friends and family.
Before his marriage to Marcia Aoki, Pele had two previous marriages. His first wife, Rosemeri dos Reis Cholbi, was his partner for 12 years, and together, they had three children: daughters Sophia and Stephany Nascimento, and a son, Malcolm DeLuca. His second marriage was to psychologist Assyria Lemos Seishas in 1994, resulting in twins named Joshua and Celeste. This marriage lasted for 14 years before ending in 2008.
The final chapter of Pele's life was marked by his marriage to Marcia Aoki. The couple did not have children together. In his later years, Pele faced various health challenges, including a battle with colon cancer. On December 29, 2022, Pele passed away, leaving behind Marcia Aoki, his five children, grandchildren, and an enduring legacy.
Following Pele's demise, Marcia Cibele Aoki inherited 30 percent of his assets, including their home in Guaruja, as per the late football legend's will.
Marcia Aoki's Age
Marcia Aoki was born in 1966, making her 57 years old as of 2023. Her journey with Edson Arantes do Nascimento, commonly known as Pele, began in 2010, culminating in their marriage in 2016. Prior to her marriage to Pele, Marcia Aoki embarked on a successful career path, following in her parents' entrepreneurial footsteps after completing her education in Brazil.