U.S stocks failed to show any improvement over the past few weeks. Trade war across the globe is making conditions worse.
S&P 500 index wobbled between the positive and negative region for much of the day but ended at a lower mark in the last half-hour of trading. The Dow, which was positive for most of the session, ended in opposite phase.
The technology index SPLRCT fell 1.6 per cent, while defensive sectors such as real estate SPLRCR, consumer staples SPLRCS and utilities SPLRCU led S&P's major sectors in percentage gains.
The major U.S stocks indexes fall off sharply last week; this led to sharpest weekly percentage declines in seven months. Investor concerns have mounted about the impact on corporate profits of tariffs and borrowing costs.
According to I/B/E/S data from Refinitiv, S&P 500 companies on average are expected to report 21.6 per-cent year-over-year profit growths, a decrease from the previous two quarters.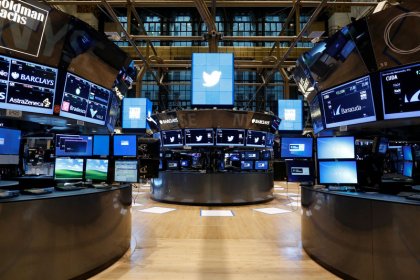 Source- Investing.com
The U.S federal government closed the 2018 fiscal year with the biggest deficit since 2012. It ended with the 12 months through September $779 billion in the red as tax cuts hit revenue, data released from Treasury Department.
Keith Lerner, the chief market strategist at SunTrust Advisory Services in Atlanta, said,
"The market is in wait-and-see mode, it's waiting for earnings, waiting for the Fed, and waiting for economic data from China to see if things are stabilizing".
The DJI fell 89.44 points, or 0.35 per cent, to 25,250.555, S&P 500 lost 16.34 points, or 0.59 per cent, to 2,750.79, and the Nasdaq Composite 66.15 points, or 0.88 per cent, to 7,430.74.
Goldman Sachs said there were multiple signs of rapidly slowing consumer demand in China, which could affect demand for iPhones this fall and after this statement, the shares of Apple Inc. dropped by 2.1 percent.
S&P's top gainers were L3 Technologies Inc., which jumped 12.8 percent, and Harris Corp, which gained 11.9 percent, after the military communication equipment providers announced an all-stock merger to create the sixth largest U.S defense contractor.
Two new 52-week highs and seven new lows were posted by S&P 500; 14 new highs and 145 new lows were recorded by Nasdaq Composite.
Source- Reuters
With roots in Patna, I am a Mechanical Engineer currently employed in Jabalpur. Working as a Senior Engineer in Heavy Machines Sales, I have been associated with different blog sites in different categories for over a year now. The categories include comics, sitcoms, movies and talent acquisitions.