If you have been following Hiptoro's article for quite some time now, you must have probably heard about British photographer Chris Porsz. He is popular for his amazing project called "Reunions" which documents the lives of people in Peterborough, Cambridgeshire. Most of you would think that he takes random street photographs of people he has had encounters, but you'll be surprised to know that Chris has been working on this project for over 40 years already.
What makes Reunions so special is that, Chris captures the same people, posing in the same places years after several years from the date when the original photo was snapped. The initial photos go back to as late as the 1970s and for the last fifteen months, Chris has been diligently working on part 2 of his "Reunions" project.
In his photography book titled "Reunions 2," Chris wrote, "For many, seeing a snapshot of their younger selves brought back happy memories of a day they had forgotten. Lots were thrilled to have a photo of themselves at a special moment in time that would otherwise not have been recorded.
My sincere thanks to those once random strangers, and now my friends, who made Reunions 2 possible by generously allowing me to share their fascinating lives with you."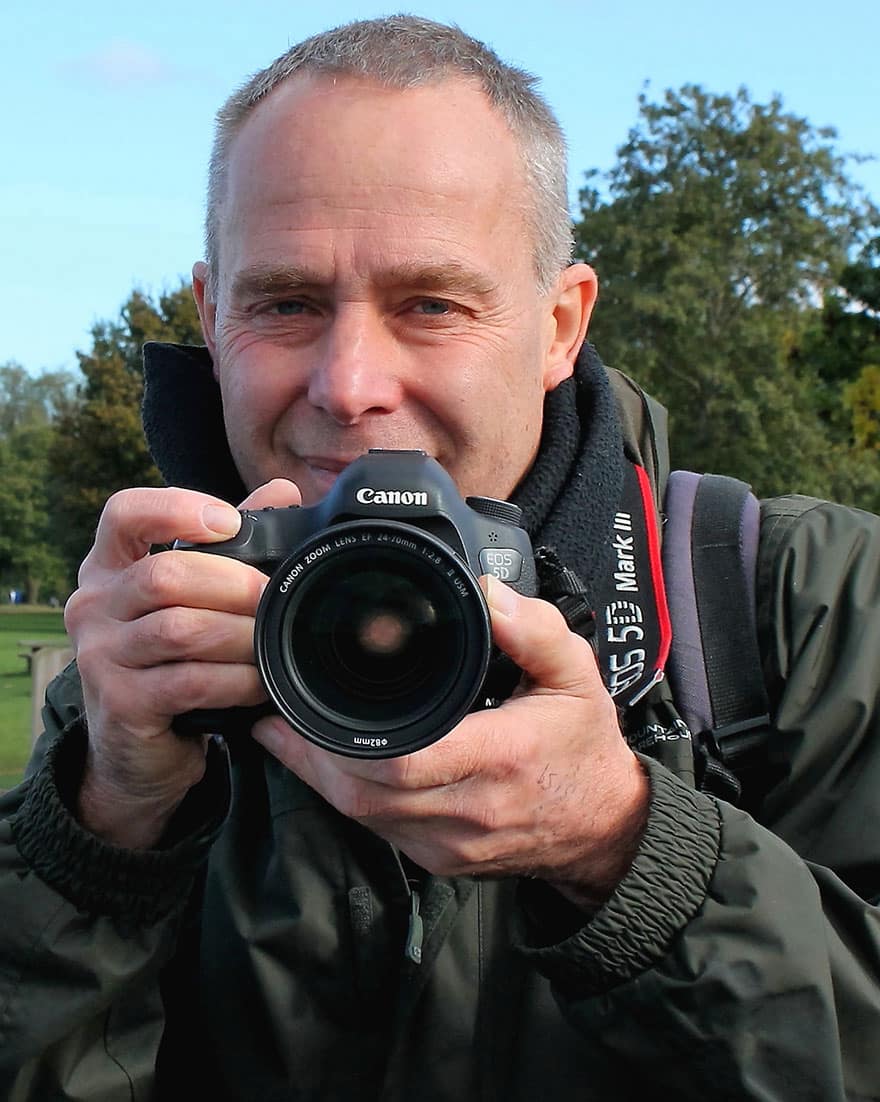 #1 Mr Gino (Original 1980 – Reunion May 2021)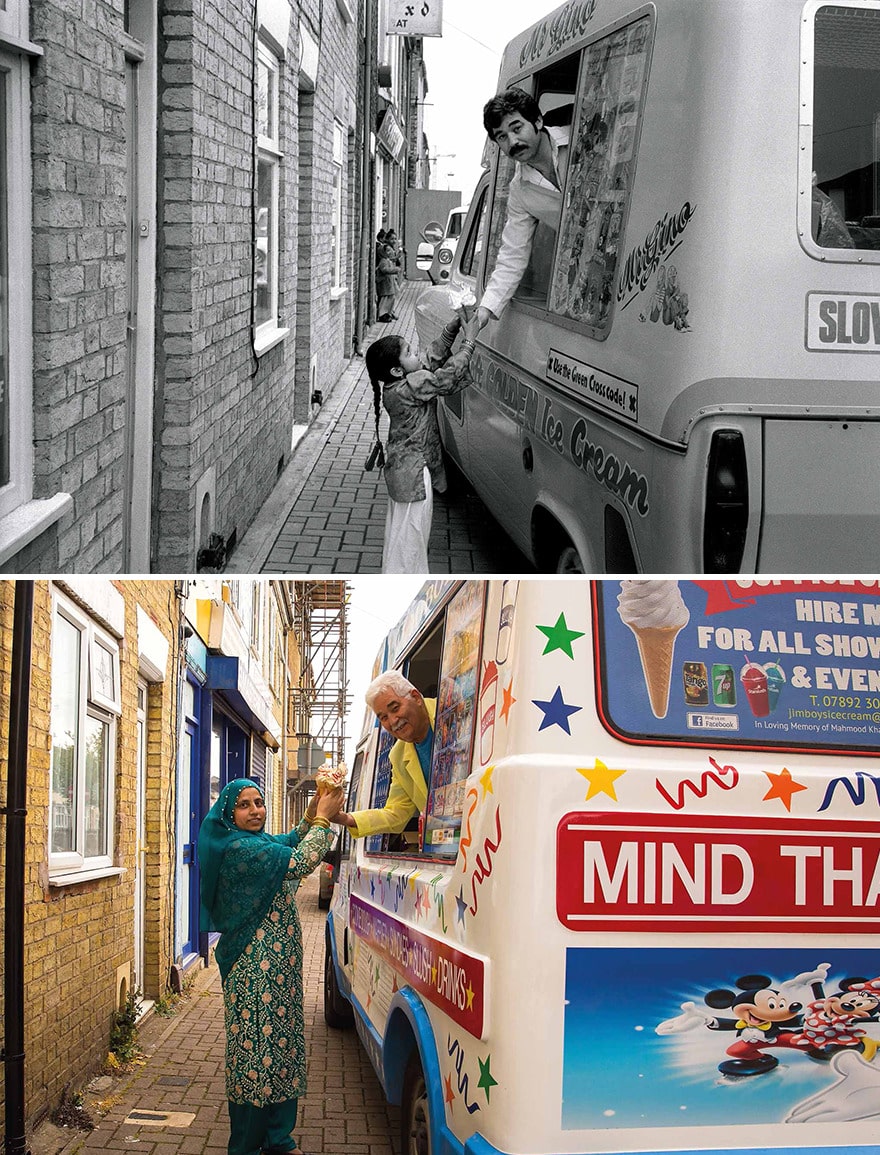 Hiptoro reached out to a talented photographer with a few questions regarding his profession and his technique. First, we started by asking him how he became a photographer and how he came up with the idea for the project "Reunions."
"I picked up my first camera, a Kodak Instamatic, in 1972 to record a crazy 6,000 three-week hitchhiking trip across Europe and North Africa with my girlfriend, now wife Lesley. The images were terrible and so I got a better camera to take images of my family and I quickly caught the photography bug.
I dropped out of my social worker studies and became a hospital A&E porter for thirteen years. On my days off in the early eighties, I roamed the streets seeking inspiration and capturing everyday life by pointing a camera at society which was much easier and more satisfying than writing long boring essays. I found it quite magical as I still do that by simply pressing a button I can capture moments forever and fulfill some creative urge."
#2 Ford Cortina (Original 1980 – Reunion June 2021)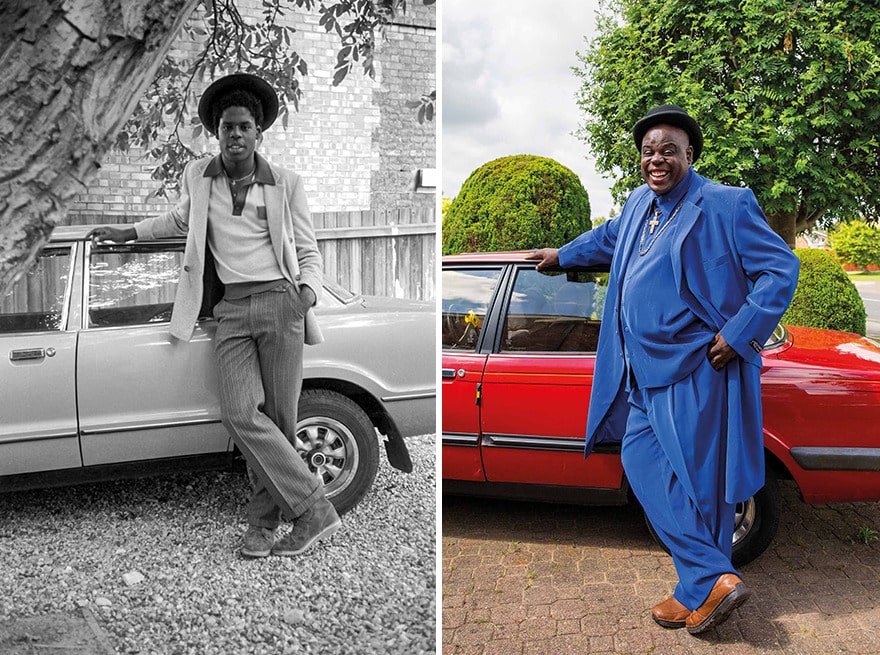 #3 Carrot And Stick (Original 1981 – Reunion July 2021)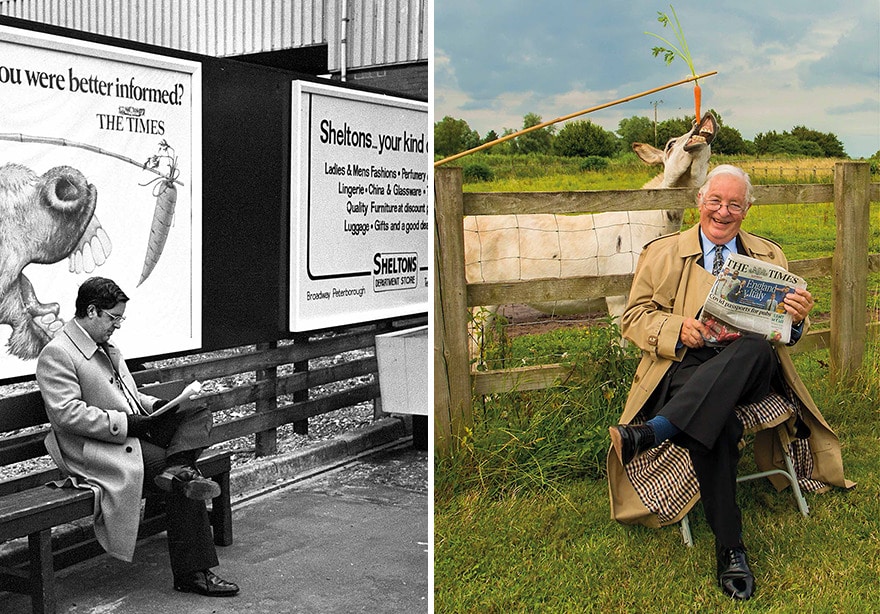 "Self-taught, I was inspired by the social documentary and street work of Bert Hardy and Bill Brandt in Picture Post, Harold Evan's seminal book 'Pictures on a Page', and of course the photojournalism of my heroes Robert Capa and Don Mc Cullin. In 1986 I got busy with raising three children and a new paramedic career. I fell out of love with photography and hardly picked up for a camera for a quarter of a century.
It was an age of protest and counter-culture so I headed for the busy streets rather than middle-class suburbia. I was always looking for action, protest, the dispossessed, eccentric characters such as the punks, teds, skinheads, and rockers who stood out from the madding crowd. Regrettably, I was more interested in the people rather than the backgrounds and I now realize the social context is crucial too."
#4 Ever Ready (Original 1980 – Reunion August 2020)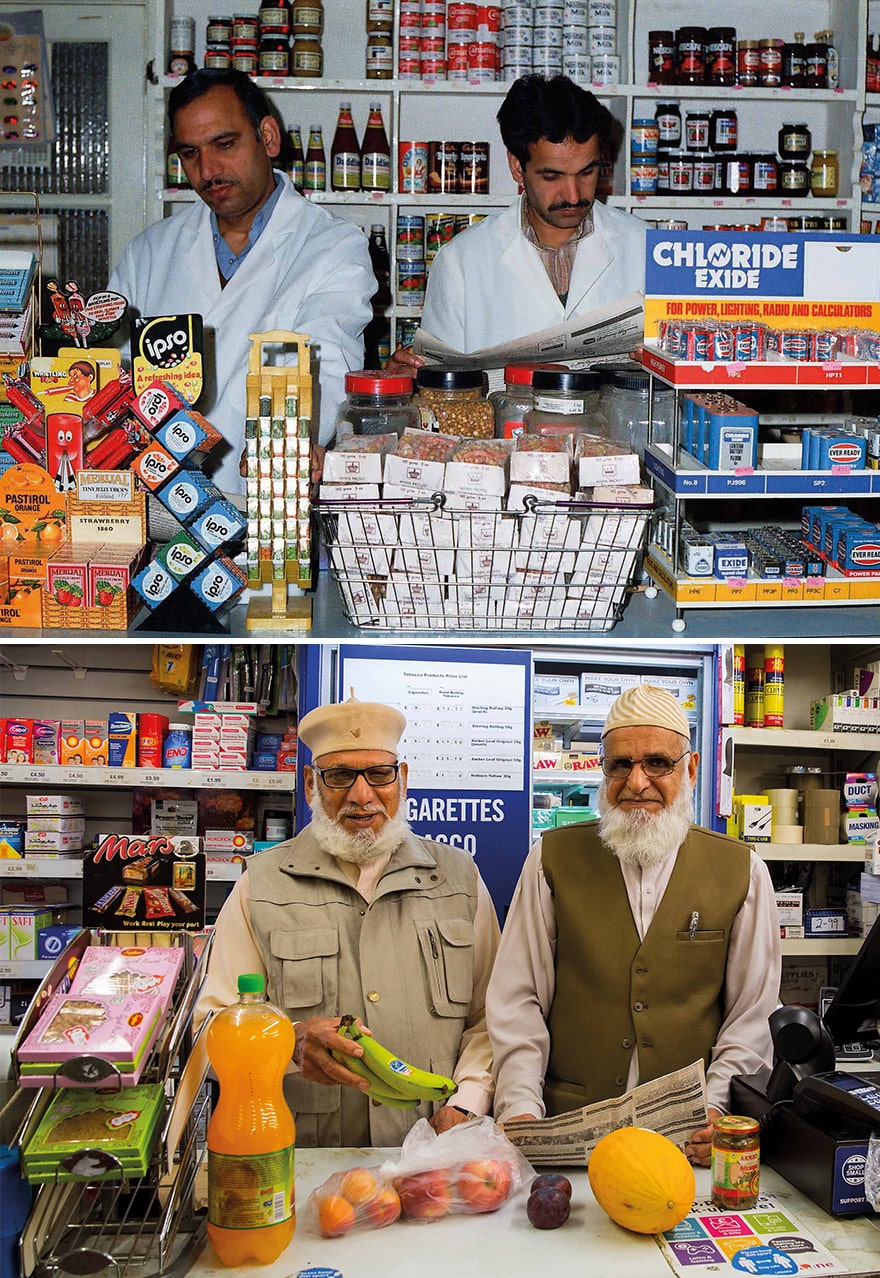 #5 Red Hot (Original Circa 1981 – Reunion August 2020)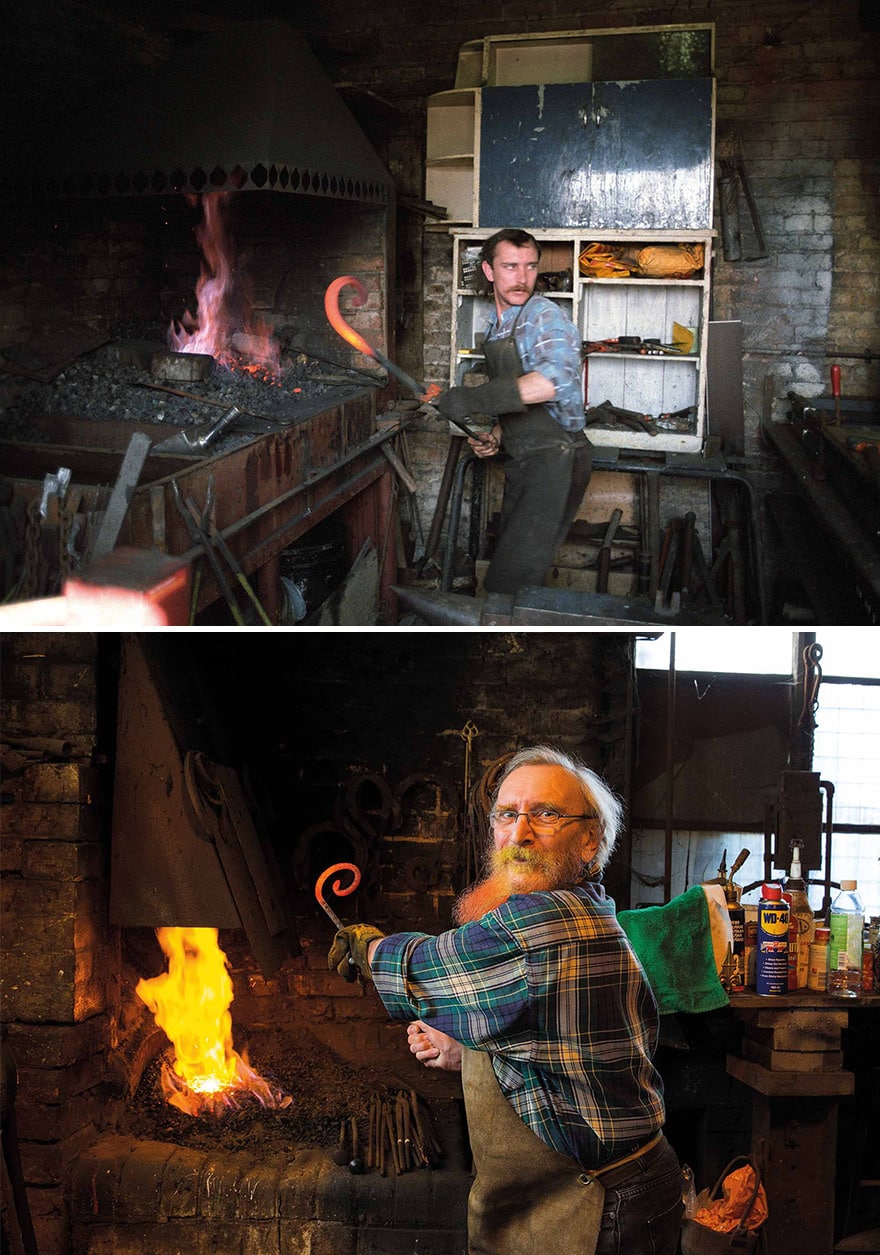 We also wanted to know what made him realize he wanted to photograph all of these people again years later.
"Fortunately my long-lost passion was rekindled in 2009 after I sent a few of those images to my local paper, the Peterborough Evening Telegraph, and I was amazed when they gave me a weekly column, Paramedic Paparazzo. Readers started recognizing themselves and this was the 'light bulb' moment for me to try and meet again for another picture and see what had become of these random strangers. Reunions 1 comprised 134 sets of reunions from such chance encounters and took me around seven years of searching. On publication in 2016, I was overwhelmed by the positive response from around the world as people were fascinated by my unique time capsule and seeing what the passage of time does to us all."
#6 Fun At The Fair (Original 1985 – Reunion May 2021)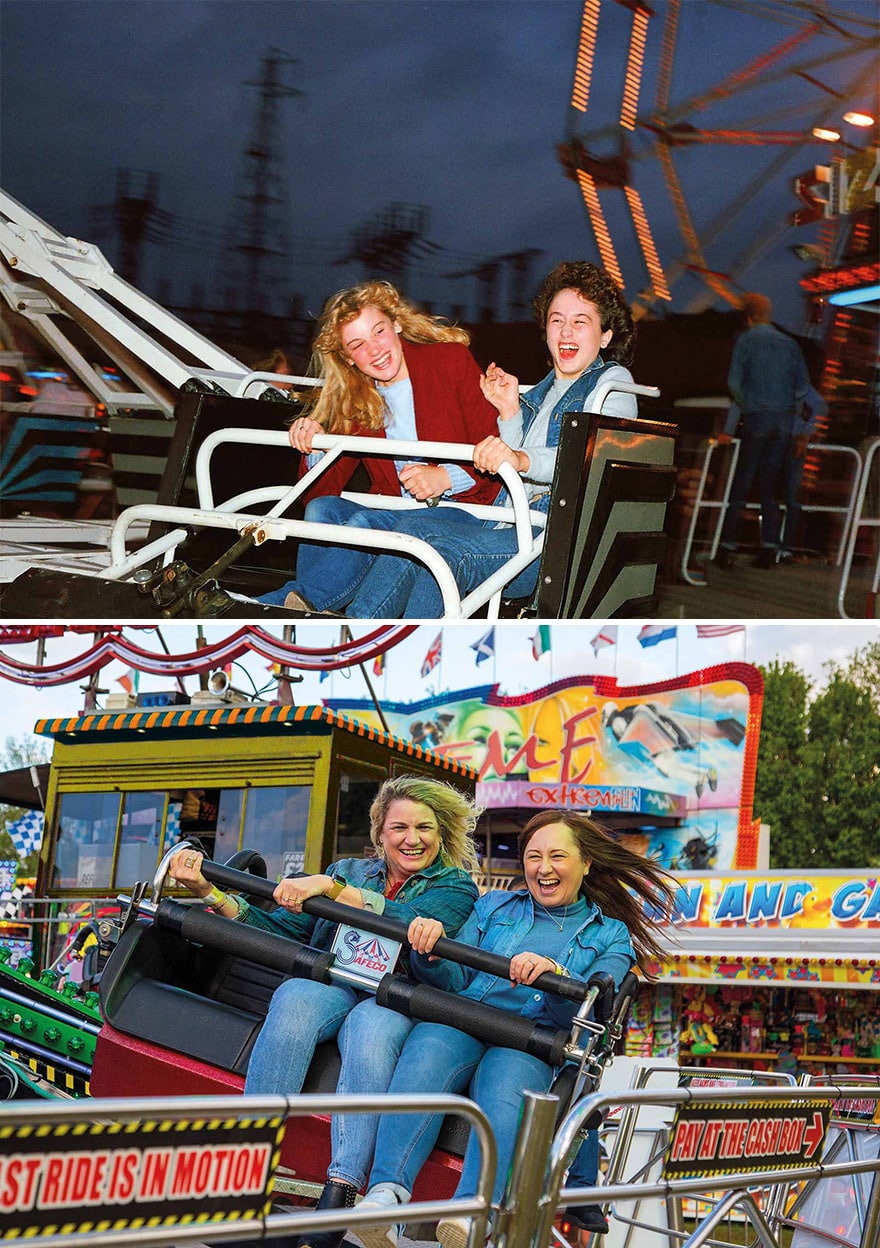 #7 Lollipop Lady (Original Circa 1984 – Reunion September 2020)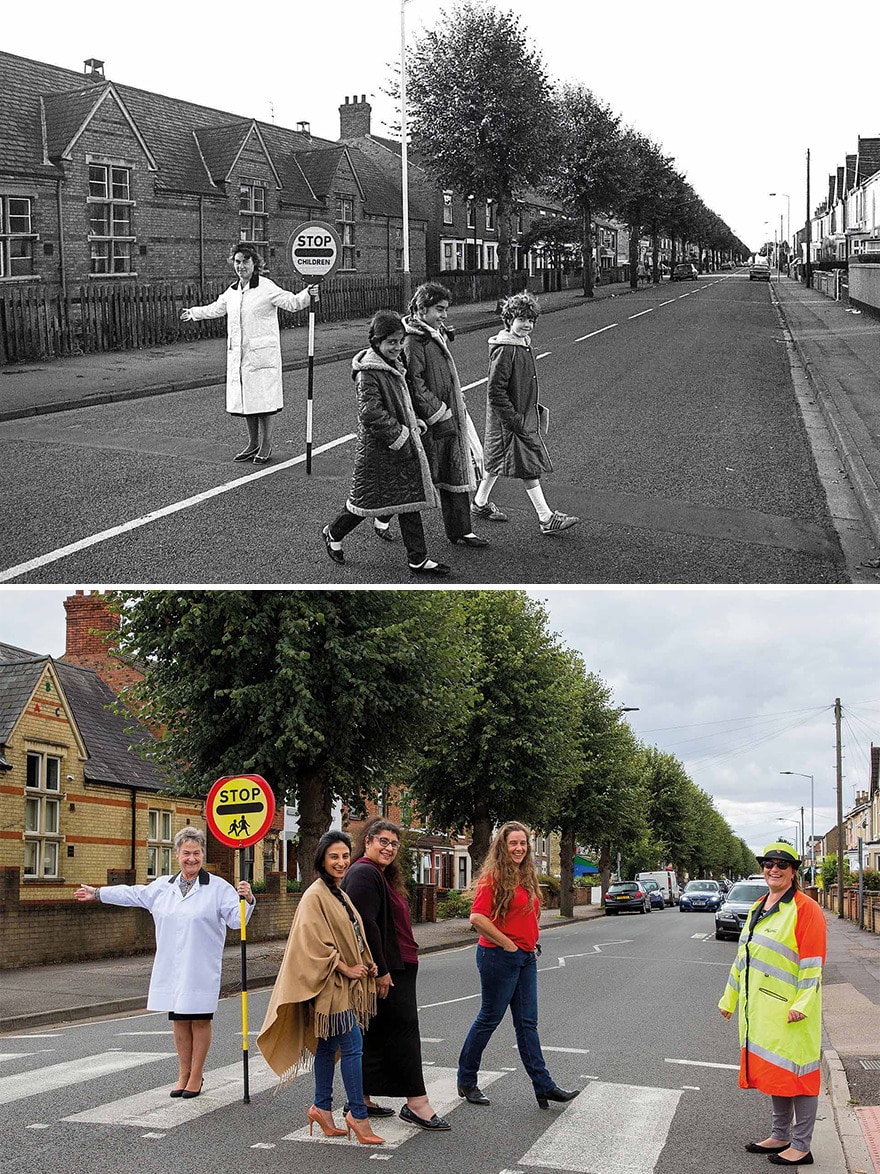 Given how hard of a project "Reunions" is, we what to know about the whole process behind the scenes.
"It was not easy and if you imagine next time you are in a street, just choose random strangers that capture your imagination and take their pictures. Wait for three or four decades to elapse and without any contact details, see if you can find and then persuade them to return to the same place for a second photograph. This is basically what I did and how Reunions 1 and now my sequel Reunions 2 were born.
It was a good thing I took pictures covering all age groups, as many older characters have since died. I took granddads and grandmothers having a fag and a chat on a bench but fortunately babes in prams and teenagers, otherwise, my reunions would simply not exist. Many I could never find as they have moved around the UK, emigrated, fallen out with their former friends or family, or frustratingly declined to take part, but against all the odds and with serendipity on my side, I achieved my quest. I had many setbacks and false leads along the way, including a round trip of 200 miles to be told, 'sorry, it's not me ' but the successes kept me going."
#8 Four On A Bench (Original 1985 – Reunion September 2020)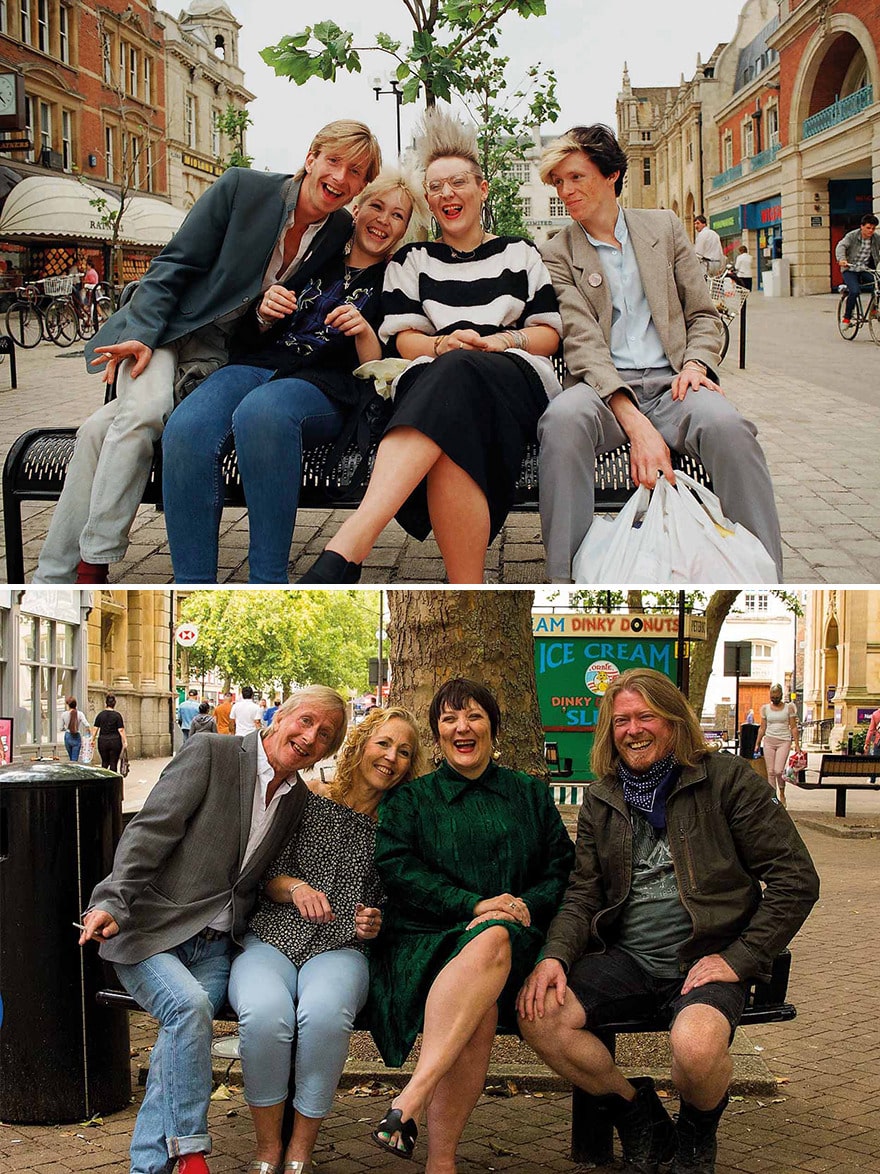 #9 Owl And Burger (Original 1984 – Reunion August 2020)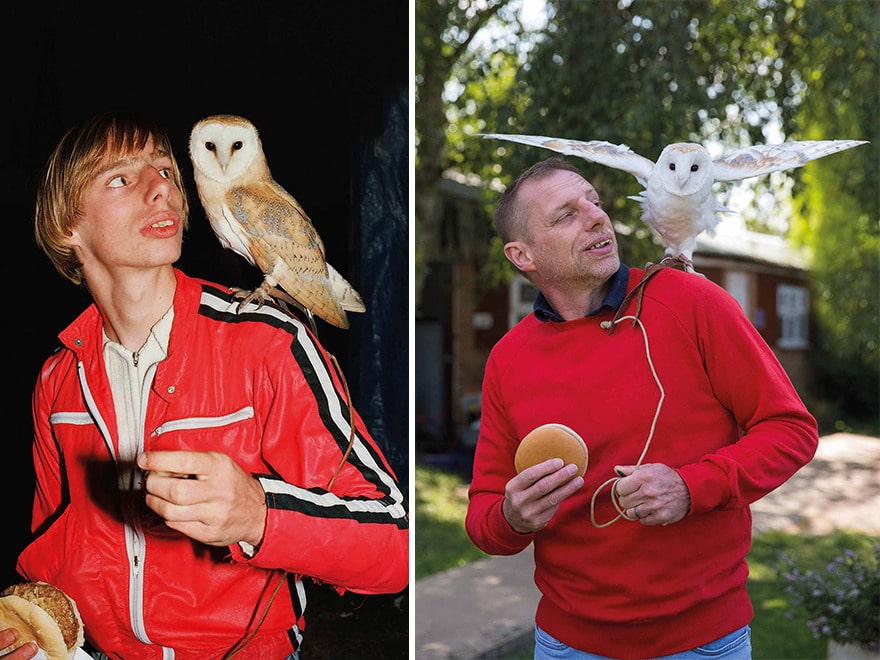 "Some I found by million to one chance while working as a paramedic. (I retired in 2020) A man dials 999 at 3 am and opens his door to me having a heart attack. With treatment, he perked up enough to say I had taken his picture with his mates in a derelict house over thirty years ago. I thought I had won the lottery and considered turning up the oxygen!
Another 999 call where a lady had fallen down the stairs but fortunately she was okay so I showed her husband an image of a boy at a gate that I had been searching for. Amazingly he recognized him and as he pointed out of his shop window to show me where he lived, a man turned the corner! It was him and led to the reunion over three decades later!
I had no intention of doing this sequel as I believed I had exhausted my collection but after trawling through my filing 'system' I discovered some hidden gems. From the spring of 2020 onwards, I made constant appeals and repeatedly posted around 300 of these images on Facebook and Twitter. To my great surprise, I immediately started receiving hundreds of messages and lots of midnight oil was burnt just trying to keep up with it all."
#10 Mates (Original 1982 – Reunion April 2021)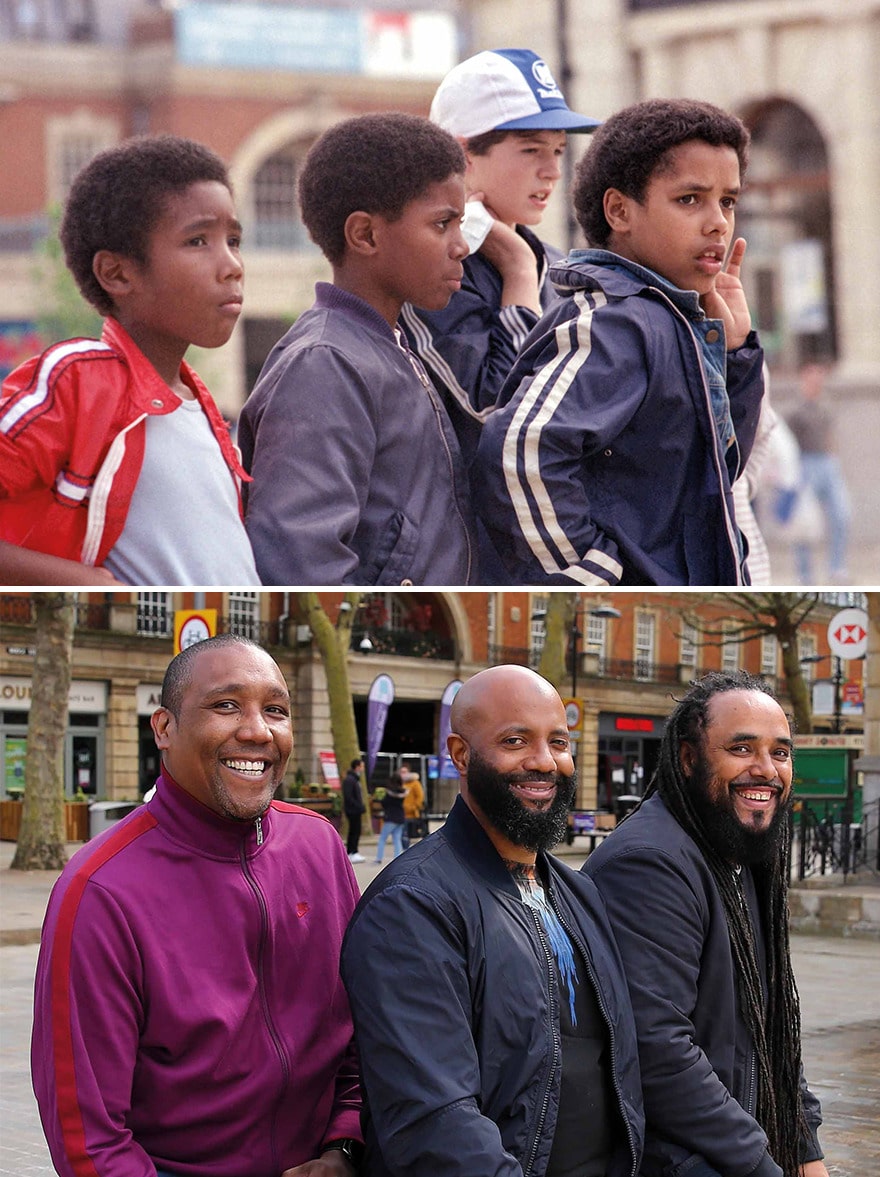 #11 Frogs, Vikings And Gluttons (Original 1989 – Reunion August 2020)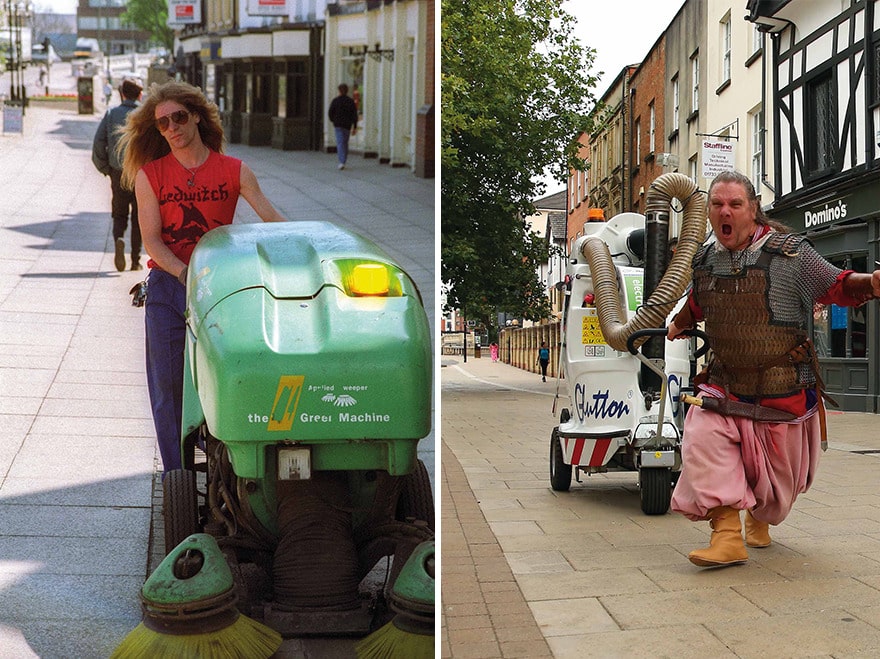 "Unfortunately, my sense of urgency was not always shared, and it was frustrating to wait months for replies to some of my appeals. Inevitably, planned reunions were further delayed or canceled due to illness, including strokes, heart attacks, Covid or accidents. My maxim of seizing the moment before it has gone was crucial in keeping up the momentum and if a character said: 'next month' I would say: 'how about tomorrow'? Compounded by the pandemic, it became a race against time before the next lockdown and, although very challenging, I was a happy man when over some weekends I completed up to a dozen reunions.
When characters were reluctant and camera shy, I would not just easily give up as my rare images were so important to me, and with lots of cajoling and persuasion from myself or their families and friends, they often reconsidered and were glad they did. It was also important to me that those who had emigrated would not miss out and, in spite of my technophobia, Zoom call reunions from California to New Zealand and Germany ensured distance would be no barrier."
#12 Pyschobillies (Original June 1983 – Reunion August 2020)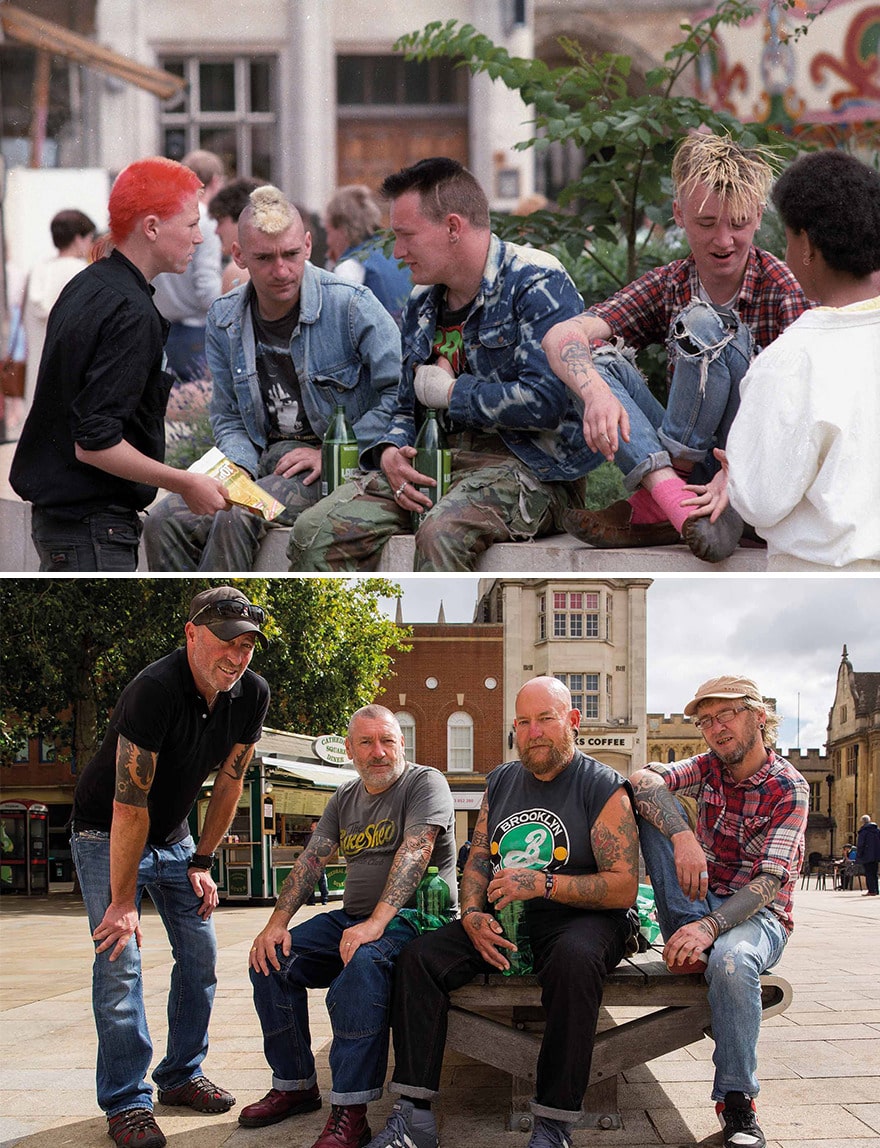 #13 Lesley And Chris Porsz (Original 1971 – Reunion January 2021)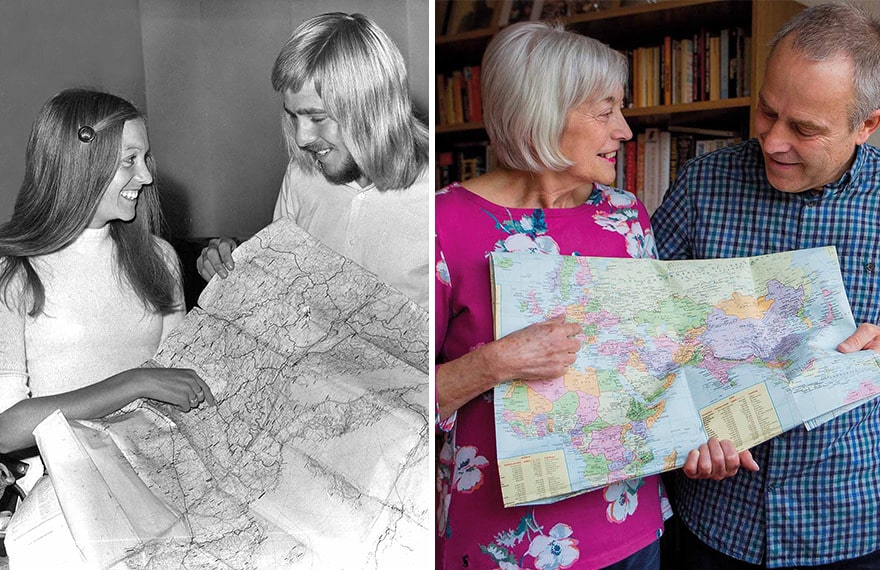 "When the big Reunion Day finally arrived after months of planning, it was often nerve-wracking as so much could go wrong and did. Sometimes I would have to rush due to horrendous weather or occasionally characters just didn't show up without any warning or explanation. One reunion had to be postponed when firefighters en route to us were diverted twice, to rescue a cow and later to a deer stuck in the mud. I was so relieved when the motorcycle cops made it without being called away. I could only relax once the photos were safely in my camera and even then I would sometimes be unhappy with the result, so where possible, and if my subjects agreed, I would try again to do better in a later session."
#14 Scoop Purchase (Original 1980 – Reunion April 2021)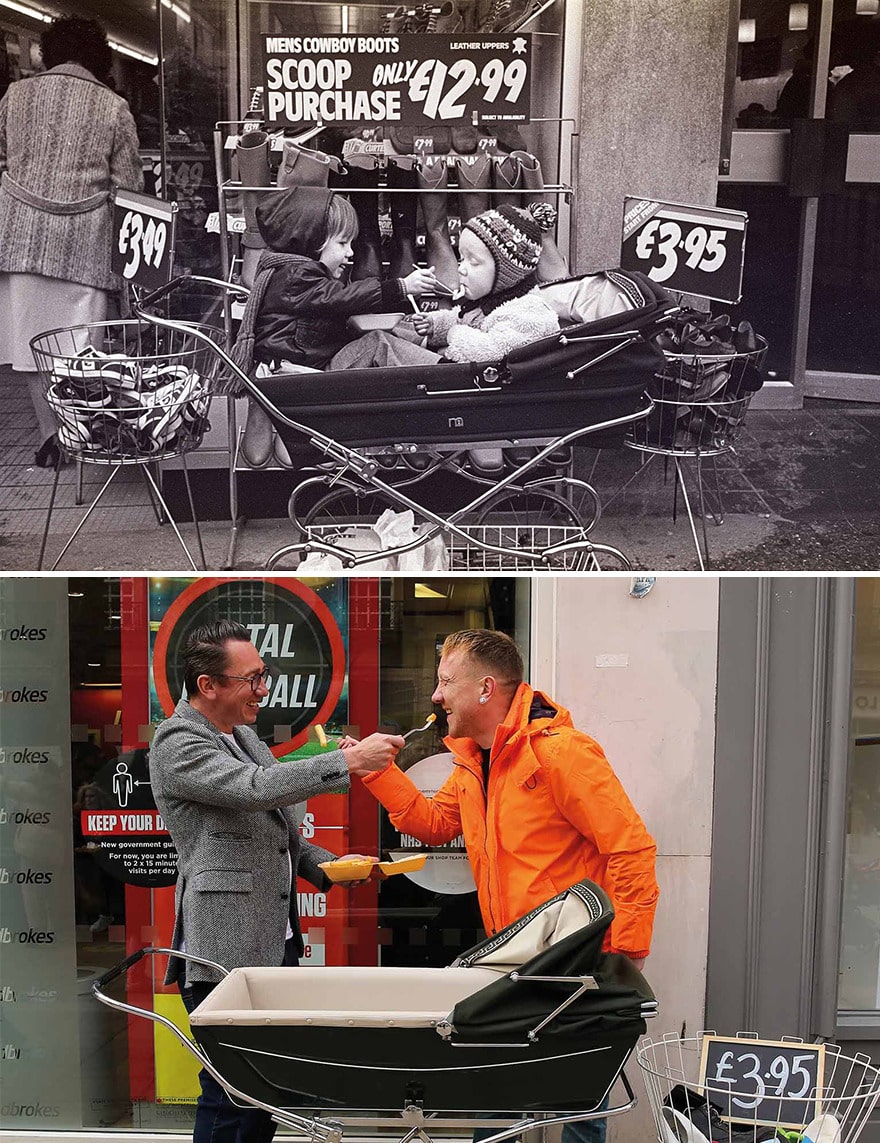 #15 Dad And Daughters (Original 1994 – Reunion April 2021)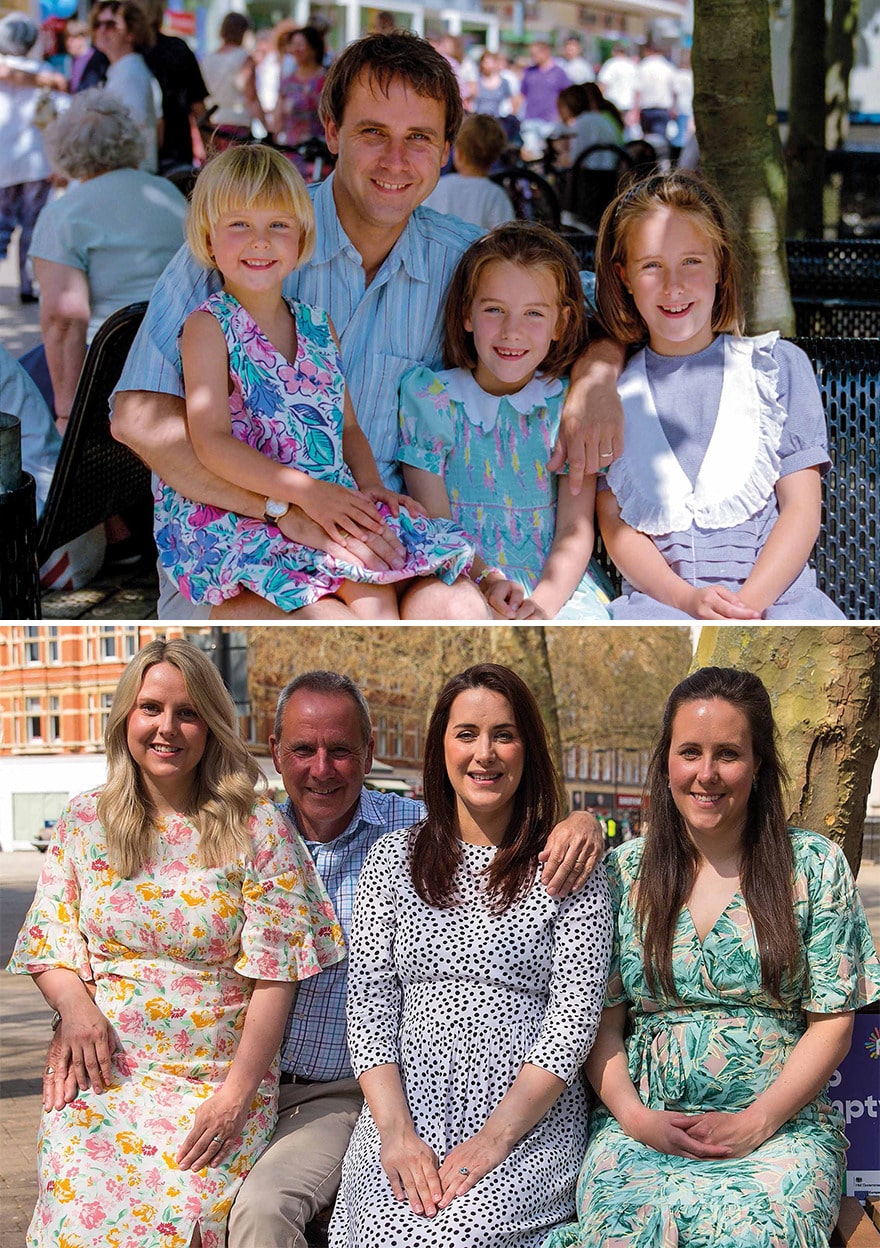 Chris has clicked so many pictures on the streets, that we couldn't resist but ask whether any of the people in the photograph remembered him at all.
"A few did but the majority could not and a lot of my pictures were candid. I have a terrible memory but it's funny I remember taking most of my pictures."
We also wanted to know how people who were in these photos felt having finally seen them published after so many years.
"They were over the moon as were their friends and families when they finally saw the published book. Some reunions were bittersweet where characters had died young and parents were saddened but pleased to see images they never knew existed. It was very poignant when family members generously stood in for them and the book would be a permanent tribute to their loved ones in happier times.
The best bits were to see old friends, old soldiers who had not seen each other for over three decades united again and with me too. So it was very emotional with some tears, hugs, and kisses. Some friends and siblings who had fallen out were talking again and it even led to a school reunion. Once strangers to me, they have become firm friends."
#16 Andy Ireland (Original 1981 – Reunion 2020)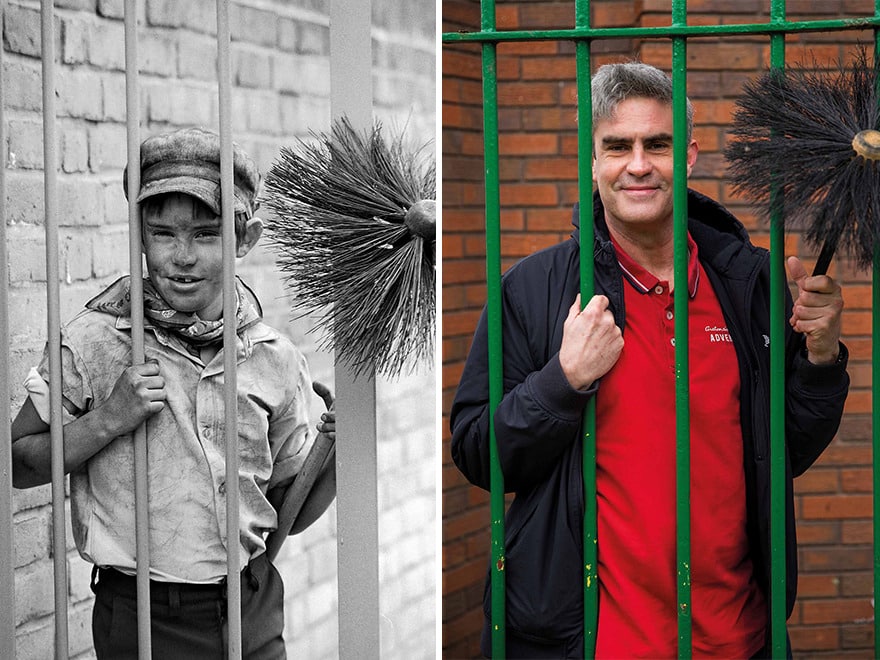 #17 Snoggers! (Original Christmas Eve 1980 – Reunion October 2020)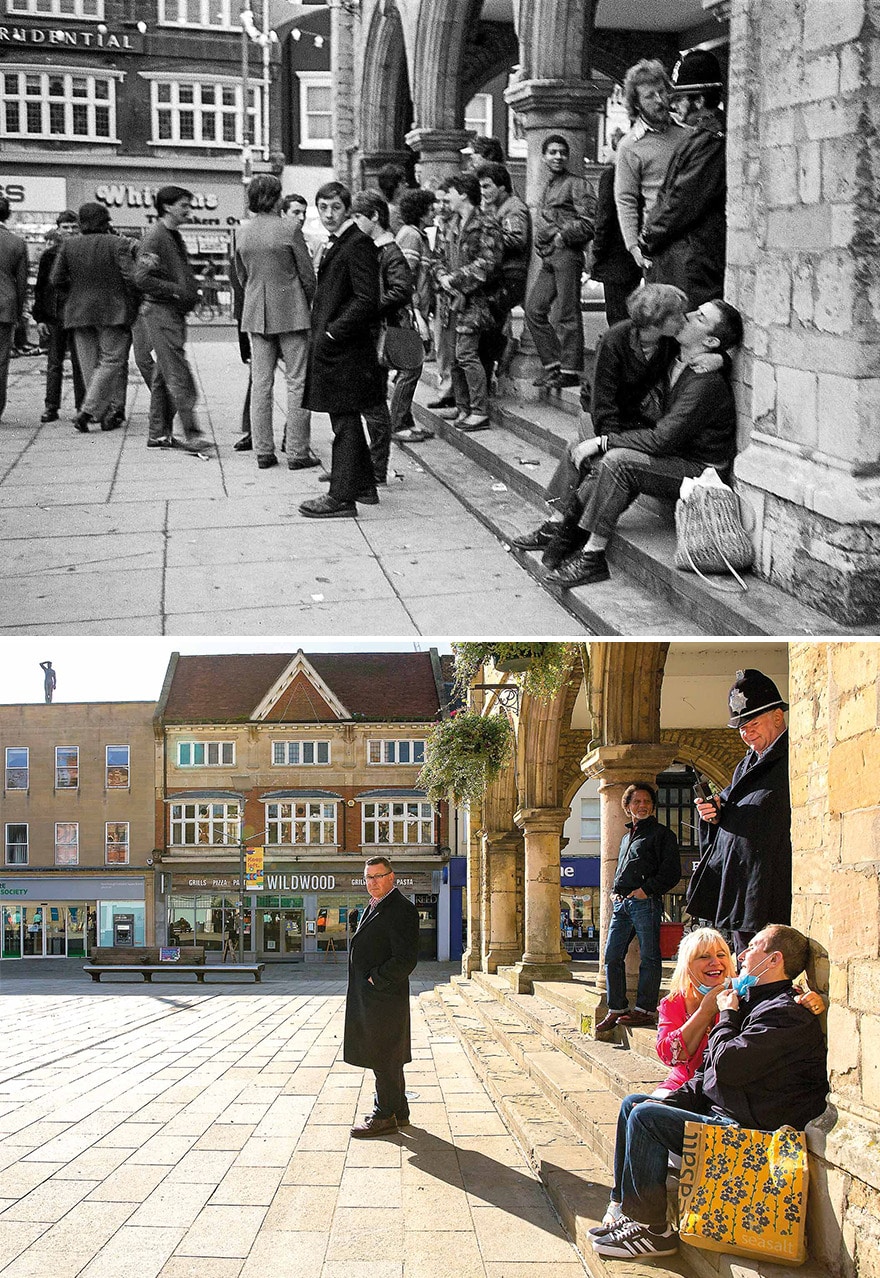 We couldn't resist asking Chris whether he had an experience when he was moved by any incident in the past.
"Reuniting characters that I never dreamed of finding and had almost given up on after searching for so many years. The community spirit willing me to succeed and people's desire to help me find people and who made it all possible.
Lots did not want to take part or were very reluctant, which was frustrating, so it was a really refreshing change when many were so positive, enthusiastic, and said felt privileged to be part of such a unique project. It was impressive when one character drove a round trip of 700 miles in his little Polo car from Glasgow because he had promised me he would be there to be reunited with his mates. Others came from the four corners of the UK."
#18 Tea Break (Original Circa 1983 – Reunion September 2020)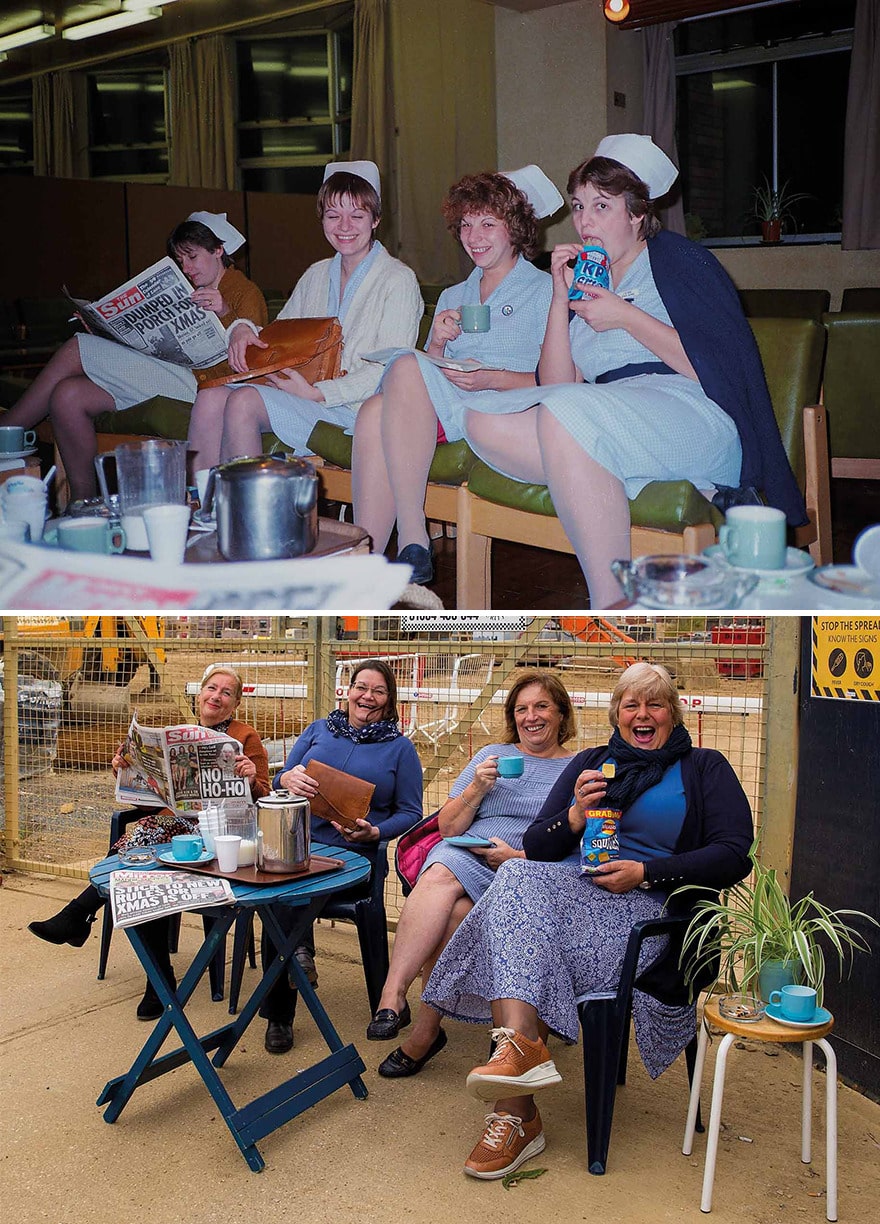 #19 Madhouse (Original 1991 – Reunion August 2021)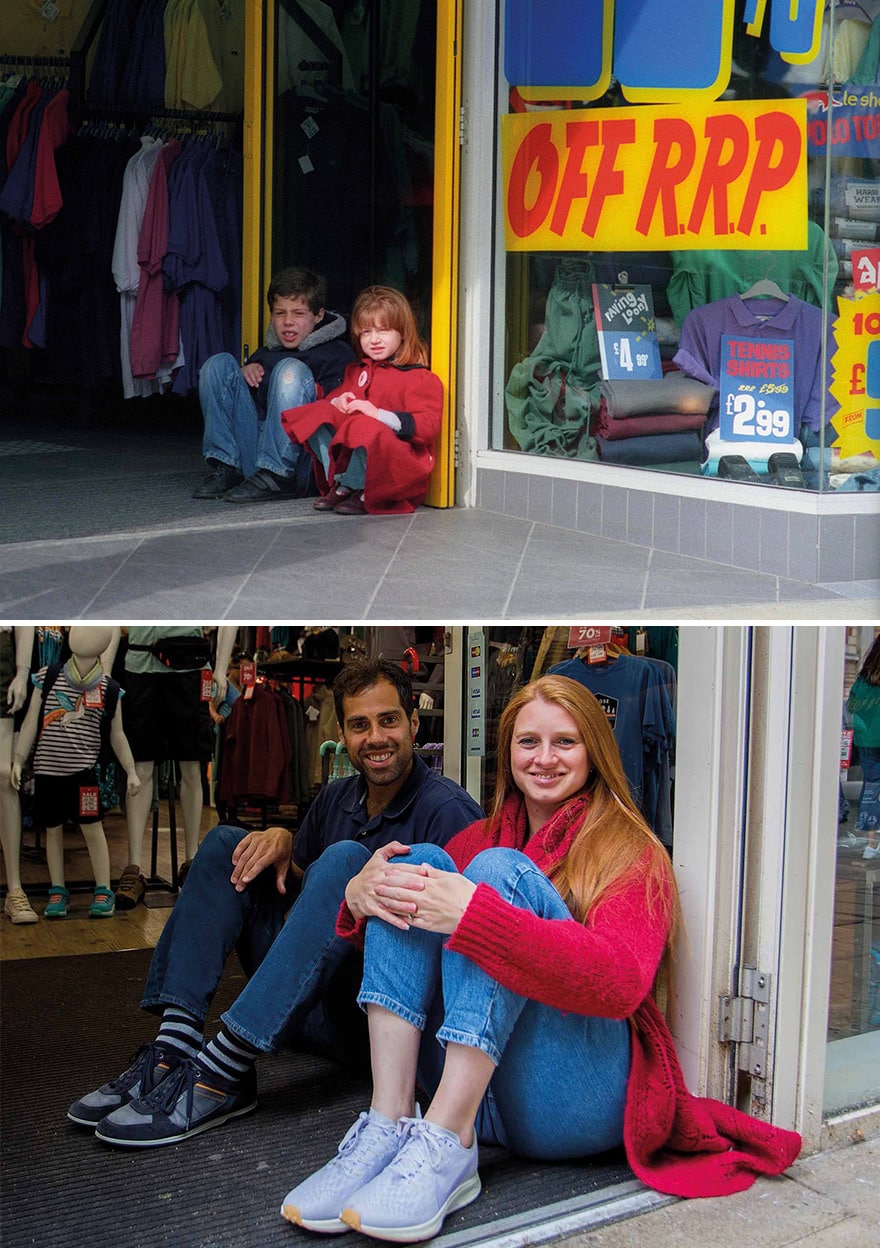 Finally, we asked Chris whether he had enough material to create part 3 of the series in the future.
"Unfortunately, I did not take that many pictures back in the day and many got lost or destroyed in my terrible 'filing system.' Many were ruined by basic mistakes in my amateurish hands in the camera and dark room so I was lucky that enough survived for my two books. Never say no, though! I started again in 2009 so maybe give it another thirty years in 2051 as I will only be 98 and can always bolt a camera to my Zimmer frame! Perhaps to be on the safe side, make that 2041!"
#20 Boy To Man (Original 1982 – Reunion February 2021)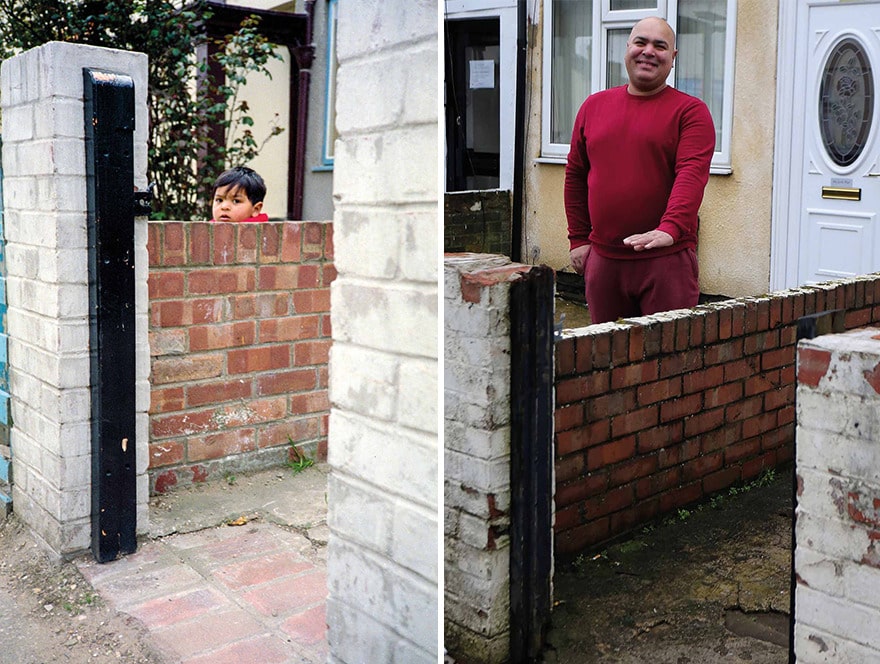 #21 Famous Five (Original 1980 – Reunion May 2021)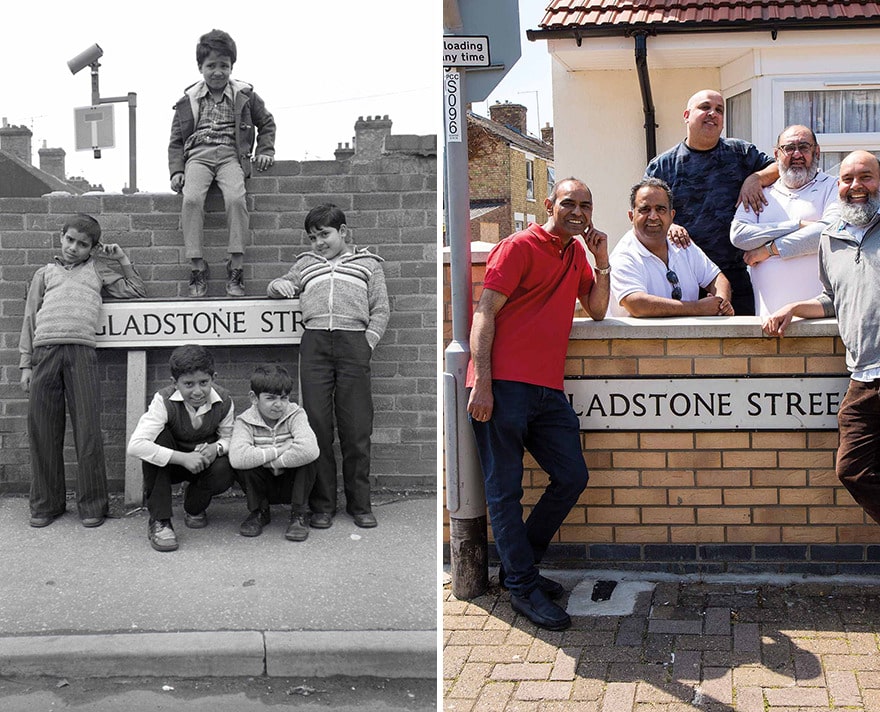 #22 Emma And Abbey (Original 1996 – Reunion March 2021)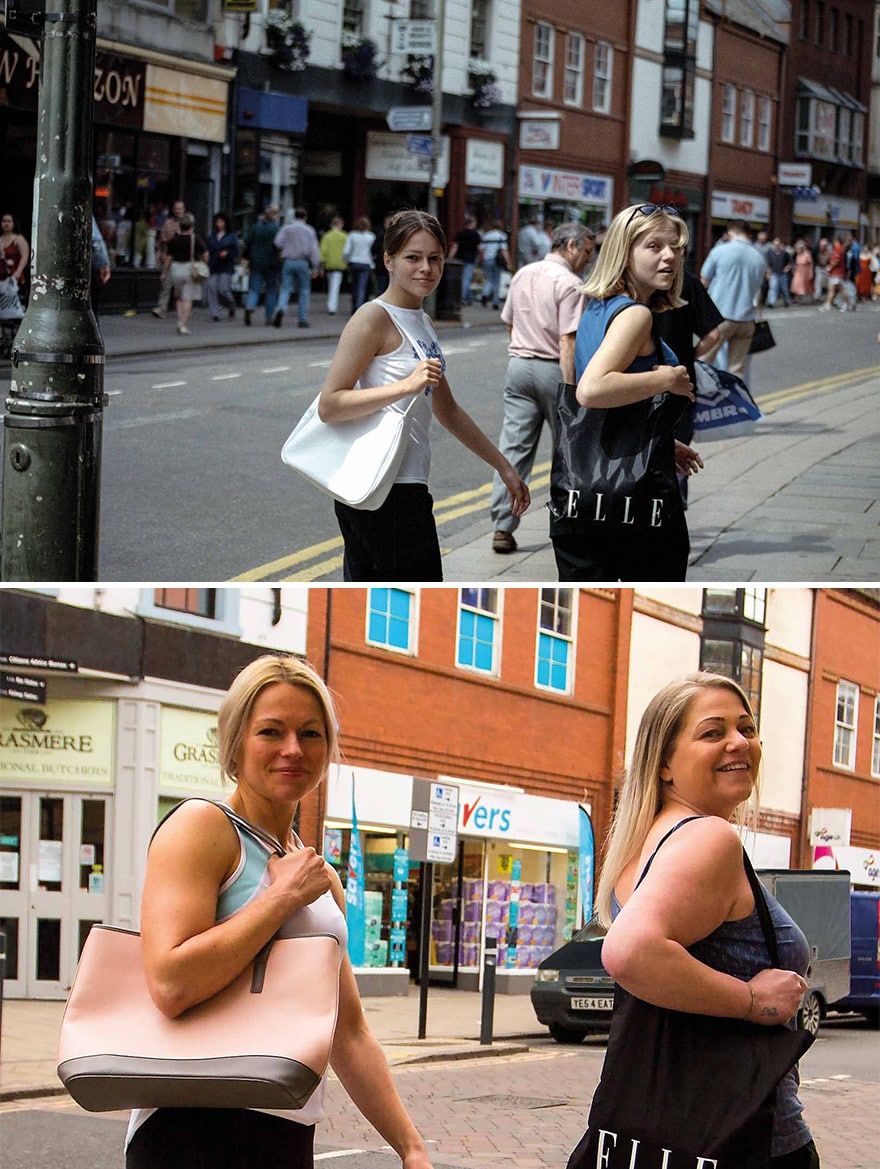 #23 Fur Coats (Original 1980 – Reunion May 2021)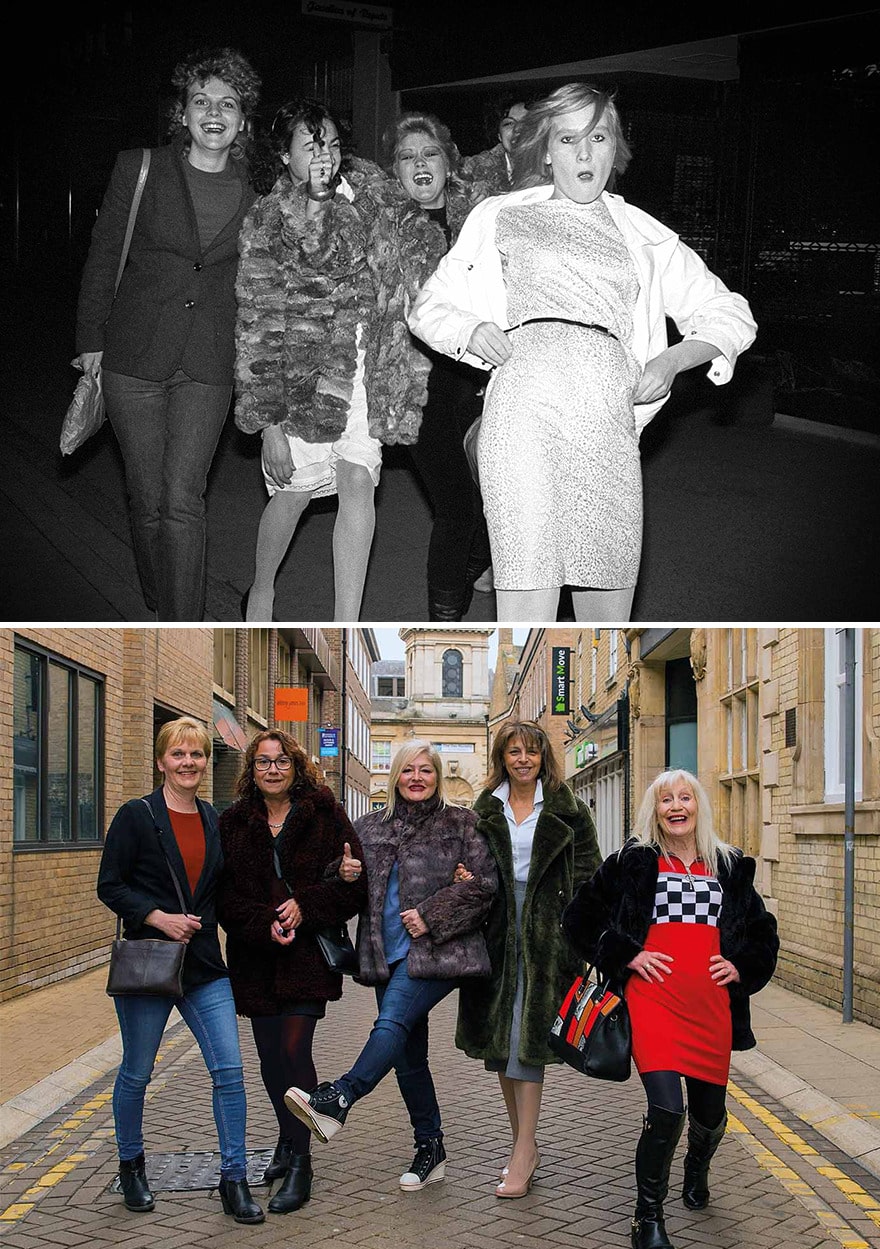 #24 Flares (Original 1980 – Reunion June 2021)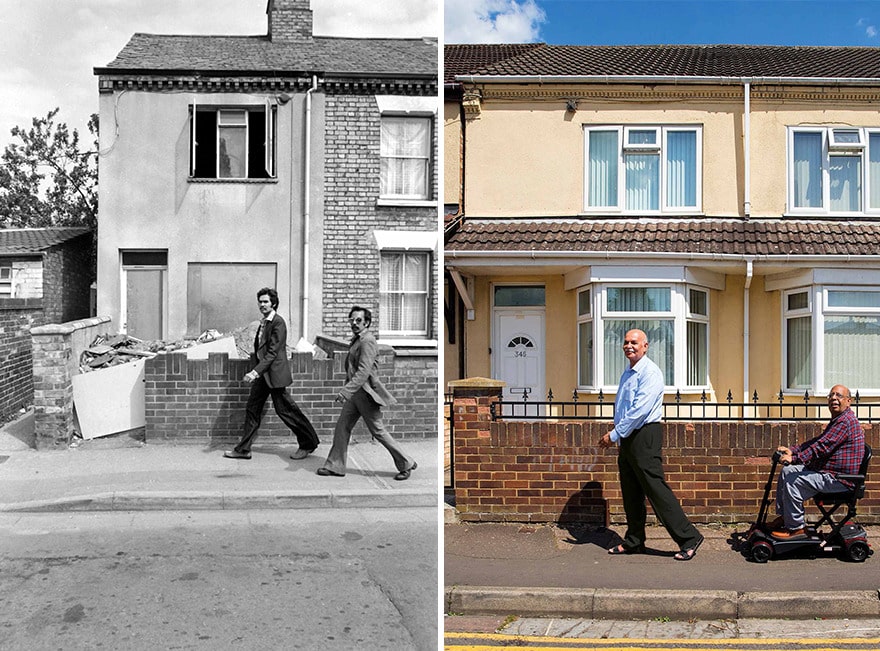 #25 Sister Bambridge (Original Circa 1980 – Reunion August 2020)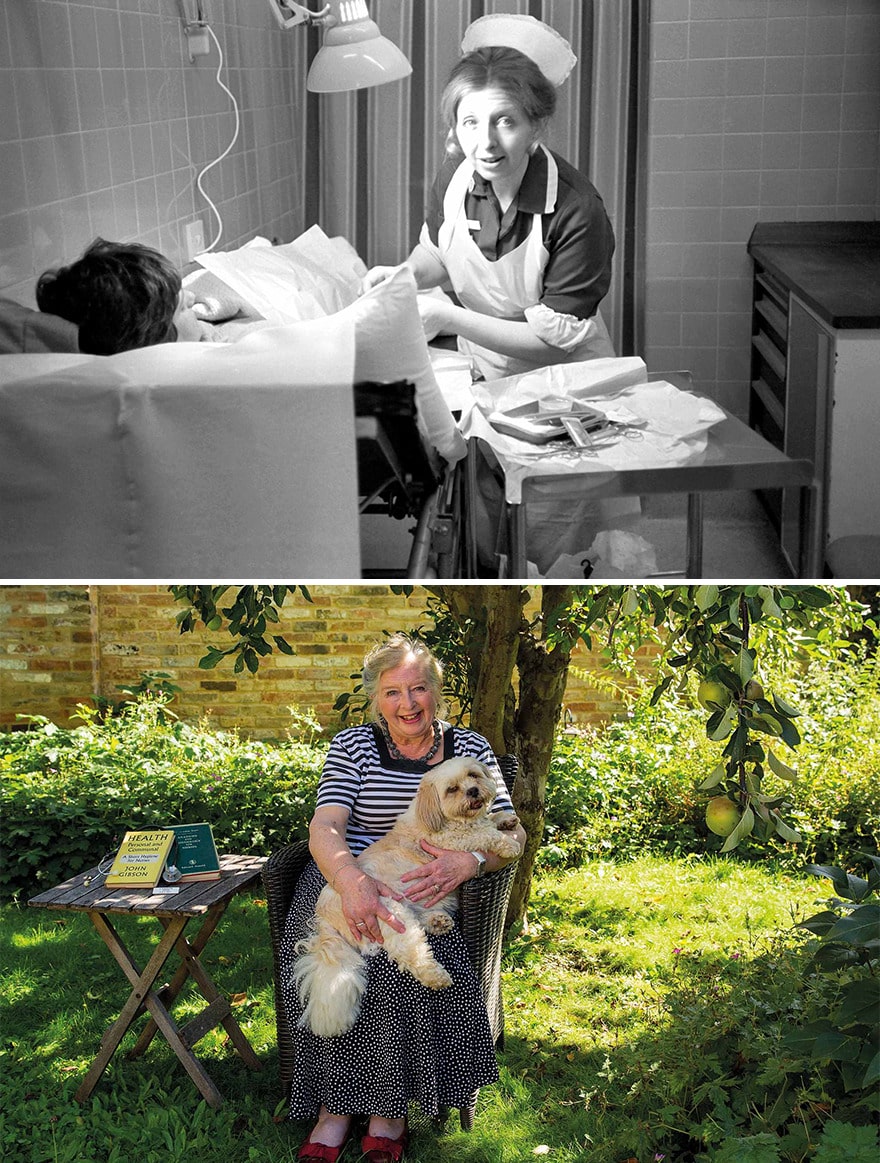 #26 Buggy Kids And Mr T (Original 1987 – Reunion May 2021)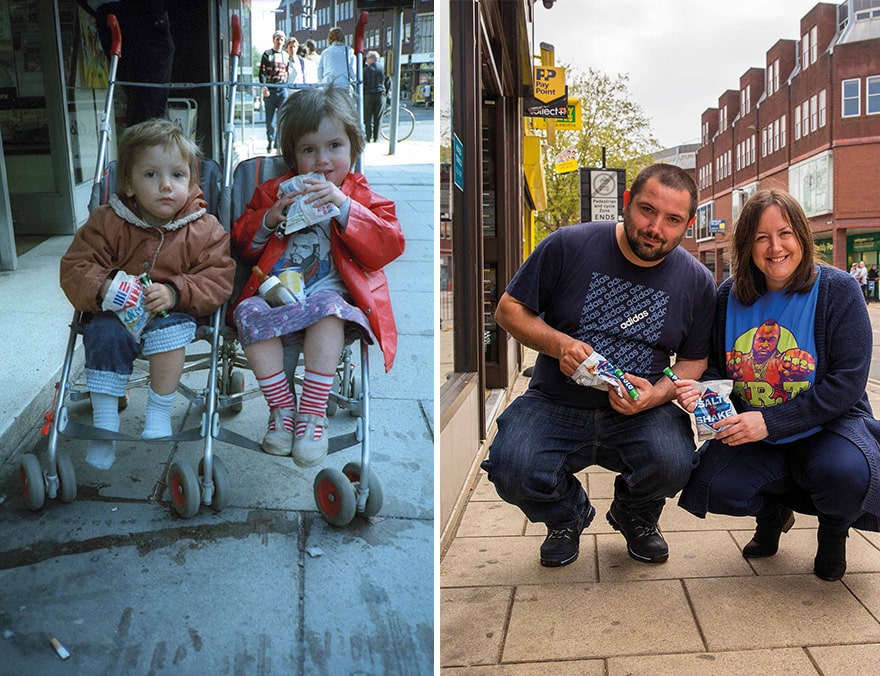 #27 Wedding Rings (Original 1981 – Reunion September 2020), Howard And Sharon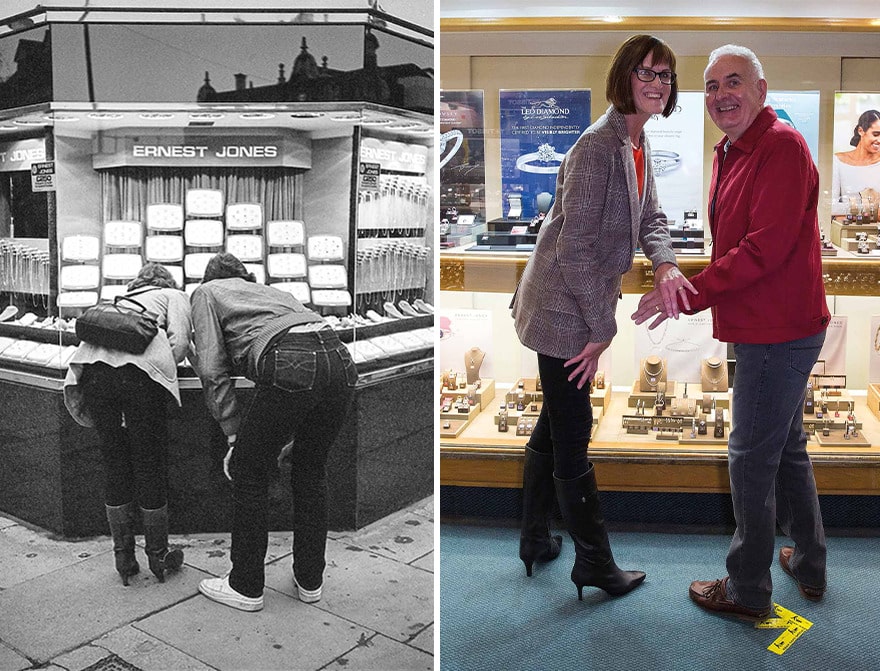 #28 No Parking (Original 1978 – Reunion September 2020)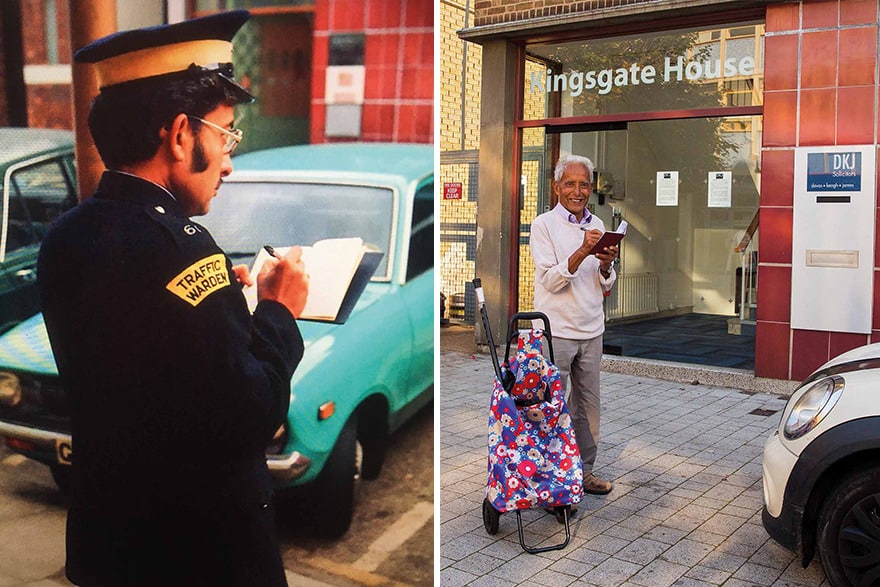 #29 Ducking Stool (Original 1985 – Reunion July 2021)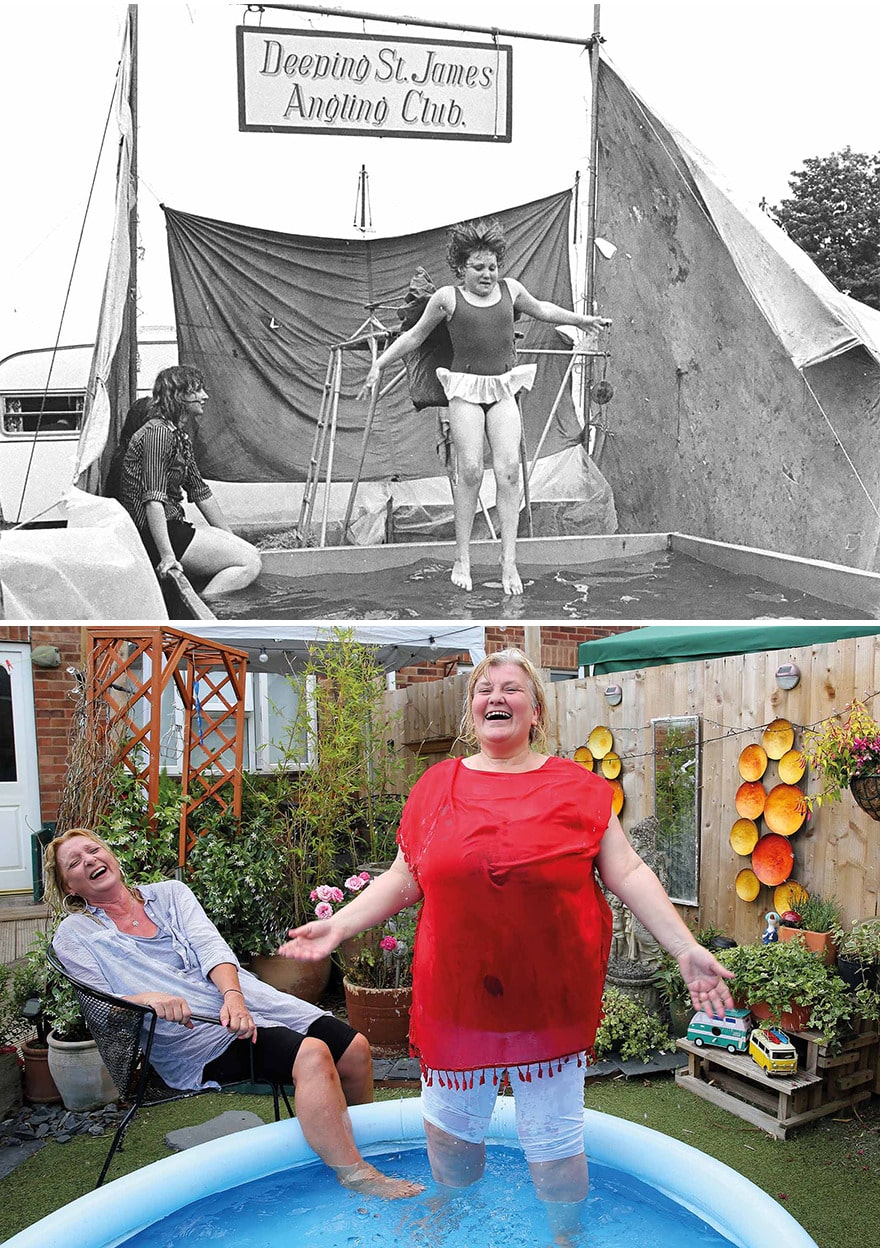 #30 Brothers On The Wall (Original Circa 1982 – Reunion July 2021)