Sometimes hoping for the best doesn't work. You also have to look at the grave side of the risk that you take. Banksy's owner was too confident to consider any of the downside of the devious stunt that he performed.
The artist has bought 'Girl With Balloon' for 1 million pounds and was destroyed thereafter due to the devious stunt of shredding the expensive piece of art. However, instead of adding value to it, it just had a completely opposite effect.
The art experts of MyArtBroker.com were requested by Banksy's owner to list them for at least 80,000 pounds. Originally, the classic piece was art was to be cut using a remote device, but someone tried to do so with a Stanley knife. The expensive piece of art was apparently one of the world's 600 mint condition prints.
The crazy act has resulted in bringing the value of the art piece to as low as 1 pound. The MyArtBroker.com co-founder, Ian Syer said,
Banksy is unique to the art world. No other artist captures the hearts and minds of the public like he does. However, when Banksy does something crazy like shredding his own artwork, it will naturally have a dramatic affect on values.
The act has reduced the value of the expensive painting from 40,000 pounds to nothing ruining the fine print. No one is recommended to do the same with any piece of the valuable art that they possess. We have already lost a precious painting to the devious stunt which is truly shameful.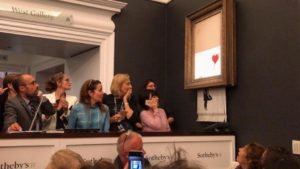 Sotheby is discussing the situation at hand with the buyer. It is the auction house that sold Banksy's art. The head of the contemporary art said,
The shredding is now part of the integral art work. We have not experienced this situation in the past where a painting spontaneously shredded, upon achieving a record for the artist. We are busily figuring out what this means in an auction context.
Source: Ladbible, Theguardian